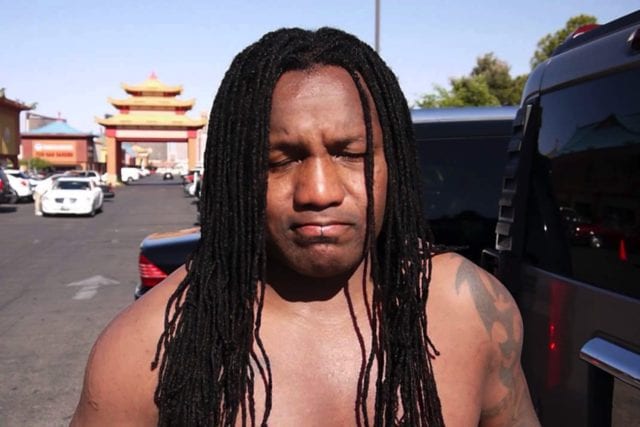 Top-ranked UFC heavyweight Francis Ngannou saw his hype train come crashing down when he lost a one-sided unanimous decision to champion Stipe Miocic at January's UFC 220.
The loss prompted the expected social media backlash from the Internet warriors wanting to poke fun at how the UFC's next big thing lost in such dominant fashion, but some overzealous 'fans' reportedly took things too far in messages to 'The Predator's' striking coach Dewy Cooper.
Aside from the normal trolling that accompanies such a loss in a huge title bout, Cooper recently revealed to MMAjunkie that he also received death threats because of the fight. A longtime kickboxer, Cooper was surprised so-called fans of MMA would take their responses to such a level, especially against a highly-trained master of martial arts.
But if these so-called fans are going to make threats, Cooper said he told them where and when they can find him to carry them out:
"I responded to every single one of them – '(Expletive) you, I'm at One Kick's Gym on Tuesdays, Thursdays and Saturdays,'" Cooper told MMAjunkie Radio. "'I'm at Mayweather's gym on Mondays, Wednesdays, Fridays. I'm at the UFC gym at 2 o'clock on Tuesdays and Thursdays. Come kill me, mother(expletive)."
Even though Cooper has experienced the ups and downs of the fight game throughout his 30-year career in combat sports, he's still baffled by the social media-focused world of MMA in that regard. With the threats coming both baseless online and inching towards true physical violence, Cooper issued a final warning to his detractors willing to threaten him – online or in person:
"We're not being bullied physically or on social media," Cooper said. "You talk (expletive) about me, I'm talking (expletive) about you. Period. I don't give a (expletive) if I'm at the White House with the president. I don't care if I'm at the hospital with my girl having my child. You disrespect me, I'm disrespecting you.

"I'm a Malcolm X follower. I believe eye for an eye, cheek for a cheek, and that's what it's going to be until the day I die. But I'm the nicest, coolest guy in the world. But I'm no punk (expletive). I'm not going to be disrespected and my life challenged and not have some serious recourse about it."