Ex-UFC champ Francis Ngannou shows off incredible physique after training session with 'Iron' Mike Tyson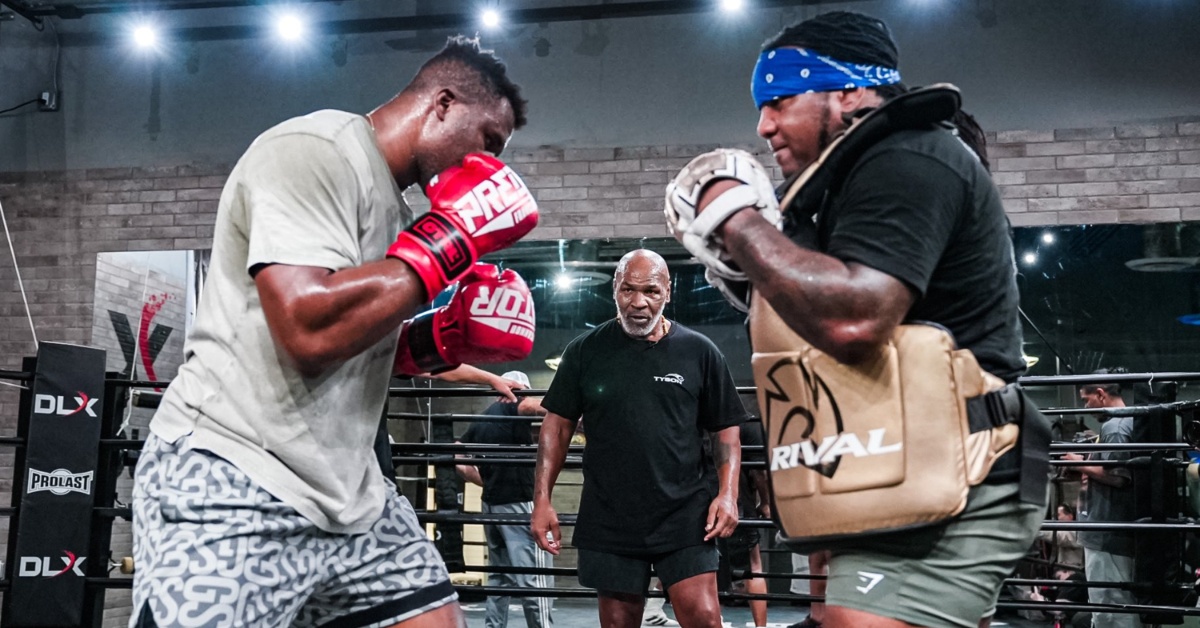 Former UFC heavyweight champion Francis Ngannou appears to be in the best shape of his life as his highly anticipated clash with Tyson Fury quickly approaches.
On October 28, 'The Predator' will make his return to combat sports, but this time, he'll do so in a ring rather than a cage. Francis Ngannou will head to the Kingdom of Saudi Arabia this fall for a showdown with reigning WBC heavyweight boxing world champion Tyson Fury. To adequately prepare for his fight with perhaps the best pugilist in the sport today, Ngannou has enlisted the help of another icon of the sport, 'Iron' Mike Tyson.
Appearing together on an episode of ESPN's First Take, Mike Tyson made it clear that his goal is to put Francis Ngannou through the wringer, working him harder than ever before and molding him into a fighter that can give Tyson Fury a true run for his money.
"He's had many professional fights, but he's never experienced a professional boxing match," Tyson said. "But by working with him yesterday, he has the aptitude, and I see a good future in this life. It's not going to be as one-sided as people think it is. I was speaking with Francis once he came in, and I asked him 'Are you sore today?', and he said 'No.'
"That was a big mistake. But, we're going to work, and we're going to exert everything he has for this particular match. I definitely believe that it's going to be a tougher fight than anyone thinks."
Francis Ngannou Shows What It's Like to Work with Mike Tyson
Taking to Instagram, Francis Ngannou showed some early signs of his worth with Mike Tyson, wringing out a sweat-drenched shirt whilst giving fans a glimpse at his impressive pre-fight physique.
Francis Ngannou is 17-3 in his mixed martial arts career with 11 career knockouts, but the world of professional boxing is an entirely different monster. Not to mention, he will be stepping into that world with one of the most feared fighters in the history of the sport, Tyson Fury.
To give Ngannou the best possible chance, Mike Tyson is helping 'The Predator' put more focus on his movement and agility inside the ring which will ultimately give him an opportunity to land a devastating knockout blow against 'The Gyspy King.'
"He isn't a combat novice; he is a world champion. He knows how to compete when the bell rings, but the key will be combining his energy and combat skills into his punches and using his agility to move swiftly around the ring then delivering the knockout blow," Tyson added. "We're here to win" (h/t GiveMeSport).