Francis Ngannou Reveals Why He Ignored Ciryl Gane, Fernand Lopez Backstage At UFC 268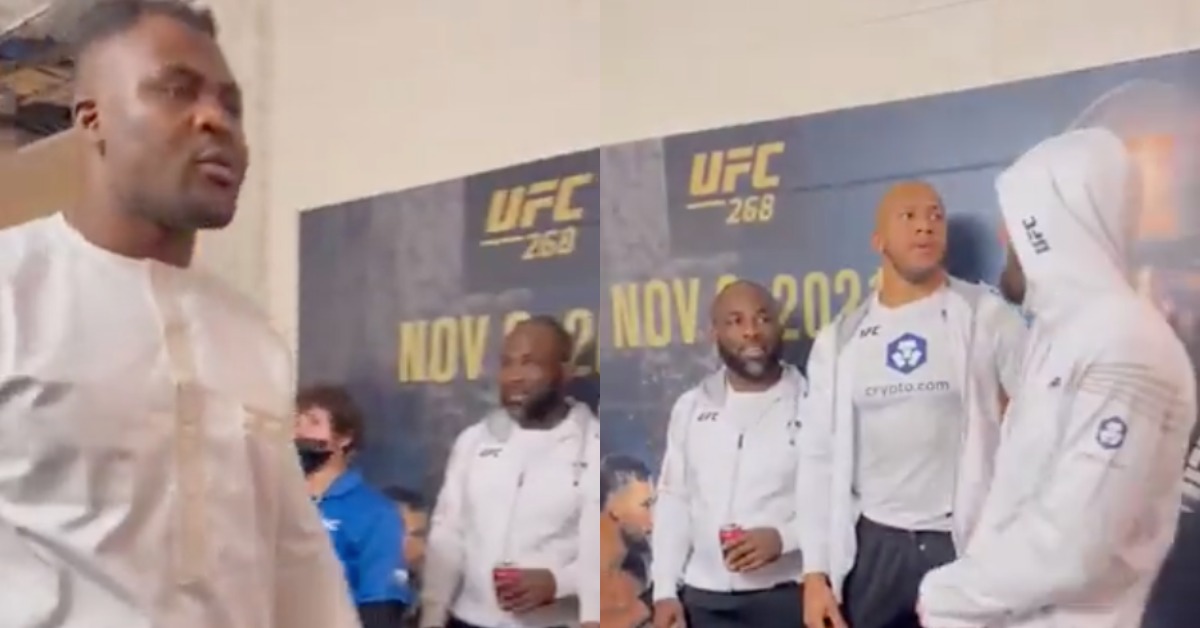 Reigning UFC heavyweight champion, Francis Ngannou has reflected on his decision to blank former head coach, Fernand Lopez, and brief former training partner, upcoming title challenger, current interim gold holder, Ciryl Gane during a less than cordial walk-by backstage at UFC 268 earlier this month.

Footage emerged across social media during the event of Ngannou, the promotion's heavyweight champion who was in attendance to support Kamaru Usman, walk backstage past the trio of Lopez, Gane, and former MMA Factory teammate, welterweight contender, Nassourdine Imavov — appearing to purposely blank all three of his former associates.

However, Ngannou has revealed that his problem does not lie with either upcoming UFC 270 opponent Gane nor former teammate, Imavov, but with former head coach, Lopez — with the Batie native claiming he was unsure if he should interact with him, as well as claiming that his former mentor had been making disparaging comments about him to media.

"I felt like I didn't want to say, 'Hi' for my sake," Francis Ngannou told former two-weight champion, Daniel Cormier during a recent interview. "It's been a couple of years now that he's out there… I mean, like, yeah, I want to be nice. but when it is him in that position, I had a few thoughts. I'm like, 'Ok, should I say hi?' Then I'm like, 'I don't know'. I might got closer (sic) and say hi and then somehow, you'll hear that I said, 'this', which is not what I said. Getting close to him was giving an opportunity for him. Not only the fact that I'm sure that he didn't need me to say hi, but it was giving him the opportunity to say something again that I didn't say. I'd rather stay in the distance. … It's not like we're friendly. He's attacking me all the time. I can't do that. I don't feel like it."
Ngannou then claimed that if he had spotted Gane solely backstage by himself, he likely would have spoken to the French native ahead of their title unification clash at the beginning of next year.
Francis Ngannou claims he would have spoken with Ciryl Gane if Fernand Lopez was not present at UFC 268

"The only thing that bothers me a little bit [was Gane]… and he was right," Francis Ngannou said. "I would've been confused. Obviously, as his coach said, he's naive. I would've been confused, too, because if… I walked by Gane, I would say hi. If it's just him, I'd say, 'Hi, what's up?'" (Transcribed by MMA Junkie)

For Ngannou, the Xtreme Couture mover headlined UFC 260 back in March against two-time heavyweight champion, Stipe Miocic — finally clinching the undisputed crown with a thunderous second round knockout.

For the undefeated Gane, the undefeated striking sensation nabbed the interim heavyweight title back in August against common-foe Derrick Lewis — stopping the division's most prolific knockout ace with a dominant, one-sided third round ground strikes stoppage.