Middleweight champion Michael Bisping continues to draw the collective ire of the MMA community by fighting former welterweight Georges St-Pierre and eschewing consensus top contender Yoel Romero.
It probably shouldn't be that much of a surprise that Bisping is becoming a highly controversial champion after shocking the world against Luke Rockhold at UFC 199, then defending the title versus No. 14-ranked Dan Henderson, who was 46 years old and in his last professional bout, and now St-Pierre. His prior UFC run showed obvious signs that may be the case if he were to win the belt.
But regardless of the brash Brit's outspoken style of fight promotion, all of this is just making it start to look like Bisping is ducking Romero, especially after he said he would immediately fight the Cuban wrestling powerhouse after his bout with St-Pierre. Let's take a look at five ways "The Count" has already ducked Yoel Romero.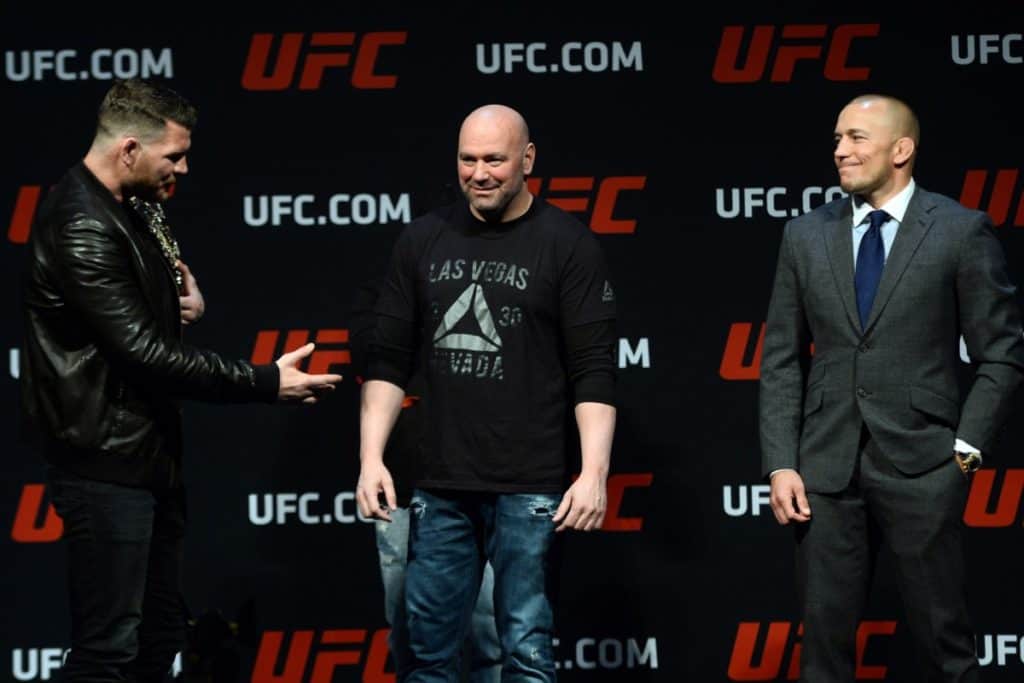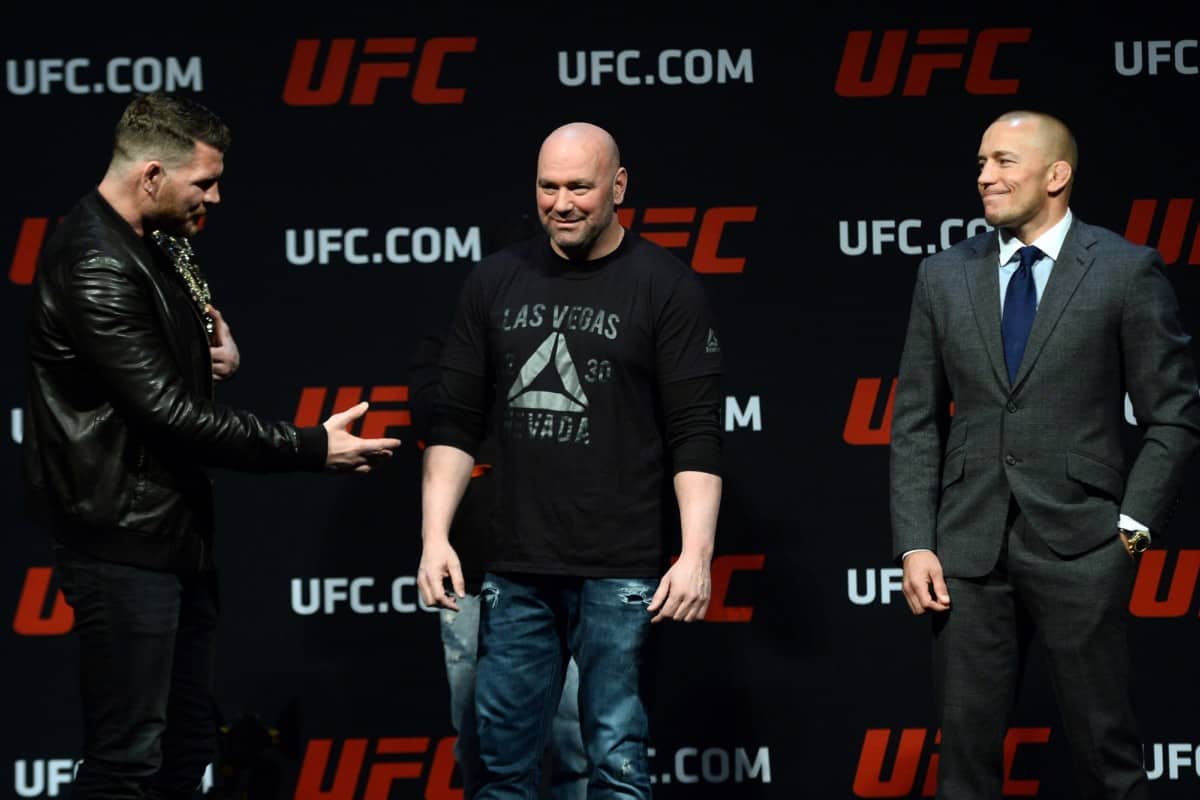 4.) Fighting St-Pierre:
Let's get the obvious one out of the way first and foremost: Bisping's upcoming bout with the legendary former welterweight champion, while arguably the biggest spectacle fight the UFC has on the table right now, just doesn't make sense for the UFC's 185-pound title picture as a whole, and it's become the center of a hotbed of controversy surrounding the always-popular division.
While it's hard to blame the 37-year-old Bisping for taking a much-deserved huge money fight as one of the last few remaining bouts of his lengthy UFC tenure, it's also hard not to blame him for taking on what many feel is an easier challenge against a much smaller man with less knockout power coming off of what will be a nearly four-year layoff from the octagon.
Bisping has made it clear he doesn't care what the haters say, but the whole rivalry with GSP is making it look like he wants a big payday – and also no part of Romero.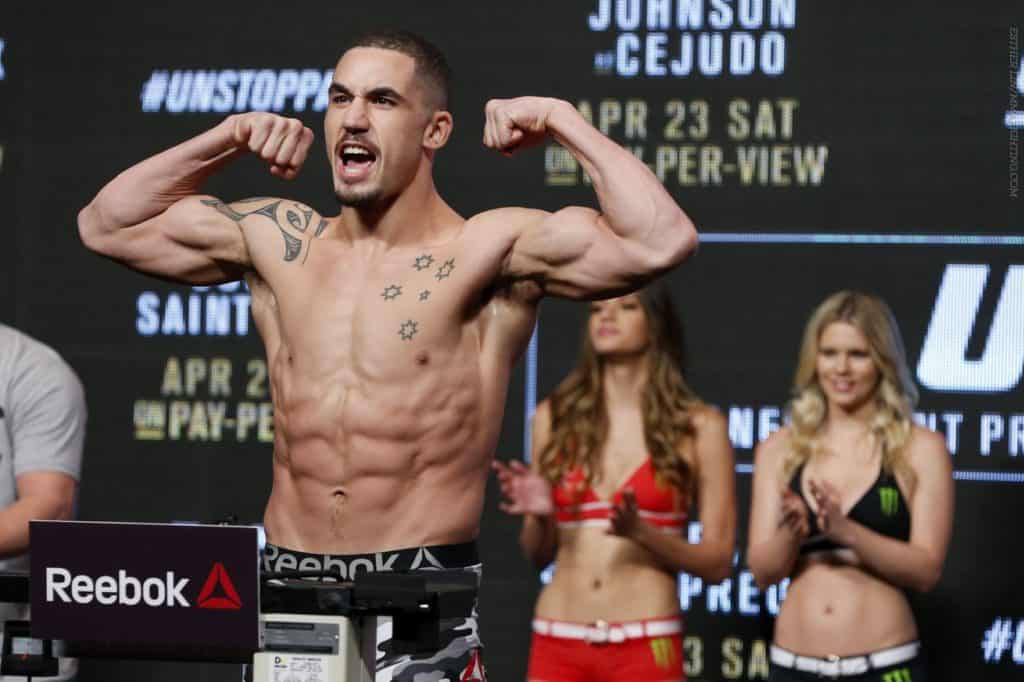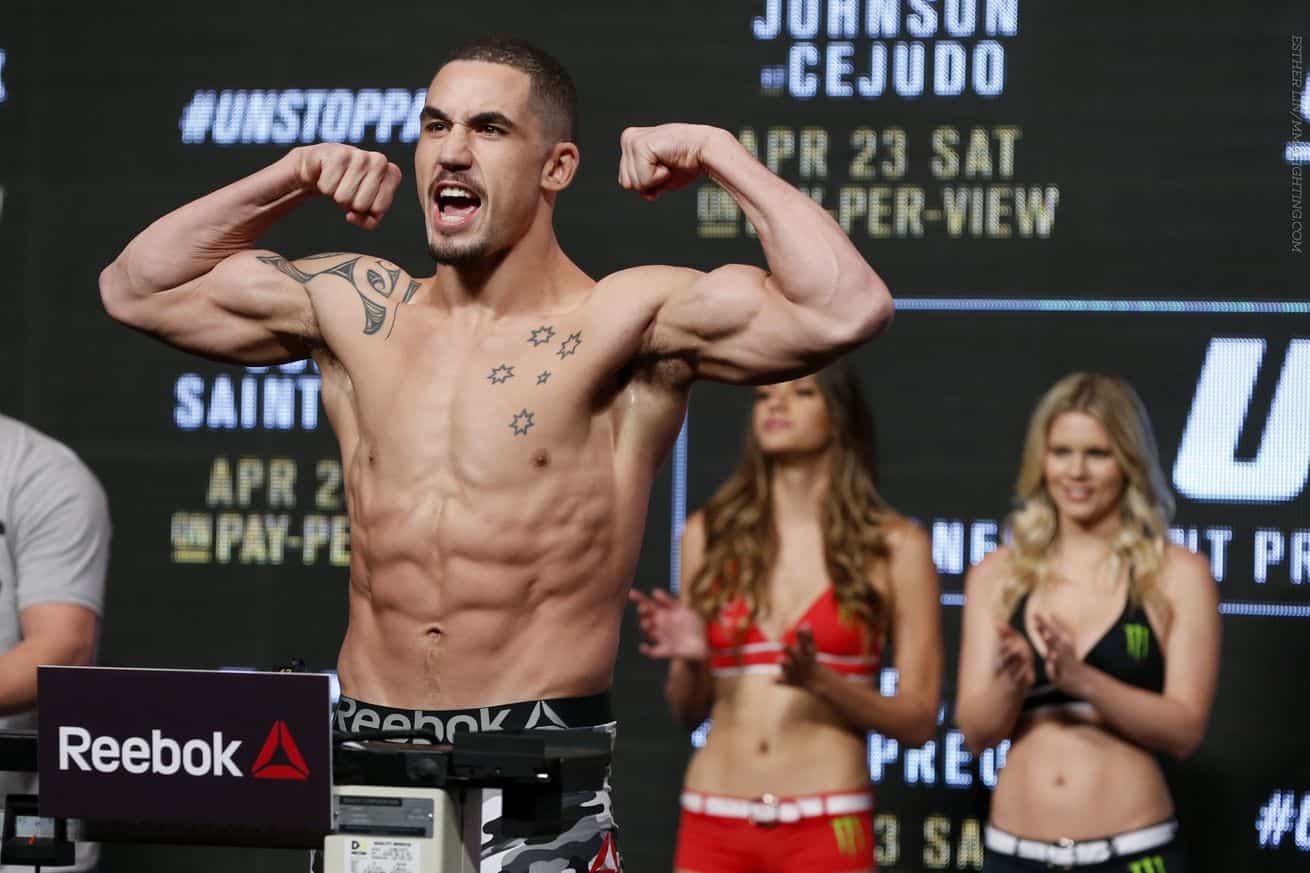 3.) Aiming for Robert Whittaker:
"The Count" took it to an all-new level earlier today (Wed., April 19, 2017) when he unveiled a plan to fight surging young middleweight Robert Whittaker for the belt next should he defeat St-Pierre at their yet-to-be-announced showdown planned for later this year.
While Whittaker is no doubt the hottest prospect at middleweight after beating Ronaldo "Jacare" Souza, the man whom many felt Bisping initially ducked as champion to face Henderson at UFC 204, there just isn't much to be gained by stating you'll duck Romero yet again to face a man you were already signed to fight at one point.
True, things are different now and Whittaker is a sought-after contender, but offering to fight him after St-Pierre makes it look even more like Bisping will do anything to avoid fighting the "Soldier of God" at all costs.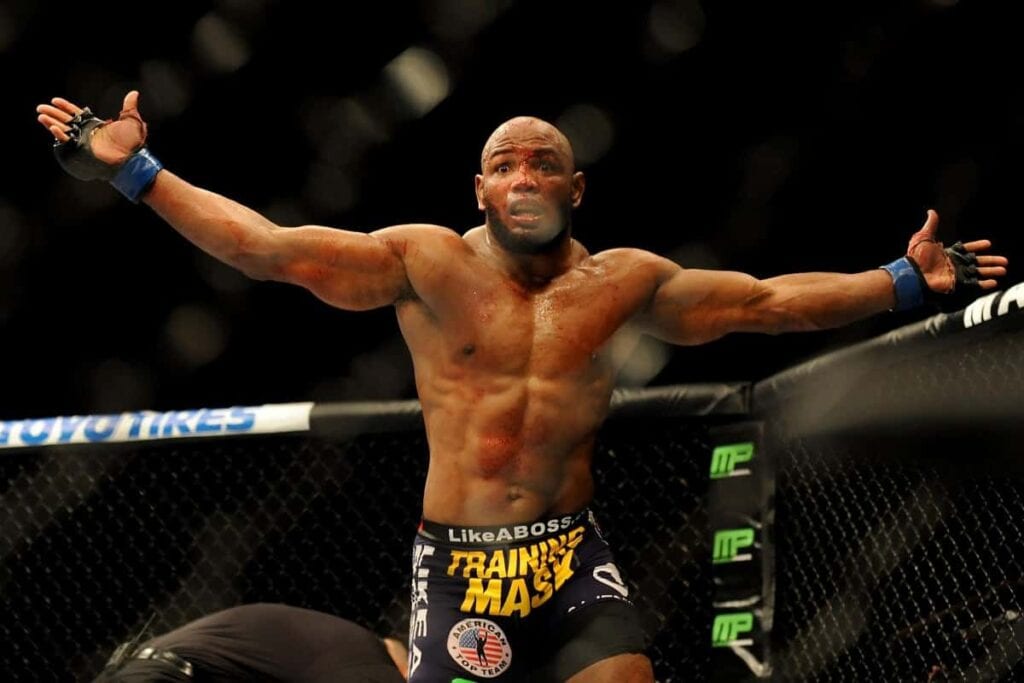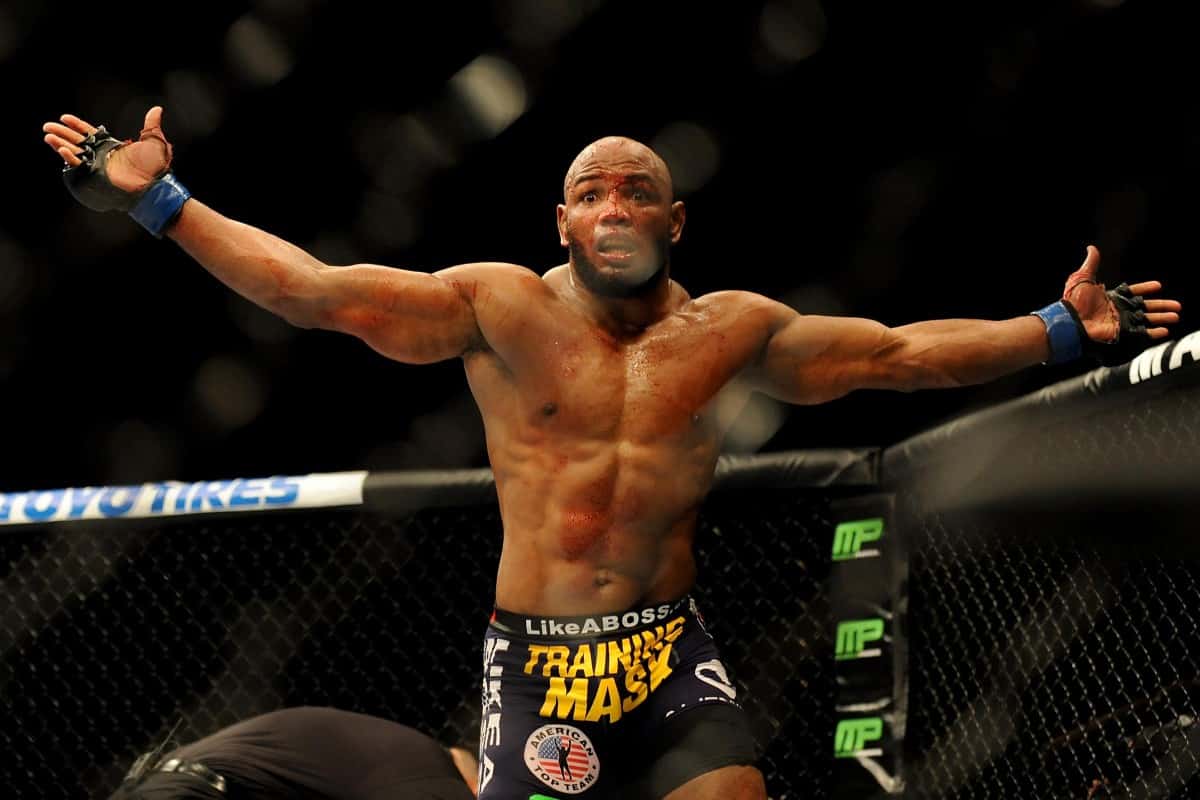 2.) Blaming Romero for Using Steroids:
While it's a legitimate concern for any of Romero's opponents that he was flagged for a potential USADA violation surrounding his close split decision win over "Jacare" at UFC 194, Romero pointed the finger at a tainted supplement and was cleared by the agency in the midst of confusion on what fighters could and could not take in the infancy of their increased drug testing partnership with the UFC.
Many have always been suspicious of Romero for his ultra-chiseled physique that Joe Rogan has compared to that of a superhero, but as the rules currently stand, he hasn't officially been busted for any type of substantial performance-enhancing drug scandal in the UFC.
Yet Bisping continues to go on spouting off about how he doesn't want to fight Romero because he used steroids, which might be a valid concern where it not for several key facts: Bisping has fought multiple competitors who have been publicly documented as having used testosterone-replacement therapy (TRT) and/or anabolic steroids such as Vitor Belfort, Chael Sonnen, and Henderson, and he had not even close to the amount of issue fighting them as he does Romero.
It's a double standard that again proves the point Bisping is ducking his division's top contender.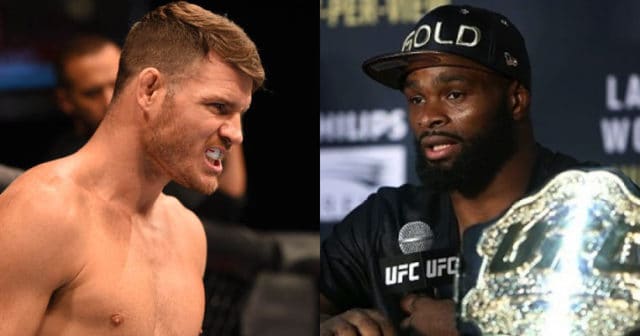 1.) Promoting 'Money Fight' With Tyron Woodley:
Just in case his rumored bout with GSP didn't materialize, Bisping made sure he at least tried to drum up interest for another so-called 'super fight' with Tyron Woodley at a catchweight.
While it got a few headlines on social media, ultimately fans sniffed it out for what it was –a fight no one wanted that would have tied up two of MMA's most storied divisions. A second and perhaps more detrimental aspect of all the talk is that it made it look like Bisping was seeking fights against welterweights, not a good look when there is a surging contender knocking out former champions on a consistent basis in your own division.
There was just no point to fight Woodley for Bisping, even if it was a fight that had little to no chance of actually happening, with such an obvious deserving opponent.
Add that to the monstrous heat Woodley received for calling out for "money fights" since minutes after he won the title, and it was a scene that Bisping definitely had more to lose than to gain by being involved in. He's since said he will fight Romero a very short time after fighting St-Pierre, but his new goals of today suggest he's far from guaranteed to follow through on that.
If St-Pierre wins, it's tough to envision him facing Romero next as well. A lot has to happen for Bisping to fight Romero for the belt, even if it is the clear choice for the next UFC middleweight title bout down the line.
Do you think the fight will ever happen?