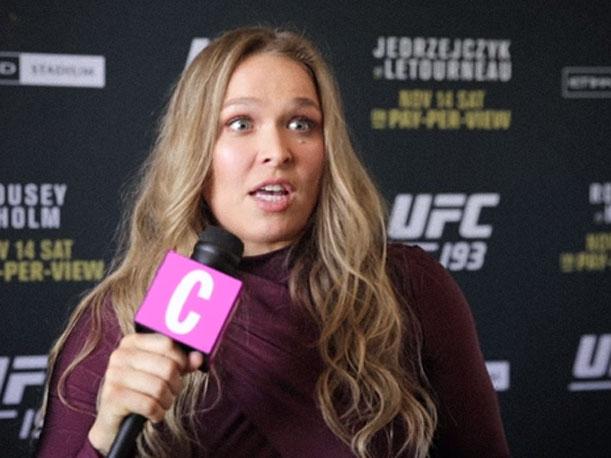 Set to make her pro-wrestling debut at next weekend's WrestleMania 34, former UFC women's bantamweight champion Ronda Rousey made major MMA headlines in a slow week otherwise devoid of much relevant news.
However, even though Rousey can still dominate the news in a sport she clearly no longer wants to participate in, it wasn't for what many would call the right reasons.
The all-time MMA legend drew the ire of many fans and media members when she gave an incredibly awkward interview to former NFL player and current ESPN personality Mike Golic, who deserved at least a small portion of the blame when he asked her the oddly-worded question if she would ever 'go back in time' to MMA.
Rousey clearly took offense, insisting Golic asked her if she would actually go back in time, perhaps a somewhat abrasive and hasty retort to a network that was giving her airtime even though she's currently competing in a scripted sports 'entertainment' competition after losing her last two UFC fights to Holly Holm and Amanda Nunes. Rousey reacted with similar disdain towards second ESPN host Max Kellerman when he asked her about how the media treated her after her loss to Holm later that day.
The backlash incited like a wildfire, with many calling her a sore loser, amongst other things, while many others came to Rousey's defense.
One prominent MMA figure who was among the former was UFC title contender Chael Sonnen, who revealed on his Beyond the Fight podcast (via MMA Mania) that he found Rousey's awkward and borderline rude interview annoying given that ESPN was helping her out by having her on a sports show after she transitioned to 'entertainment':
"I found it a little bit annoying, The host is doing you a favor by having you on, considering you're jumping around a fake ring in Roddy Piper's clothes. This is a sports show, and you don't do sports, so maybe give the guy a little bit of slack.

"It's like 'hey lady, you're jumping around in a ring on pay-per-view in a few days. This is a sports show. We'll extend this to you because you used to do a sport, so let's help each other out here.' Then she kinda threw it on his face."
Yet even though Sonnen put his assessment of Rousey's on-air blunders more harsh than most, he was far from finished there.
'The American Gangster' unloaded on 'Rowdy,' offering his opinion that they should have kicked her out right on set because their ratings would have gone up for doing so – and they'd still be on air tomorrow when she would be back to the WWE:
"I will tell you, if I was the host, I would've kicked her ass right out of the set," Sonnen said. "I'm inviting you on a sports show, on ESPN, a place you don't belong as a pro-wrestler — but we all can scratch each other's back.

"I've got to talk some real sports, because I just have to. I am a sports show, and I am in ESPN, okay? You're not active, bringing up history is no fun, so I've got to think about the future. Fair question by me, but you're going to try and belittle me for it?

"Let me show you how this goes. Because after I boot your ass and my ratings go up for doing it, tomorrow morning, they're going to set the same camera back up and I'm still going to be on it, but you aren't, Ronda. So now we're going to find out, who got over on who."
If you enjoyed this story, please share it on social media!