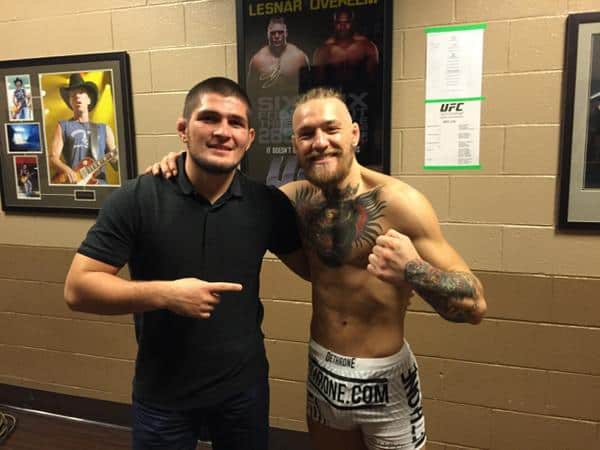 A former UFC title challenger is rooting for Khabib Nurmagomedov to dismantle Conor McGregor in the main event of UFC 229.
That's obviously because of his storied history with the undefeated UFC lightweight champ. Al Iaquinta met Nurmagomedov on short notice in the main event of April 7's UFC 223. He was the feared wrestler's fifth prospective opponent in the week. 'Ragin' Al' was also supposed to face Paul Felder at the event, but was instead dominated by 'The Eagle.'
Predictions 'Rage' On
That set up his highly anticipated match-up with McGregor. One top-ranked lightweight is picking McGregor to sleep Khabib, but Iaquinta feels differently. The Long Island-based slugger recently told MMA Fighting that Nurmagomedov should walk through McGregor's feared knockout power and keep charging:
"The worst-case scenario, I think [Nurmagomedov] takes a few shots from Conor and just keeps coming forward. I mean, Conor obviously has the power to put him out, but I don't know. Does he? I think a lot of people think he does, because he's knocked a lot of people out, but Khabib is tough. He sees things, he's got a little awkward style, which is different. It's tough to adjust to, because it's so different, standup-wise."
That's the question on everyone's mind. Many are in agreement with Iaquinta's stance that Khabib will simply impose his relentless pressure on "The Notorious." That will lead to the 'pretty' McGregor giving up – at least in Iaquinta's mind:
"I think he could just get after him. Get after him, keep the pressure on him. Conor, he's quit before. He's given up. Against Diaz, it gets a little later rounds. I think he's a pretty fighter. If the fight is pretty and it's going good for him … [Chad] Mendes took that fight on no notice. He had zero in the gas tank going into that fight. If it's five rounds of that, I think Conor is finding a way out."
'Ragin' Al' then affirmed his desire that Nurmagomedov demolishes McGregor. It would obviously make him look much better. It's also something he thinks will happen:
"I hope he does," Iaquinta said. "It would look good for me — if he beats the shit out of him more than he beat the shit out of me on a day's notice. It'd look real good. So, I hope Khabib f*cking knocks his ass out, makes him quit and rearranges his face like he says he's gonna do. I think it's gonna happen — I hope it happens."
If you enjoyed this story, please share it on social media!