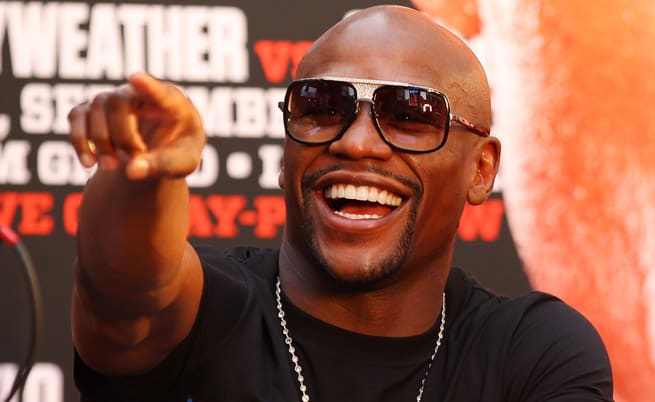 Floyd Mayweather is the best pound-for-pound boxer on the planet, and he wants to help MMA fighters earn a little more…
Ten-time five-division boxing champion Floyd Mayweather Jr is the world's highest paid athlete. Earning colossal amounts during his 47-fight unbeaten career, "Money" has often talked about crossing over in to MMA promotion after his retirement. "TBE" has been fighting as a pro since the mid 90's, and it's likely he will be involved in fighting for his entire life.
On the flip side of the coin, there seems to be a tonne of underpaid fighters in MMA. Whether it's your lower level promotions, or maybe even the big show; a common complaint around the pro scene is the lack of compensation in comparison to the risk and sacrafice. Talking with Fighthype.com, "Money" says he wants to help get MMA fighters properly rewarded:
"If you want to be treated fair, come over to Mayweather Promotions. We believe in the talent winning. That's what we believe in. We believe in treating our boxers and our MMA fighters fair. I want a lot of MMA fighters to get in touch with you because Mayweather Promotions, I look forward to putting on my first MMA show also and having me some MMA champions."
"Like I said before, Floyd Mayweather loves to think outside the box. We're not just one-dimensional. We'ver very versatile and we have an open mind. When I get into the MMA game, I want them to make more money than they're making because from what I hear, they're not being treated fair. Once again, I don't have nothing to say about nobody. I'm only talking about what I'm here to do. I'm here to treat fighters fair, I'm here to treat MMA fighters fair, and I feel that the talent should win."
Currently scheduled to round off his amazing career in September next year, we could see Floyd Mayweather make the transition in to MMA promoting very soon. One question is will the boxing great be in over his head in the world of mixed martial arts?
Having been involved in combat sports since day one, no-one is more experienced in the domain of boxing, especially in terms of skill right now, but how will his savvy translate in the one-horse world of MMA?
Watch this space……