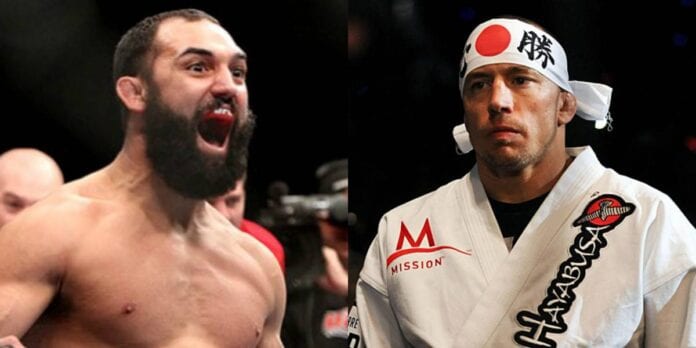 The UFC welterweight division sports a blistering group of top contenders.
Current titleholder Robbie Lawler has heroically defended is throne twice in the past year, putting forth legendary fifth-round surges to power through elite players like Carlos Condit and Rory MacDonald.
Since losing the belt to Lawler back at UFC 181, hard-hitting wrestler Johny Hendricks is amidst a resurgent run at gold. He will take on rising kickboxer Stephen Thompson this weekend at UFC Fight Night 82.
Patiently waiting on the sidelines is world-class grappling expert Demian Maia, who has quietly compiled a 7-2 record since making his divisional debut back in 2012. Even at 38 years of age, the Brazilian has never looked better.
Not to mention a potential return from the one and only Georges "Rush" St-Pierre.
All of these names make up one of the more intriguing championship pictures in all of mixed martial arts (MMA) entering the 2016 campaign. Former champions, all-time legends, rising superstars, and hardened pros are all vying for their chance to carry the 170-pound torch.
In accordance will the belief that all things are possible inside of the Octagon, here are five new and different paths the welterweight faction may be forced to traverse when the dust finally settles.
Demian Maia could make noise:
The biggest wildcard on the welterweight roster today is none other than submission guru Demian Maia.
As the quintessential ground wizard who destroys even the most-highly touted grappling specialists in the game (Gunnar Nelson), the former middleweight title challenger has found rejuvenated success among inferior 170-pounders. This includes Jon Fitch, Neil Magny, Rick Story, and Nelson.
Currently riding a four-fight win streak and scheduled to take on divisional mainstay Matt Brown at UFC Fight Night 87 this May, Maia is essentially one victory away from locking down his second UFC title shot.
And once he finds himself in the cage alongside the likes of Robbie Lawler, Carlos Condit, Johny Hendricks, and possibly Georges St-Pierre, Maia is more than capable of tapping any one of them on any given night.
Stephen Thompson might be a true title contender:
Many people are overlooking Stephen Thompsons when it comes to the ongoing welterweight title picture and rightfully so.
Thompson's biggest victories inside of the Otcgaon thus far have come against veterans Jake Ellenberger and Patrick Cote, as well as having an upcoming tilt with wrestling sensation Jphny Hendricks at UFC Fight Night 82.
But if we've learned anything over the past year, it's that world-class kickboxing and perfected precision can overthrow the biggest names in the sport (i.e. Holly Holm). So to think for one second that "Wonderboy" can't utilize his slick footwork, shifty movement, quick strikes, and glorified range to battle the best in the weight class, is outrageously incorrect.
However, in a division chock-full of ground specialists and relentless wrestlers, Thompson's success moving forward will be dictated by his ability to defend the takedown. With a long list of training partners like Georges St-Pierre and Chris Weidman, the South Carolina product may be well on his way to molding his game into an unstoppable force.
If he can finish Hendricks this Saturday, a title shot in 2016 would not be out of the question.
Johny Hendricks might regain his title:
The argument can be made that nobody in the division is as hungry for a world title than Johny "Big Rigg" Hendricks.
Having nearly defeated Georges St-Pierre back at UFC 167, then defeating current champion Robbie Lawler at UFC 171 for the vacant welterweight strap only to lose it back to "Ruthless" at UFC 181, the Oklahoma native knows all too well of the ups and down attached to UFC championship life. But that sort of back-and-forth pull atop the division is not going to deter Hendricks from putting close decisions, bad weight cuts, and a long layoff behind him.
Entering his bout with Stephen Thompson this weekend at UFC Fight Night 82, Hendricks finds himself in a do-or-die situation. It's crazy to think that a contender of his caliber is fighting for relevancy, but the division is so stacked that one hiccup and he'll find himself fighting guys outside of the Top 10 (or at middleweight).
With a unique mixture of pressure, power, and athletic brilliance, Hendricks possesses one of the best championship-ready skill sets in the division. He'll just have to put it all together to make 2016 his defining year.
Carlos Condit could finally become champion:
Many thought that Carlos "The Natural Born Killer" Condit did enough to defeat champion Robbie Lawler back at UFC 195.
But despite out-striking the brawler 176 to 92 through five brutal rounds, Lawler's late-fight antics proved too much on the judges' scorecards. Condit lost via split decision and has since contemplated retiring from the sport.
Obviously, at just 31 years of age, Condit still has a lot of fight left in him. Over the past five years, he's been one of the most consistent and dangerous welterweights on the planet. One who not only defeated Lawler on paper, but nearly knocked out Georges St-Pierre at UFC 154 via head kick.
With one of the best striking arsenals in all of MMA today, Condit does a fantastic job of mixing speed, technique, and distance in to energy-saving output. His ability to pick apart an opponent is truly unique in a division jam-packed with heavy hitters and wild head huntsmen.
If he decides to stay active the most direct way to the top would be a rematch with Lawler. Condit's performance the first time around certainly warrants it, and his tactical approach to the fight game suggests he could reign longer than most of the guys on this list.
Georges St-Pierre's return may just change everything:
Nobody knows for sure what Georges St-Pierre is going to do. He could decide to never fight again, he could decide to only take on superfights, he could decide to make a run at the title, or he could decide he just wants to fight someone like Conor McGregor.
But for the sake of argument and in hopes that the MMA world witnesses the return of greatness, let's assume for a minute that GSP will make a comeback in 2016.
Some pundits around the sport wage war as to whether or not the former long-time champion still has the athletic explosiveness and bewildering jab to shake off the division's current best. While GSP has been training amidst his ongoing Hollywood career and life without Dana White, it isn't quite the same as actually training for competition.
With that said, we're talking about Georges St-Pierre here. The same Canadian superstar who many consider to be the greatest fighter of all-time, if not the best UFC champion ever. If anyone can make a comeback at this stage of their career, it would be him.
A gauntlet of seething contenders and titleholders await his return.