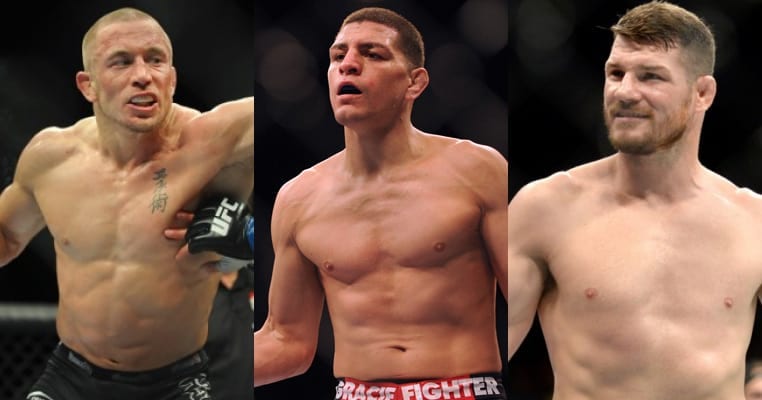 With the UFC currently dealing with a lack of available stars, one would have to assume that the promotion is doing everything it can to lure former Strikeforce champion Nick Diaz back to the Octagon – and that may indeed be the case. After all, we all know how difficult it is to negotiate with a Diaz brother.
Diaz hasn't competed since a 2015 decision loss to former longtime middleweight champion Anderson Silva. After the fight, however, it was made clear that both men had failed drug tests, leading the result of the bout to be changed to a no contest. Diaz was originally handed a ludicrous five -year suspension by the Nevada State Athletic Commission (NSAC), but that was later changed to an 18-month suspension that expired last August.
With that being said, Diaz has essentially been eligible to compete for nearly 10 months now, but there has been little said in regards to his potential return.
When fantasizing about what it might take to get one of the UFC's most outspoken stars back in the Octagon, it's difficult to formulate a clear answer. If you think a title fight is the answer, you're probably wrong. Diaz has never been focused on titles, but he's instead shown interest in only big fights and big money.
Without further ado, let's take a look at five fights that could realistically draw Nick Diaz back to the Octagon: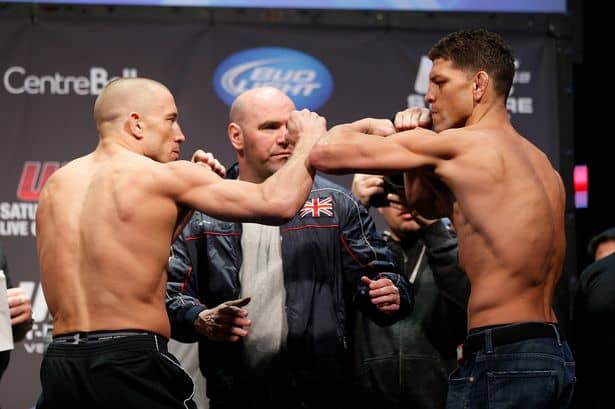 Rematch with Georges St. Pierre
It's not uncommon for Diaz to engage in a battle of verbal warfare with his opponent, and his most popular rivalry came against former longtime welterweight champion Georges St. Pierre.
The two clearly had ill will towards each other, and it showed in the lead-up to their UFC 158 bout, which took place on March 16, 2013.
Despite the exciting promotion, however, the bout didn't deliver on fight night. St. Pierre ended up scoring a dominant one-sided decision victory, as Diaz simply had little to offer the stifling Canadian.
St. Pierre only fought once more after defeating Diaz, going into a self-imposed "retirement" after his highly controversial split-decision victory over Johny Hendricks seven months later. "Rush" hasn't fought since, but he has announced that he will be making his return to action in the near future. In fact, UFC President Dana White announced earlier this year that St. Pierre would be returning in a middleweight title fight against Michael Bisping, but that doesn't seem to be the plan anymore.
St. Pierre is now in need of an opponent for his return bout, and both Diaz and himself still represent big names in the sport. Perhaps renewing an old rivalry would be enough to bring Diaz back to the fight game.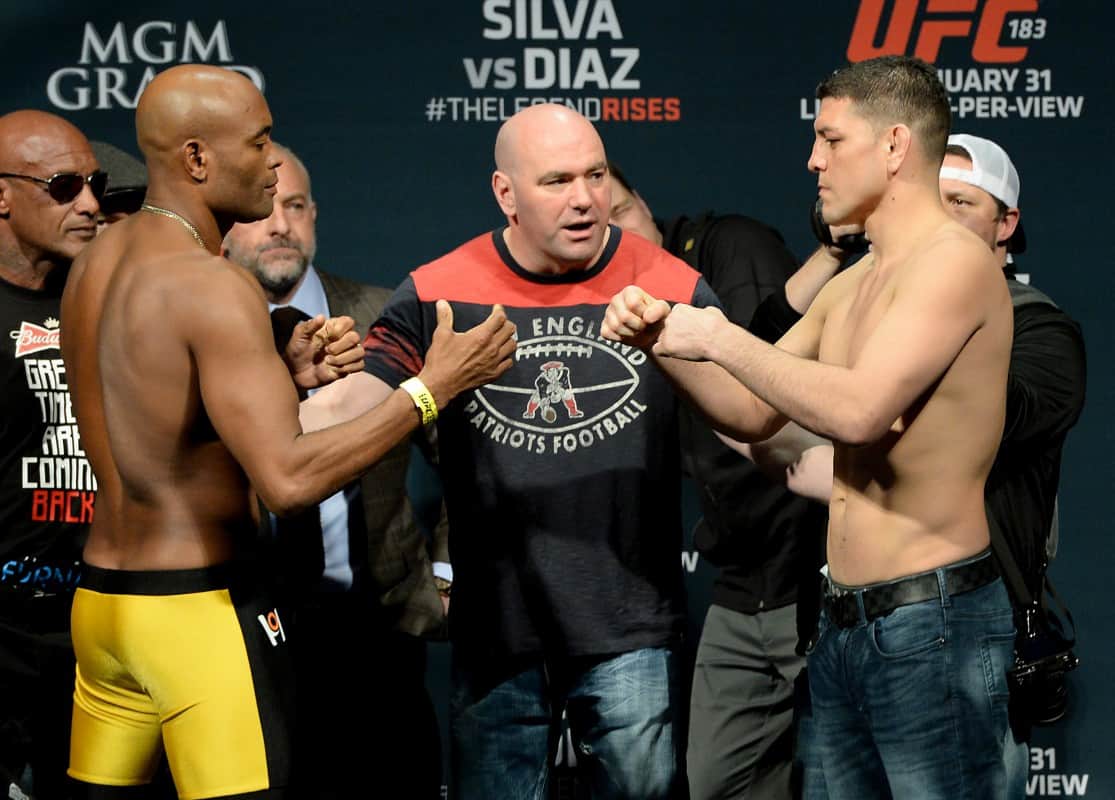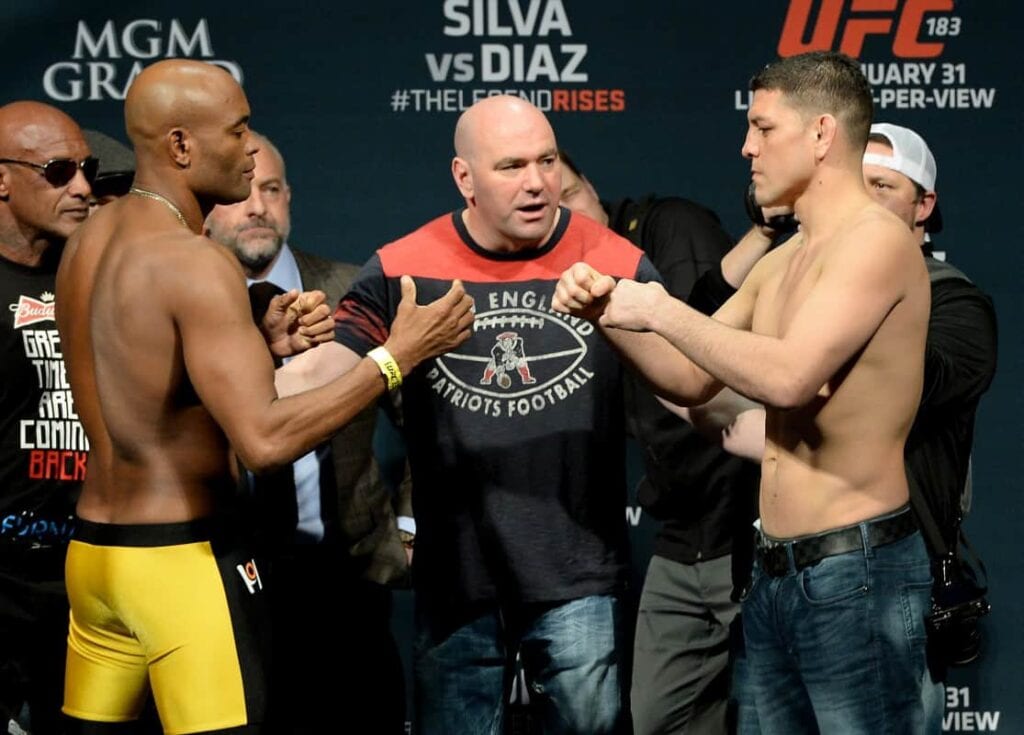 Rematch with Anderson Silva 
Like his bout with St. Pierre, Diaz's bout with Anderson Silva at UFC 183 in Jan. 2015 didn't turn out as many had hoped it would, although it was still a big fight between two marquee names that sold somewhat well on pay-per-view.
Since that fight, Diaz has not competed. Silva, on the other hand, has lost two of his three bouts since then, dropping back-to-back decision losses to middleweight champion Bisping and light heavyweight champion Daniel Cormier. His most recent fight, however, resulted in a victory, as he outpointed Derek Brunson this past February at UFC 208.
At age 41, Silva's skills and physical attributes have clearly began to decline, but like St. Pierre, he still represents a well-known name in the sport. "The Spider" has also expressed interest in a rematch with Diaz.
This fight would likely provide the Stockton native with a solid payday and it may be enough to draw him back to his old stomping grounds.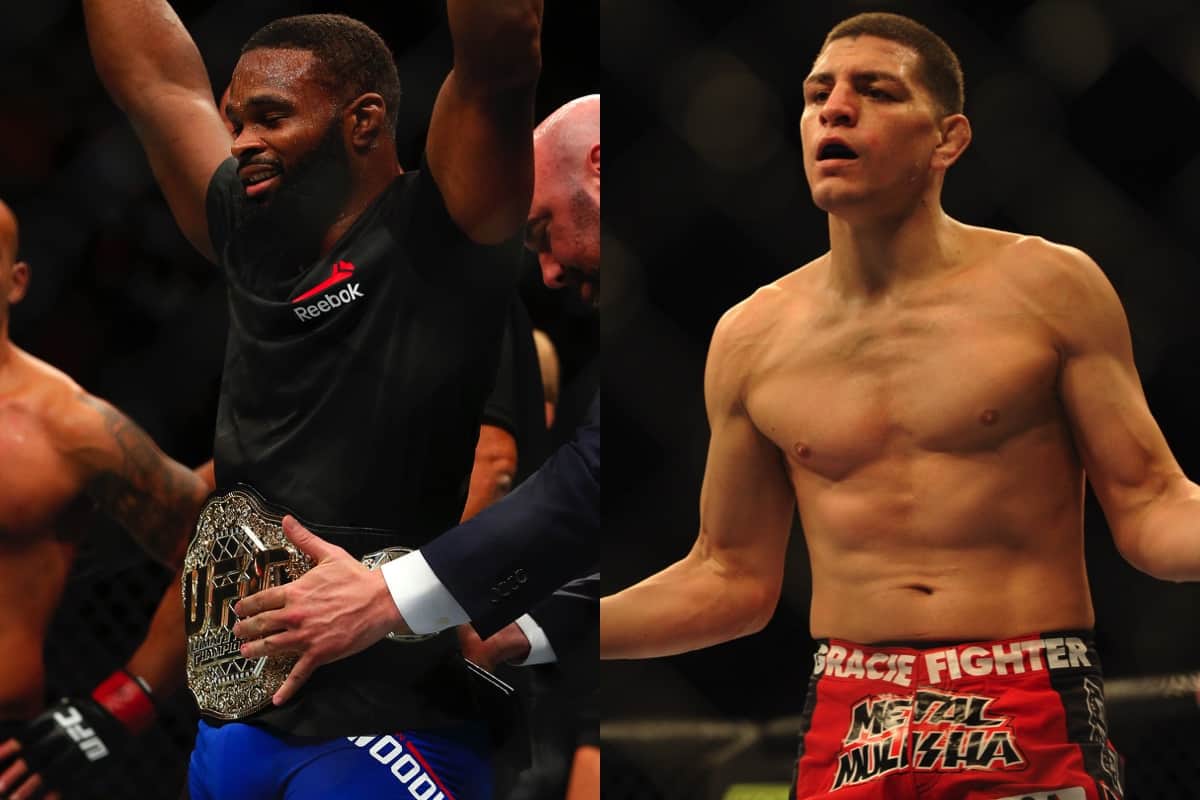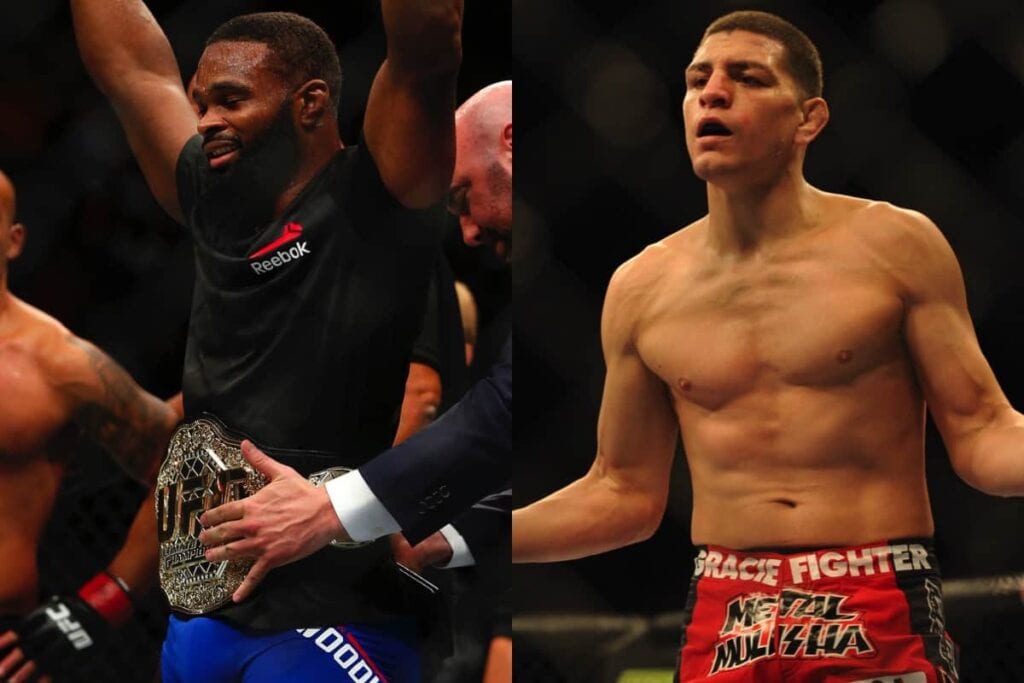 Title fight with Tyron Woodley
While it has seemed that titles don't necessarily matter the most to Diaz, a title fight would certainly be a far more lucrative option than other fights. As a natural welterweight, a fight with reigning 170-pound champion Tyron Woodley could be an intriguing option for Diaz.
After winning the title last July with a brutal knockout victory over Robbie Lawler, Woodley quickly expressed interest in a bout with Diaz. Since then, he has put his title on the line twice, fighting to a majority draw with Stephen Thompson last November before scoring a decision victory over Thompson in their rematch this past March. He is expected to take on grappling wizard Demian Maia next, but a bout with Diaz would undoubtedly provide him with a far more lucrative option.
Money has proven to rule in today's UFC landscape and a bout between Woodley and Diaz would represent one of the most enticing options at 170 pounds, at least from a financial aspect, which is why it may interest Diaz.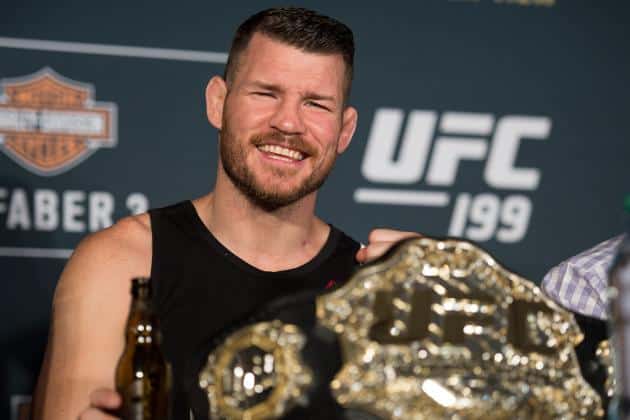 Title fight with Michael Bisping
Diaz has also competed at 185 pounds, and similarly to why a bout with Woodley may interest him, a bout with middleweight champion Bisping may get his blood flowing as well.
"The Count" has taken quite a roundabout way towards becoming champion of the middleweight division, and his title run has been just as strange. Stepping in on short notice at UFC 199 last year, Bisping stunned the world by knocking out Luke Rockhold to steal the title. He then defended the title with a decision victory over Dan Henderson last October in a bout that drew quite a bit of criticism due to the fact that "Hendo," although a legend, was ranked No. 14 at the time.
Most recently, he was booked against St. Pierre in another bout that drew some criticism, although that fight has seemed to have fallen through. If the UFC were to book Bisping against Diaz, backlash may follow, but once again, it would sell.
Bisping and Diaz are two of the most polarizing trash talkers in the history of mixed martial arts. The promotion for a bout between the two of them would likely produce fireworks. Also, the two are polished volume punchers with bottomless gas tanks.
Perhaps this would be the fight to revive Diaz's career.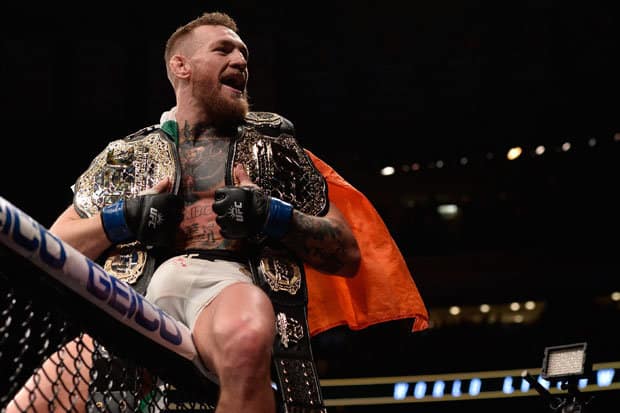 Fight with Conor McGregor
I was hesitant to put this option on the list due to Conor McGregor's history with Diaz's younger brother Nate.
Nate shocked the MMA world at UFC 196 last year when he submitted the Irishman on less than two weeks' notice. McGregor then scored a majority decision victory in the rematch between the two last August at UFC 202. A trilogy should possibly be an option down the road.
While Nick has indeed said that McGregor is Nate's rival, the "Notorious" one represents the biggest money opponent in MMA, and Diaz loves money. The backstory behind a fight between McGregor and the elder Diaz brother would also be unparalleled.
Although it may be the least likely option on this list, I'd have to assume, if made possible, this fight would draw Diaz back to the cage.
Who would you like to see Nick Diaz fight if he were to make a return to MMA?