It may not have been the most hyped mixed martial arts (MMA) event of 2016, but last night's (Sunday, February 21, 2016) UFC Fight Night 83 from the CONSOL Energy Center in Pittsburgh, Pennsylvania, delivered a heavy-hitting mix of great fights and finishes that earned it a deserving recognition as a very solid under-the-radar event.
There was a great women's bout between Lauren Murphy and Kelly Faszholz that earned 'Fight of the Night' on the Fight Pass prelims, while the fight right after it between Ashlee Evans-Smith and Marion Reneau resulted in yet another MMA scoring controversy that only furthered the backlash towards the scoring system in place and the judges present in Pittsburgh that made some head-scratching errors.
There was also the continued rises of a few strong up-and-coming stars, and another return of sorts as recent lightweight title challenger Donald Cerrone returned to winning ways with an impressive first round submission of late replacement Alex Oliveira. All in all, it was a strong card that continued the UFC's strong recent efforts and will continue promotional momentum into the absolutely blockbuster events scheduled for two weeks to come.
Let's take a look back at the five biggest takeaways from UFC Fight Night 83.

5.) Pittsburgh Needs Some New MMA Judges, Quick:
The biggest judging controversy of the night, which seems to have become an every-event thing these days, came in the Fight Pass prelims-headlining Ashlee Evans-Smith vs. Marion Reneau bout. The fight, which saw Evans-Smith thoroughly dominated by Reneau in the first after starting slow following more than a year off from a suspension for diuretic use, became much closer in the second and third rounds when she showed much improved striking and heart.
Scoring her first ever UFC win, Evans-Smith rallied to win a controversial split decision that many felt should have gone to Reneau. However, that was debatable and the real travesties came when the scorecards were released. Check them out here and see if you can figure out what is wrong with them: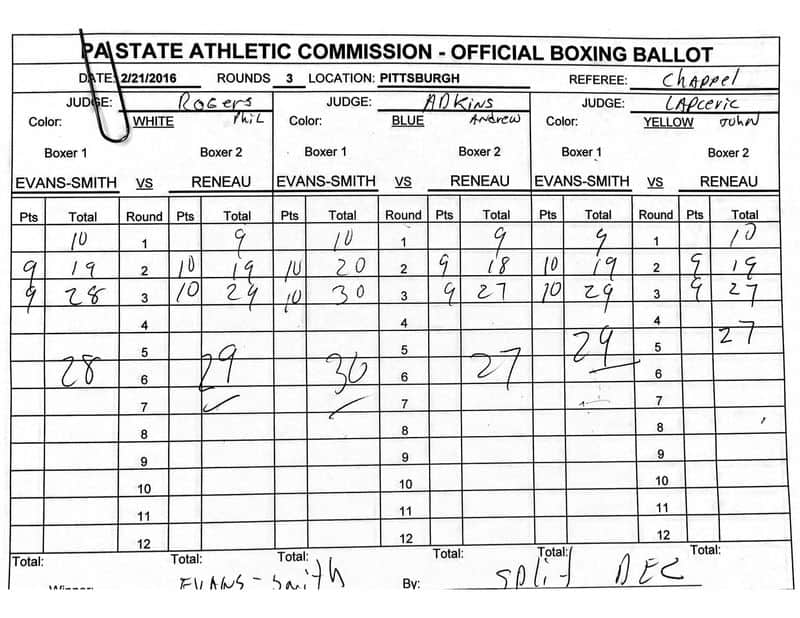 If you said it was a trick question, then you're partly right. The first joke of the scores came when Andrew Adkins ridiculously gave Evans-Smith a 30-27 run on the scorecards despite the fact that she was winging at air and ate several big punches and kicks from Reneau in the first round. The second is even worse, however, as the third judge John Lapceric somehow had the lack of math skills to add up his score correctly, erroneously awarding Evans-Smith the decision by an impossible score of 29-27 considering neither of the two rounds she supposedly won could have possibly been considered a dominant 10-8 frame.
Not a good night for Pittsburgh MMA judges.

4.) Sean Strickland Could Be A Star – But Not So Fast:
Rising 24-year-old prospect Sean 'Tarzan' Strickland continued to make his mark on the stacked UFC 170-pound landscape with an impressive TKO win over Alex Garcia in the featured preliminary bout at UFC Fight Night 83. A former King of the Cage (KOTC) middleweight champion with five title defenses under his belt, Strickland's only setback on his now 17-1 record was a decision loss to Santiago Ponzinibbio in his first fight at welterweight in early 2015.
The future appears bright and most likely is for the lanky power striker from Southern Cali, but those hyping his rise may have to pump their brakes just a bit. Strickland tends to hold his chin up rather high when he jumps in the pocket to strike, and his bout versus Garcia was close until he pulled apart in the third round. That's something that could deal him a tough lesson in the stacked welterweight division. He'll most likely get a Top 15 or Top 20-ranked opponent his next time out, so if he can avoid eating too many powerful strikes and clear his next hurdle, we'll know he's almost certainly headed for big things.

3.) Cody Garbrandt Needs Top 10 Opponents From Now On:
Young and talented like Strickland but fighting in a smaller and less crowded division, undefeated 24-year-old Team Alpha Male fighter Garbrandt kept his spotless record intact with a big first round finish of late replacement Augusto Mendes after his original foe John Lineker was forced out due to dengue fever.
Garbrandt has shown some absolutely frightening knockout power for his division, with seven of his eight MMA wins coming by way of striking stoppage. There's always the odd dynamic of him being friends and teammates with No. 3-ranked Urijah Faber, who appears the frontrunner for the next shot at champion Dominick Cruz; however, Garbrandt undoubtedly deserves to be matched up with top-ranked challenges in a division that may be short on legitimate title contenders right now but has a ton of young talent.
Garbrandt will probably next face off with No. 11 Lineker at a later date after he heals because the fight was already made and would most likely produce fireworks. A bout with No. 8 Bryan Caraway could also make sense one day for "No Love" if Miesha Tate's boy toy would only take the fight.
If he wouldn't (and that may definitely be the case) then Garbrandt could face off with young stud Thomas Almeida in another sure-to-be-explosive tilt; although the UFC might not want to eliminate a contender in a division as shallow as bantamweight. If that's the case, then perhaps he could be matched up against the recently returned No. 6 Michael McDonald to see which one is truly ready to rise up to title contention. If the UFC wants to test his grappling, then they could give him newly re-signed and undefeated No. 5 competitor Aljamain Sterling, although that might be too much, too fast.
If all those exciting options fall through, the UFC can always give him No. 9-ranked perennial gatekeeper Takeya Mizugaki to see if he's ready to take on the Top 10. If he gets past that test and dispatches two more top-ranked opponents, the angle of a grudge match with TAM castoff and former champ TJ Dillashaw will always be there for "No Love."
With fresh and exciting fighters like Garbrandt, Almeida, and to a lesser extent, Sterling, working their way up and McDonald back in the fold, bantamweight suddenly doesn't look all that shallow.

2.) So Does Derek Brunson:
Just like Garbrandt and Strickland, the Jackson Winkeljohn-trained Brunson has quietly worked his way up the ladder, but at 32 years old, he isn't nearly as young as them. Finishing dangerous submission artist Roan Carneiro with a first round flurry of punches last night, Brunson won his fourth straight fight (including three stoppages) since his disappointing TKO loss to top-ranked Yoel Romero in January 2014.
He was handily winning that bout until "Soldier of God" turned the tables with a third round elbow and torrent of strikes, so the loss proved he could hang with the very best middleweights in the world. Now that he's worked his way back up the ladder a bit by beating tough but less-than-elite fighters like Sam Alvey and Ed Herman, Brunson deserves his shot at a Top 10-ranked opponent again. He's only lost to Romero, Ronaldo "Jacare" Souza, and Kendall Grove by split decision in his six-year fighting career, and the best appears yet to come for Brunson.
Give him someone like No. 8 Robert Whittaker or the winner of this upcoming weekend's UFC Fight Night 84 co-main event between No. 9 Gegard Mousasi and No. 10 Thales Leites in London and see what he can do.

1.) Donald Cerrone Looked Great, But Still Has A Lot To Prove At 170:
The fun-loving, thrill seeking 'Cowboy' moved up a weight class to 170 to face Alex Oliveira in Pittsburgh after getting utterly destroyed by lightweight champion Rafael dos Anjos in December 2015 (his second loss to "RDA"), and it paid dividends in the form of a submission win and a $50,000 'Performance of the Night' bonus.
All's well with a return to the win column, right? Well, not so much if you want to consider 'Cowboy's' chances against the elite of the crowded UFC welterweight Top 15. His win over Oliveira was certainly impressive, but it's easy to forget that the Brazilian was also a usual lightweight who took the fight on short notice when Cerrone's original opponent, the much bigger (and more experienced) Tim Means was forced out after a potential USADA violation.
What's more is that Oliveira actually took a page out of dos Anjos' and Anthony Pettis' books against Cerrone, repeatedly nailing him with knees to the body and a stinging right before he was taken down and made a huge mistake on the ground that allowed Cerrone to capitalize with a fight-ending triangle.
Cerrone will always put on fun fights for the fans, but the cold truth of the matter is that his future opponents at welterweight won't make the rookie mistake that Oliveira made on the ground. So while 'Cowboy' is one of the most accomplished fighters in UFC history in terms of wins, finishes, and other important stats like leg kicks, he's going to have a ton of work to do if he truly wants to contend with the top welterweights in the Octagon.
His win over Oliveira was an impressive one, but let's not put a ton of pressure on the welterweight 'Cowboy' until he's fought and defeated a real welterweight who's gone through a full camp in preparation for his dangerous blend of lethal Muay Thai and swift submissions.