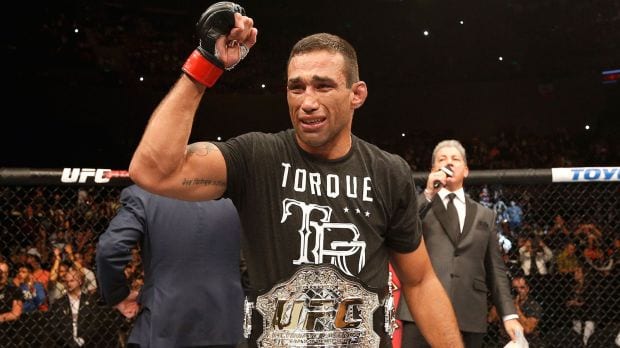 UFC heavyweight champion Fabricio Werdum is currently experiencing the best form of his career. After convincingly beating Cain Velasquez during the title unification headliner of UFC 188, a number of very interesting fights await the newly crowned Brazilian boss. Rematches with Junior Dos Santos, Andrei Arlovski and even Cain Velasquez are obvious options, then there's top contender Stipe Miocic to consider too, and even streaking two-time opponent Alistair Overeem waiting in the wings.
'Vai Cavalo' took to his Twitter account last night, and made a rather surprising call for his next bout:
Oq vcs acham de uma superfight eu x o @JonnyBones ? what you guys think about a super fight me vs @JonnyBones? Let's bring him back?

— Fabricio Werdum (@FabricioWerdum) June 29, 2015
As we know, Jon Jones stands on the precipice of a potential grand jury trial for his New Mexico hit-and-run fiasco, so maybe superfight talk is a little premature right now. Also, doesn't Jones need to have a belt for the bout to be considered 'super'? 'Bones' himself has already spoke about going to heavyweight, and even called out Cain Velasquez while he was still champion after UFC 182. There was talk of Fabricio Werdum vs. Jon Jones before this whole court drama started, but even then it seemed a little unlikely.
That being said, given the recent P4P (pound-for-pound) rankings update, Werdum has an interesting platform to make fights from. Having wins over Fedor Emelianenko, Travis Browne, Mark Hunt, Antonio Rodrigo Nogueira, Cain Velasquez and many more makes the Kings MMA grappler a truly elite level athlete, and Jones was his light-heavyweight equivalent.
Would you be interested in seeing Jones vs. Werdum, or should 'Bones' concentrate on 205 pounds, if he in fact ever returns to fighting?
#More great articles#
Top 10 Worst MMA Injuries Ever