.In today's MMA world, it's easy to get caught up in a prisoner-of-the-moment-type of thinking, especially when there are high-level fights on just about every weekend. That makes it harder and harder to keep track of the truly great fights in MMA history.
Fret not, LowkickMMA has you covered.
We delved through the MMA universe to bring you the eight of the most incredible fights you probably forgot about.
The list starts here. Check out eight incredible MMA fights you probably forgot about: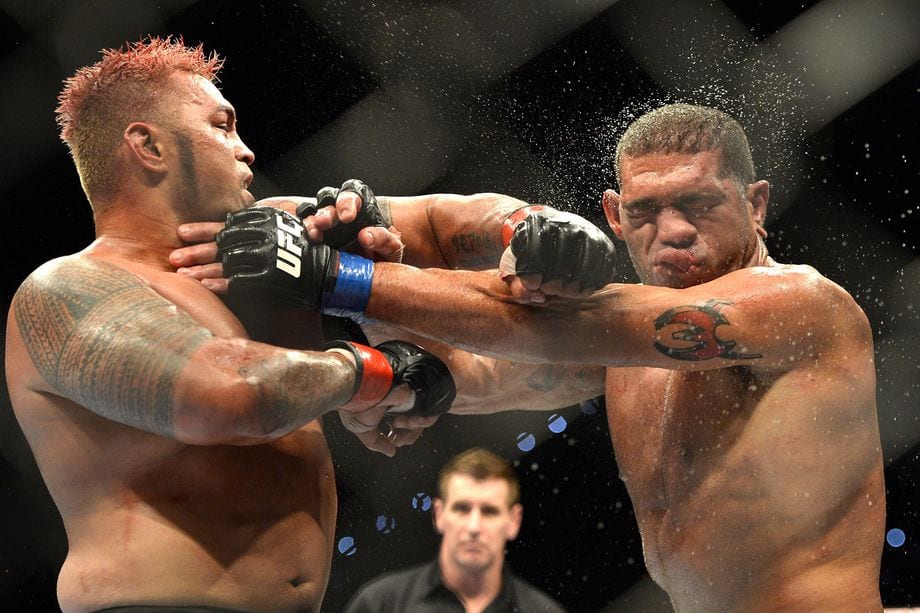 Mark Hunt vs. Antônio Silva 1
We waste no time getting this list going with this heavyweight war. Did you forget about this fight already?
Mark Hunt and Antônio Silva collided at UFC Fight Night 33 in Brisbane, Queensland, Australia. The two heavyweights fought tooth and nail in this back-and-forth five-round war that ultimately ended in a draw. These two would meet up again just about two years later but the "Super Samoan" would easily knock out the injury-laden "Bigfoot" in that meeting.
Hunt has given MMA fans some of the most thrilling knockouts the sport has ever seen. Although he was unable to land the walk-off shot on Silva in their first meeting, the Australian fans were left with one of the greatest heavyweight fights the sport has ever seen.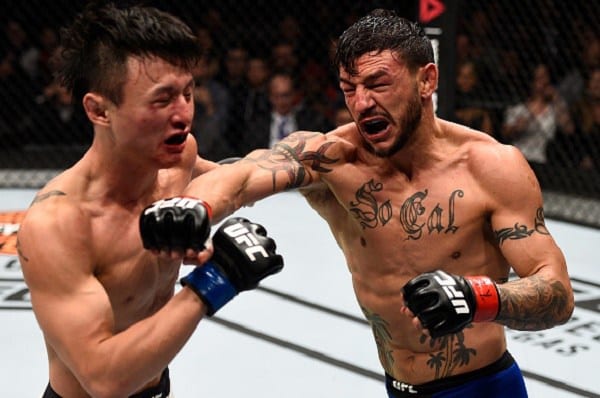 Cub Swanson vs. Doo Ho Choi
UFC 206 in 2016 was headlined by a featherweight title fight between then-champion Anthony Pettis and Max Holloway, but it was Cub Swanson and Doo Ho Choi who stole the show.
Swanson was already an established veteran when he stepped into the Octagon to face a relatively unknown Choi. However, the fighter known as the "The Korean Superboy" did more than just hold his own against Swanson. He nearly finished Swanson on several occasions with his unorthodox striking and unreal ability to absorb punishment.
Swanson defeated Choi at UFC 206 in what was easily the Fight of the Night. This fight would go on to be voted at the #2 fight of 2016.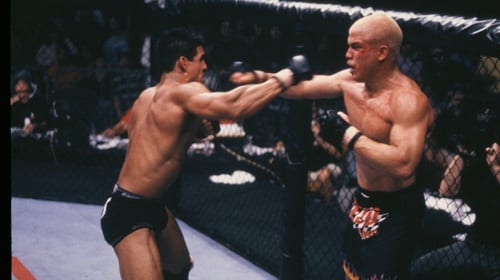 We go way back to 1999 for this fight. UFC 22 would serve as the backdrop for the most important fight in UFC history, at the time of course – Frank Shamrock vs. Tito Ortiz.
The "Huntington Beach Bad Boy" was on top of the MMA world in 1999. His wrestling and ground and pound were beyond what anyone had seen up until that point. Ortiz beat up everyone in his path, even stomping out Frank's older brother Ken a few times.
But when Ortiz stepped into the octagon with the younger Shamrock brother, he met someone in Frank who could match his athletism step for step.
Ortiz faired well for most of the fight, but in the fourth round, Shamrock would welcome the "Huntington Beach Bad Boy" to the world of BJJ, as he submitted Ortiz via guillotine choke to retain his light heavyweight title.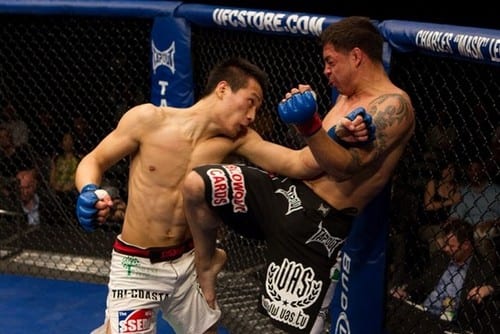 Leonard Garcia vs. Korean Zombie 1
The World Extreme Cagefighting (WEC) produced some of the very best lighter weight fights in the world, many of whom who tore it up in the UFC.
"Bad Boy" Leonard Garcia and Chan Sung Jung "The Korean Zombie" put on one of the best fights in WEC history. These two men would fight again under the UFC banner just a couple years later. Although their second fight proved to be highly entertaining, nothing can duplicate the magic of WEC 48.
Garcia would take the razor-close decision in what would be become the FOTN. Garcia vs. Jung is voted as the greatest featherweight MMA fight of all time.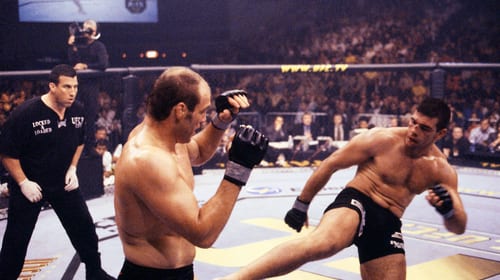 Randy Couture vs. Pedro Rizzo 1
Hall of Fame fighter Randy Couture has had one hell of a combat sports career. He was on top of the heap in 2001 when he took on challenger Pedro Rizzo at UFC 31.
Rizzo was considered by many the best heavyweight in the world at the time. The only thing standing in his way of the light heavyweight title was "The Natural". Couture has stated in multiple interviews that his two fights with Rizzo were two of the most arduous and painful of his entire career.
Although Couture would get his hands raised against Rizzo, he still has a knot in his right quadriceps from the Brazilian's vicious leg kicks.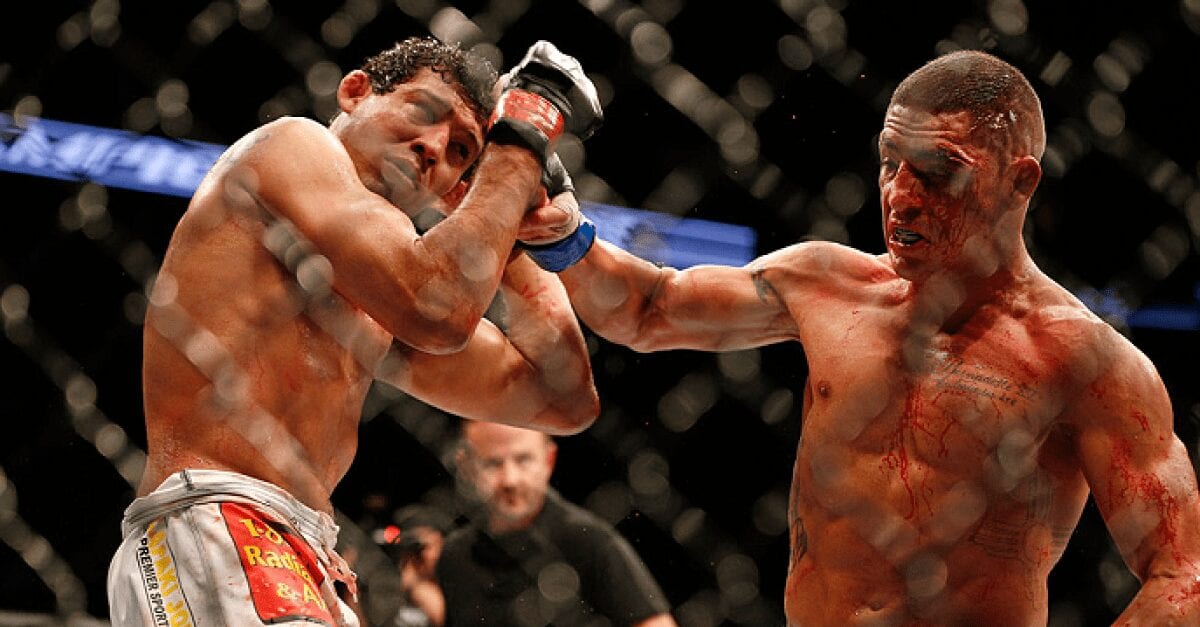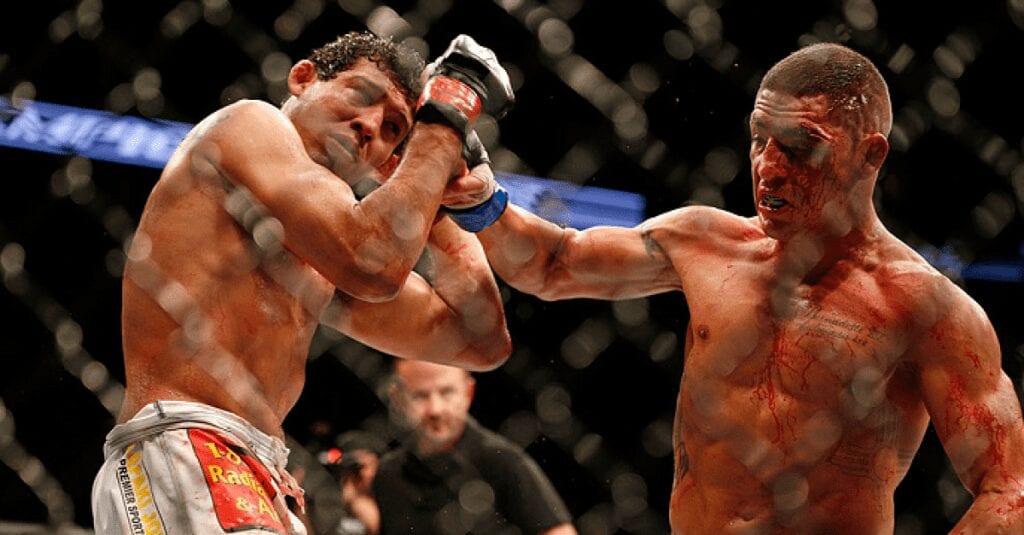 Gilbert Melendez vs. Diego Sanchez
Ok, if you haven't seen this fight stop what you're doing and go watch it now! I'll wait. When two Mexican fighters like Gilbert Melendez and Diego Sanchez get inside the Octagon to fight, all bets are off.
Both Melendez and Sanchez embody the stereotypical action fighter who is all heart and has a willingness to throw caution into the wind. Their fight at UFC 166 will go down as one of the most incredible fights in MMA history. Melendez would get his hand raised on this night, but if I can borrow a sports cliche, there was no loser on this night.
I'm often asked what fight I would tell someone to watch if they were just starting to get into the sport. My answer has been the same since 2013 – Gilbert Melendez vs. Diego Sanchez.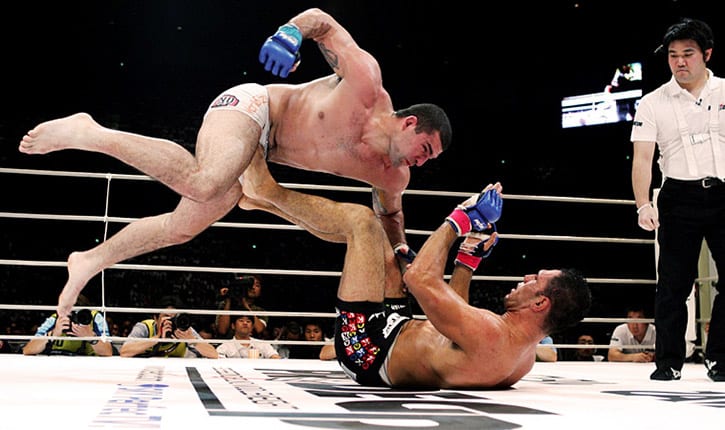 Shogun Rua vs. Antônio Rogério Nogueira
We go back to Pride Critical Countdown 2005 for the penultimate entry into the list of incredible fights you probably forgot about to bring you Shogun Rua vs. Antônio Rogério Nogueira.
Long gone are the days of Pride Fighting Championship but we are still left with some of that era's most amazing fighters. Both Shogun and Nogueira have made quite the careers for themselves after leaving the Japanese owned promotion. But nothing will ever compare to the glory days of Pride Fighting.
After defeating Nogueira in the quarterfinals, Shogun went on to win the middleweight tournament and was generally considered the best 205-pound fighter in the world for several years.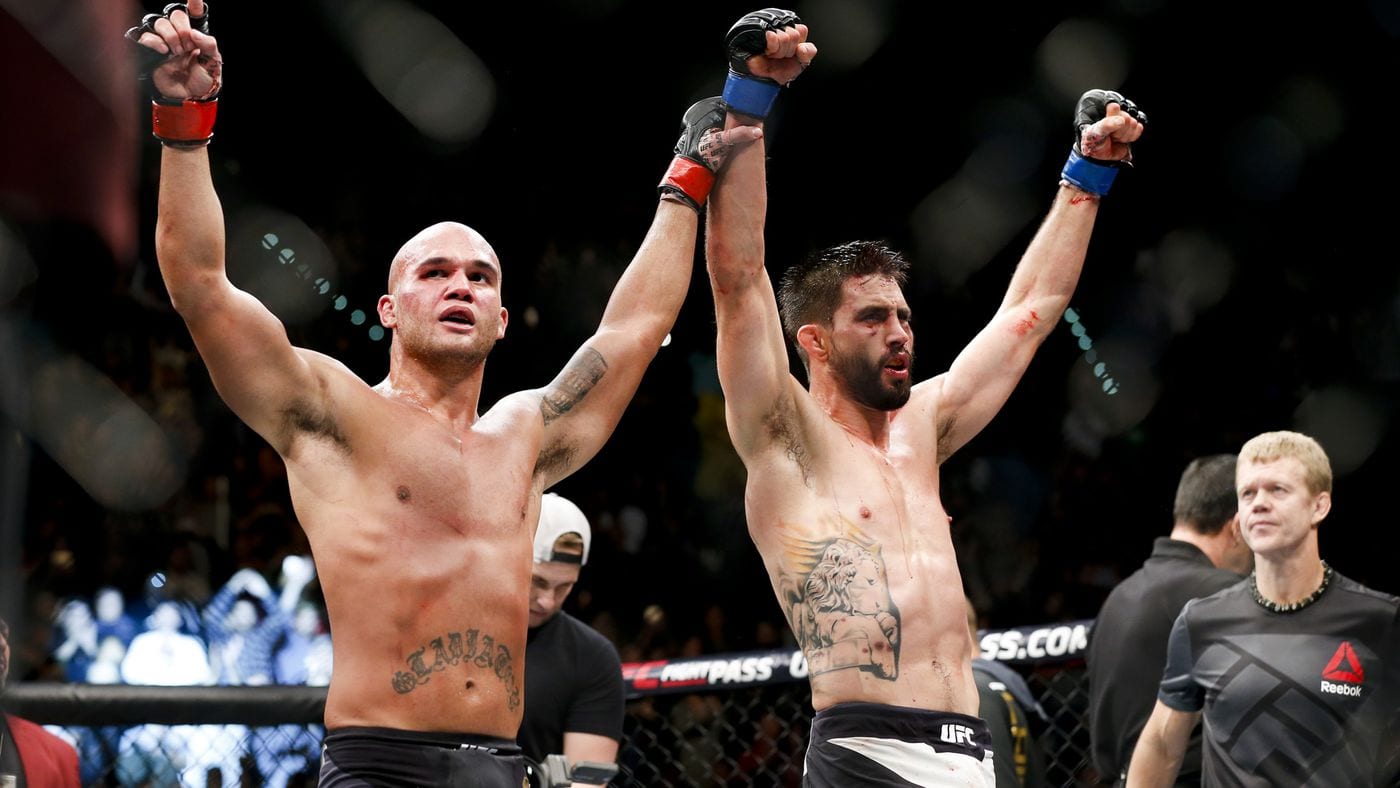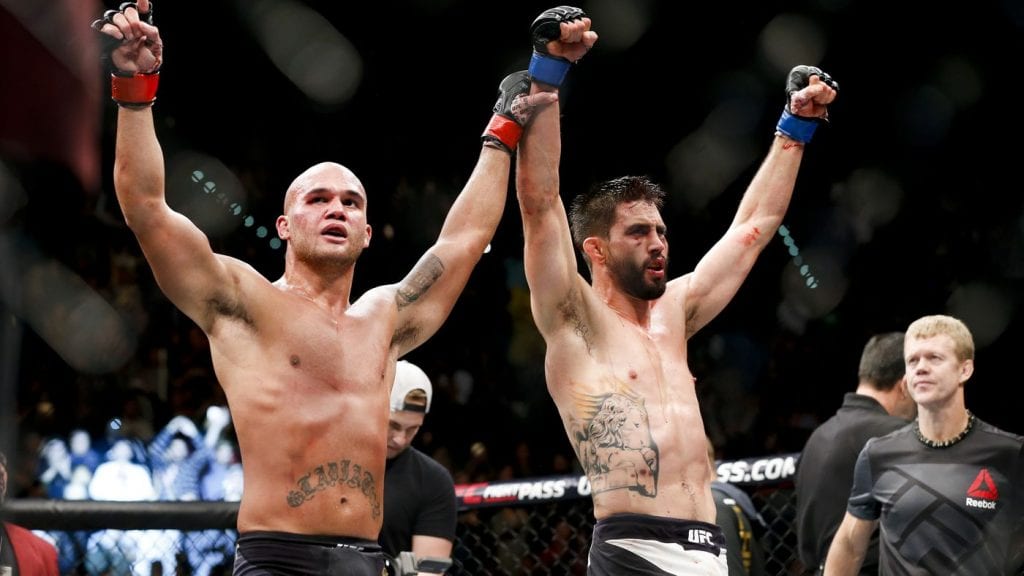 Robbie Lawler vs. Carlos Condit
When you think of "Ruthless" Robbie Lawler and the wars he has had inside the Octagon, you most likely think of his slugfests with Rody MacDonald, and for good reason.
However, it was the war of attrition Lawler had with Carlos Condit that takes the final spot on our list.
UFC 195 featured Lawler defending his welterweight title against Condit. Anytime "Ruthless" Robbie fights the fans get their money worth. And UFC 195 was no different. Considered to be one of the top 10 welterweight fights of all-time and earning the coveted 'Fight of the Year' in 2016, Lawler vs. Condit just may be one of the best fights in the modern era.
Let us know what you think. What fight(s) did we miss?