The UFC hype machine is crucial in the development and promotion of new superstars, something the promotion seems to be lacking in the early going of 2018.
While some of these uber-hyped fighters have gone on to big things in the sport of MMA, many more have fallen by the wayside, never living up to the lofty expectations the UFC and fight fans placed upon them.
Sometimes it's the fighters who hype themselves up to almost unattainable levels, other times the fans or promoters. Still, the result is always the same, and almost never ends well.
We broke down the eight worst hype train derailments below, so check them out and let us know what you think.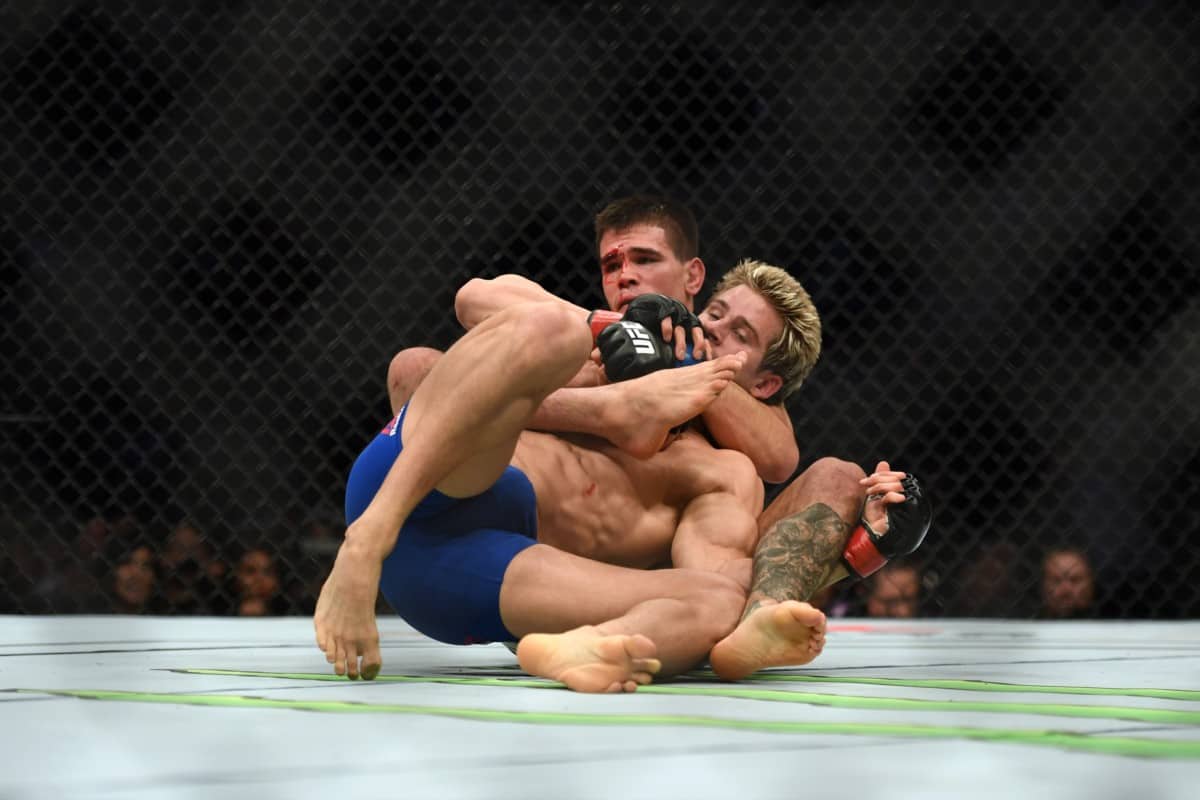 8. Sage Northcutt
While Northcutt's young age could eventually preclude him from this list, the amount of hype he garnered following his successful UFC debut ultimately made for a deflating hype train derailment.
Northcutt had and has the perfect appeal for a UFC hype job; blonde hair, ridiculously chiseled physique, a fan-friendly striking game, and a sort of charming naïveté made him easy to promote. He TKO'd his inaugural UFC opponent in a minute flat, but from there the wheels began falling off of this hype train.
The first sign that Northcutt might not be the world-beater we thought he was was in his third Octagon appearance, where the young Texas native submitted to an arm-triangle choke against the unheralded Bryan Barbarena in 2016. Then, in what amounted to a battle of hyped-up prospects, Mickey Gall submitted him with a rear-naked choke, prompting fans and pundits to question Northcutt's submission defense and overall potential.
At just 22 years old with a 10-2 MMA record, Northcutt could absolutely turn it around and become a contender within the next few years. However, the UFC's attempt to hype and push him into relevancy so quickly obviously worked against him.
Time will tell whether or not Northcutt will live up to the hype first placed upon him back in 2015.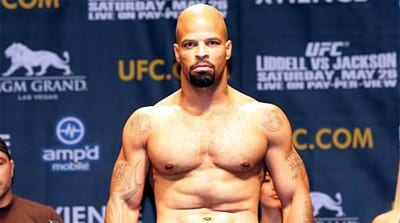 7. Houston Alexander
"Houston Alexander is for REAL!" fight fans might remember Joe Rohan exclaiming all the way back at UFC 75 after Alexander pummeled Alessio Sakara for his second sub-minute knockout in a row.
Alexander burst on to the scene with a parking lot beatdown of Keith Jardine, who had just come off a first-round TKO over Forrest Griffin. 48 seconds later, and the MMA world had already begun pondering how then-light heavyweight champion Rampage Jackson would deal with the brute strength of "The Assassin".
The hype train was rolling at Mach speed until UFC 78, when Alexander's lack of a ground game became painfully obvious after Thiago Silva pounded him into unconsciousness in mount with Alexander looking like a fish out of water on his back.
The hype train completely exploded into dust with a Superman punch eight seconds into Alexander's next fight against James "The Sandman" Irvin.
But for the better part of 2007, Houston Alexander was the biggest hype job around in the UFC.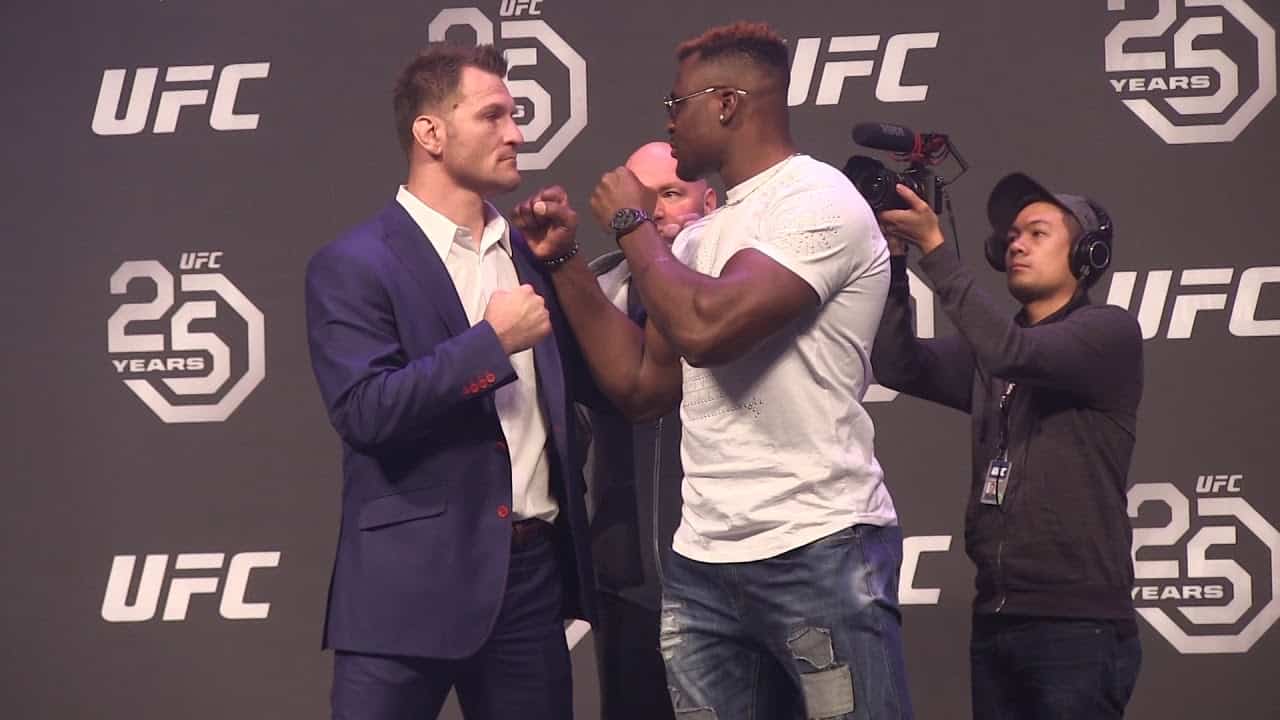 6. Francis Ngannou
This is a controversial pick to include Ngannou on this list, but the amount of hype he had going into his title shot against Stipe Miocic was so intense it was actually disrespectful to the champion Miocic.
Ngannou, much like others on this list, exploded onto the MMA scene with quick and brutal knockout victories, and people genuinely saw championship material in him. Fans were almost certain that Miocic would crumble under Ngannou's power, citing his 2012 TKO loss to Stefan Struve as evidence that he couldn't possibly handle the Cameroonian's punches.
After all, Ngannou nearly decapitated Alistair Overeem and blasted through Andrei Arlovski in a little over a minute. For the uninformed fan, he looked like a world-beater, but longtime fight fans had known Overeem and Arlovski had questionable chins and that Miocic wouldn't go down that easily.
And Miocic steamrolled Ngannou, despite the incredible hype he had going into their UFC 220. While Ngannou will surely bounce back, it's hard to envision another outcome should he make his way back to the title.
Just another victim of a premature hype-job by the UFC.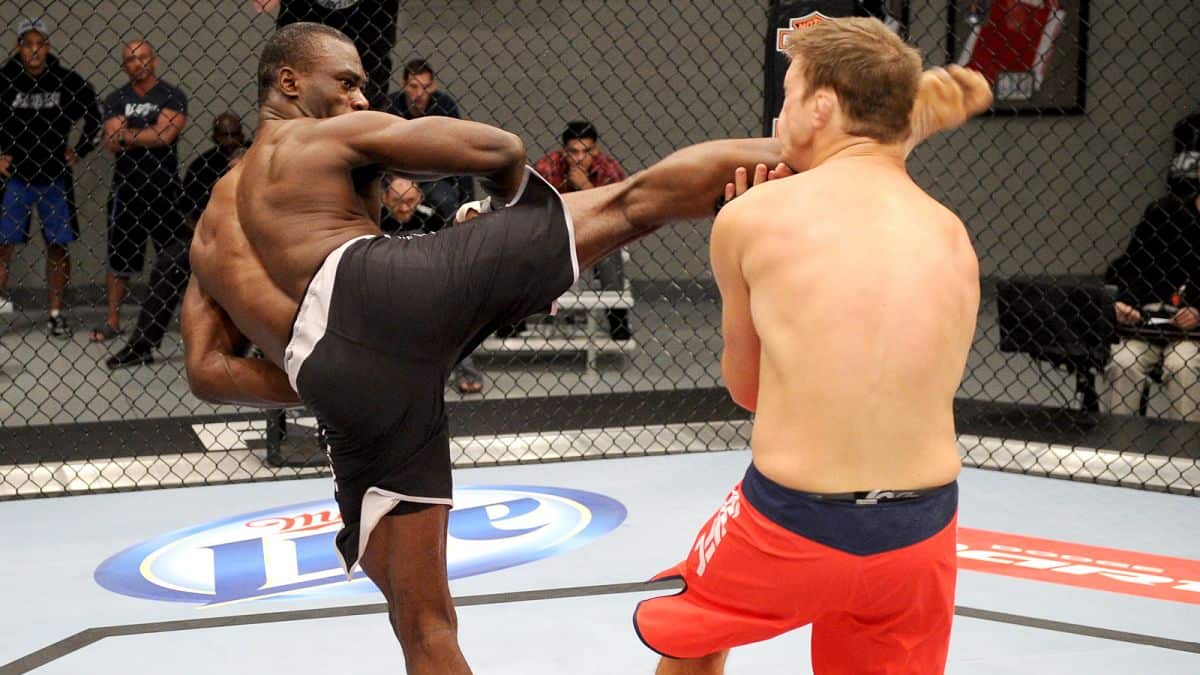 5. Uriah Hall
If you watched season 17 of the Ultimate Fighter, you would have thought Hall was going to be the next Anderson Silva, as Dana White so eloquently opined.
But as deadly as Hall looked on TUF, he didn't even end up winning the finale against Kelvin Gastelum, and his UFC career has been remarkably inconsistent. The expectations for Hall were so high coming off of the show, with his dazzling spinning kick KO of Adam Cella and 10-second KO of Bubba McDaniels.
Flashes of that hype train emerged against Gegard Mousasi, whom he TKO'd with a combination straight out of Street Fighter. Overall, Hall's hype train was justifiable at first, but now it seems foolish in hindsight. White once remarked upon Hall's lack of killer instinct, and that seems to be the story of Hall's MMA career.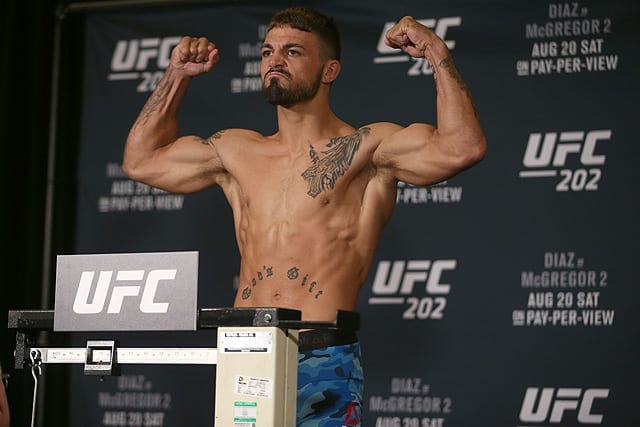 4. Mike Perry
Like many fighters on this list, Perry burst on to the MMA scene with a pair of violent knockouts. "Platinum" had the charisma, punching power and fighting style that was sure to make him a star in the UFC's shark tank of a welterweight division.
But a decision loss to Alan Jouban halted Perry's hype momentum, showing fans that the Florida native may have been just a tad overhyped. "Platinum" rebounded with two more knockout victories over so-so competition before dropping another two fights to Santiago Ponzinibbio and Max Griffin.
Favorable matchups and good timing are all it takes to get a hype train rolling. Perry could still end up becoming a contender given his young age, but for now, this hype train is under repair.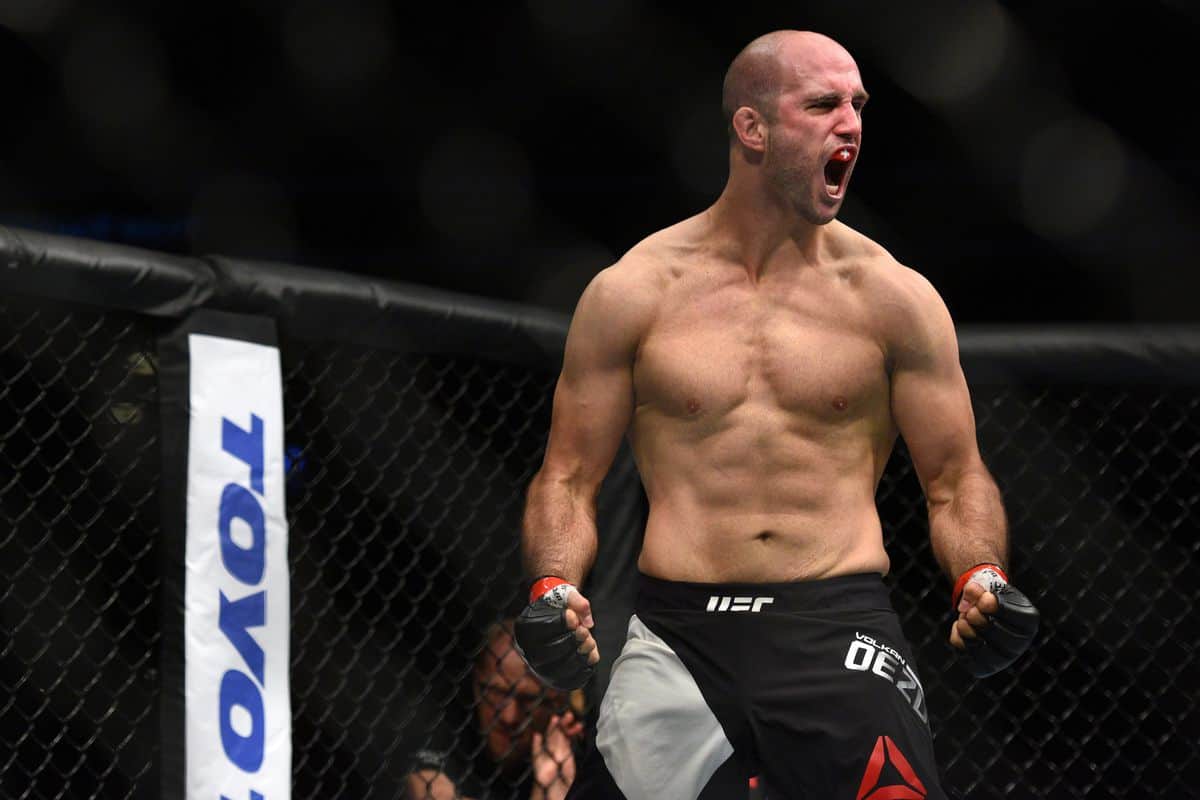 3. Volkan Oezdemir
If you haven't noticed the formula for a hype train, you certainly will at this point. Oezdemir, like others on this list, scored two emphatic knockouts in a row, each under a minute.
Following his 42-second destruction of contender Jimi Manuwa at UFC 214, Oezdemir was promptly rushed into a title shot against incumbent champion Daniel Cormier just three fights into his UFC tenure.
Cormier singlehandedly wrecked Volkan's hype train at UFC 220, TKO'ing him in the second round.
Oezdemir has since dealt with legal troubles stemming from a Florida bar fight, and for now, it seems like the Oezdemir hype train has run off course.
Beware of falling for fighters on a quick come-up. They're going to eventually be tested at the top of the division and more often than not, they fall short of expectations.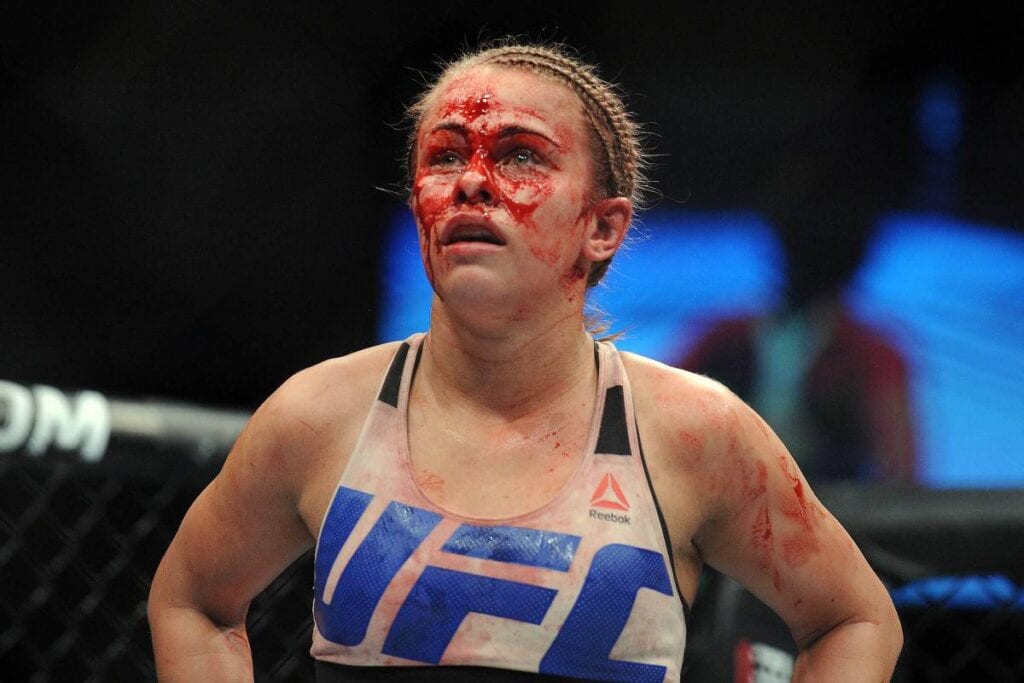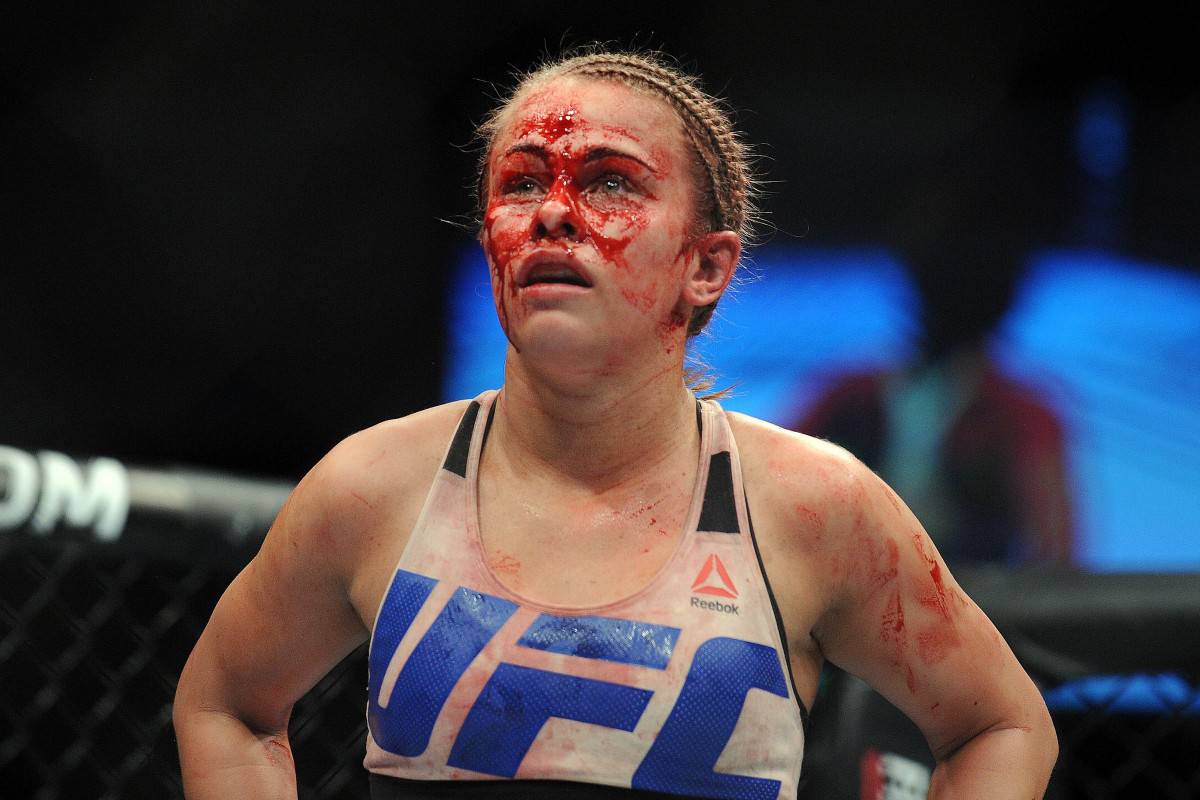 2. Paige VanZant
VanZant came to the UFC amidst much hype due to her obvious good looks, and initially she capitalized upon that potential by actually performing well in the octagon.
With three straight wins over Kailin Curran, Felice Herrig, and Alex Chambers, the VanZant hype train was in full swing heading into her match-up with now-strawweight champ Rose Namajunas in December 2015.
What transpired can only be called a straight-up beatdown, as Namajunas battered VanZant for almost five rounds before finally putting her out of her misery with a brutal rear-naked choke.
VanZant then took eight months off of fighting to appear on "Dancing With The Stars" and even celebrity cooking shows, returning to action with an impressive switch kick knockout win over Bec Rawlings in August 2016. That was her only win since September 2015, however, as she lost her next two bouts to Michelle Waterson and Jessica Rose-Clark, the latter after she ditched the draining cut to 115 pounds and moved up to the new 125-pound landscape.
With three losses in her last four fights, VanZant is on a serious skid in the octagon, and while she still remains marketable due to her blonde-haired beauty, the hype train that saw her billed as a future UFC champion may be gone for good.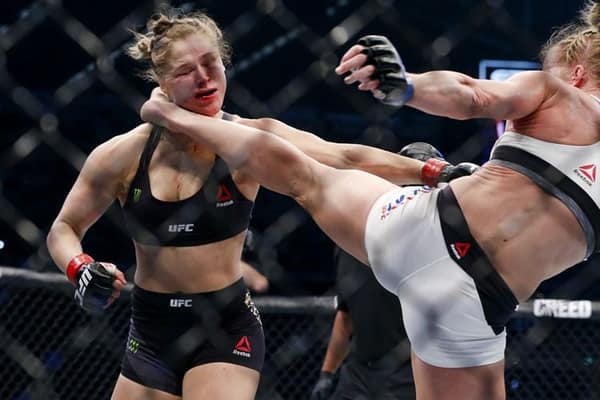 1. Ronda Rousey
Rousey achieved many great things in the sport of MMA; she convinced Dana White to create a woman's division, something he swore he would never do. She also went 12-0 before falling off, finishing all of those victories, most of which in the first round.
But it was how she handled her two subsequent losses that firmly puts her at the unenviable number one spot on this list.
The hype train behind Rousey stemmed from her incredible self-confidence and determination, so when fight fans saw how she whimpered away from the sport following two tough losses, it's fair to say her hype train died on the operating table.
And since she seems perfectly content to move on from MMA, we can look back at her career as perhaps the greatest hype trains to ever run rampant through the UFC. Once Rousey's division began gaining some serious talent as the women's bantamweight class matured, it became clear that Rousey wasn't game for serious competition.
There's a lesson to be learned here from all seven of these fighters, lessons for fight fans, fighters, and promoters alike. Build them up slowly, be skeptical of quick come-ups, and temper expectations if you're the fighter in question.
Otherwise, we're going to run out of room at the junkyard for all these derailed hype trains.