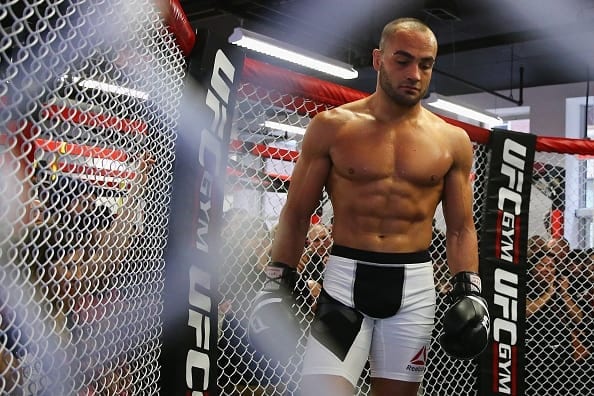 Former UFC and Bellator champion Eddie Alvarez is gone from the Octagon.
The decorated longtime vet announced he was officially signing with Asia's ONE Championship earlier this week. The move was surprising considering Alvarez had put on some of the most exciting fights the Octagon had seen during his four-year run in the UFC. His recent wars with Dustin Poirier and Justin Gaethje absolutely come to mind.
That UFC run came on the heels of a wildly successful reign as Bellator champion. But for all of his successes and championships, Alvarez was perhaps beginning to fade against the absolute best 155-pound fighters in the world. His UFC record since winning the title in July 2016 was only 1-2(1) with two knockout defeats. Many would argue he was well on his way to being finished by Poirier in that no contest as well.
So the surging ONE Championship may be a perfect change of scenery for Alvarez. It's not like the UFC didn't attempt to keep the ultra-exciting Alvarez. However, 'The Underground King' told MMA Fighting that there was simply one reason he chose ONE Championship:
"Without getting too much into it, we had offers from all around the world. We got offers from just about everyone you can think. Everyone expressed interest. The idea of ONE Championship, it's the only major organization I haven't held world title in. I won the Bellator title twice during my career, I won the UFC title during my career and as far as I'm concerned, ONE is the only major organization that I haven't got to touch that world title belt."
A Chance At History
Alvarez views this as an opportunity to make history. Traveling the globe and fighting the best opponents in every organization like he has is a chance perhaps no other fighter will never get according to him:
"For myself, for my family, for my fans and everyone, this would mean that I would have a chance at making history. Possibly history that could never be made again. It would take a fighter 20 years in the fight game to be able to fight for these major organization, and it's almost like a lottery ticket to be able to win one world title. So to be able to go to every major organization, fight their best guys in the world, to fight the best guys in that organization and then beat them all one-by-one and win that world title, means the world to me."
Legacy
The former two-promotion champ then said he wanted to avoid the situation where he would possibly be criticized for not adding the ONE title to his list of belts:
"If I was to retire, and there was an organization out there that was the best in the world and I wasn't able [to fight there], and people would come to me and they would go, 'Yeah, but he didn't win the ONE world title' – that would bug me. I'm going to save myself that bother and fly to Asia and take on the best lightweights there and win that world title."
It's questionable if Alvarez would be criticized in such a fashion. He's won both the UFC and Bellator titles in a weight class often considered the toughest in MMA history. His legacy is set in stone aside from his somewhat mediocre UFC record as of late.
Ultimately, Asia's rapidly-rising MMA player made an offer he simply could not refuse:
"The offer from ONE was too good to turn down. Considering what the average pay of an athlete is at the UFC, I believe the UFC did a great job. But, they have a business model. They pay a certain amount for certain fighters for certain reasons. It is what it is. There's no harm, no foul. It's a business first with these promotions. ONE looked out for me, looked out for my family and understands my wants and my needs and I think it's important to return the favor."