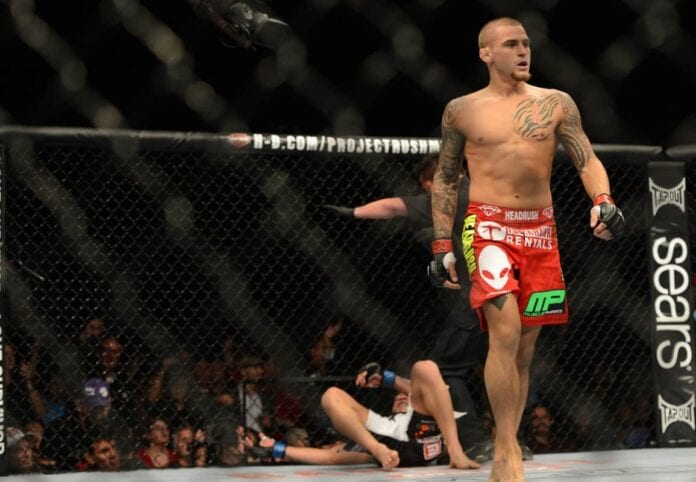 Dustin "The Diamond" Poirier is gearing up to take on "Irish" Joe Duffy in the main event of UFC Fight Night 76 next weekend (October 24, 2015) in Dublin, Ireland, and he will look to extend his winning streak to three.
Despite previously being a top five-ranked featherweight, Poirier recently made the move up to 155-pounds, and has looked rejuvenated, scoring two-straight stoppage wins. Having cleaned up his diet immensely, "The Diamond" finds it "crazy" that he was ever able to get down to 145-pounds:
"I've been dieting for months and training hard for months and just getting down to be around 170 pounds, that's crazy compared to what I used to have to do to get down to 145," Poirier told FOX Sports recently.
"My last fight when I fought in New Orleans after the weight cut when I was down to 156 pounds, before weigh-ins, I was telling my corner men I was like 'there's no way I could cut another 10 pounds, it's impossible'.  It's so crazy I even did it."
Due to the lesser weight cut, the American Top Team staple is once again having fun in training, and he has felt the effects as well, including increased athleticism, speed, and power:
"There's no comparison," Poirier said. "I'm still eating good, my body's recovering because of that. I'm having fun throughout camp. I don't feel like I'm too depleted or strained. Previously, if I was this close to a fight I'd be hurting already cutting weight. I feel great.
"I'm more athletic at this weight and this is much closer to my actual weight. My body is just performing very well. I should have been here, this is the optimal weight class for my body to perform at its max. My power, my speed, everything feels better."
At only 26 years of age, Poirier still has a world of time to make a name for himself at lightweight, and ultimately rise up the rankings, and that's what he plans on doing. In closing, "The Diamond" dismissed any possible return to featherweight, claiming that 155-pounds will be where he wins a title:
"I'm never going to go down to 145 again," Poirier said. "I don't see myself ever going up to 170. I should be able to maintain fighting at 155 for the rest of my career. This is the weight I'm going to be at permanently. This is the division I'm going to win the belt at."
Will Poirier be successful next week in Ireland?