Donald Cerrone vs Ben Henderson Fight Breakdown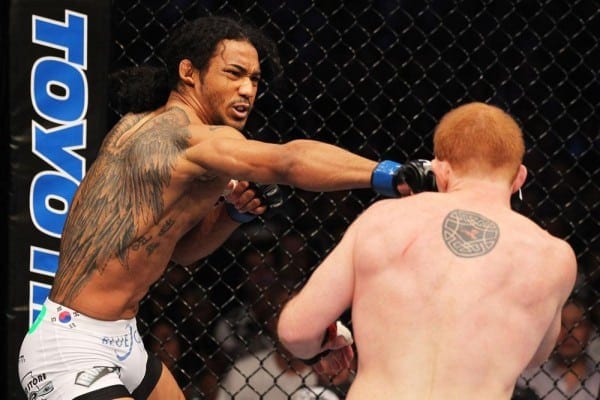 Donald Cerrone vs Benson Henderson 3 could easily serve as main event at UFC Fight Night 59 this weekend. The two have a storied past, dating back to their duo of fight in the WEC (World Extreme Cagefighting) days. "Smooth" defeated "Cowboy" both times they fought under the WEC banner, once by decision in a fight of the year for the interim lightweight belt, and then by submission for the unified belt at WEC 48.
That was back in 2009/10, and rather contrastingly now Cerrone finds himself on red hot form, and Henderson is coming off a 2014 knockout loss to Rafael Dos Anjos. "Cowboy" only fought on January 3rd at UFC 182, and is looking to make it seven straight in Boston this Sunday (January 18th, 2015). What a guy!
So without further ado, let's check out the LowKickMMA Donald Cerrone vs Ben Henderson 3 fight breakdown:
Striking
Cerrone has shown vast improvements to his already dangerous striking game in MMA, and he also holds an unbeaten 28-0-1 kickboxing record with a 50% knockout ratio. Although only having knocked out four opponents during his time in the UFC, "Cowboy" has some of the most precise and lethal head kicks in the game. Henderson also comes with a great striking pedigree, but he applies it very differently in the octagon.
"Smooth" likes to get his Taekwondo styles striking off from a distance, work the legs with hard kicks and throw piston like punches while avoiding his opponent's attacks. The main difference here is power, with "Bendo" only ever getting the TKO once in his career. Anthony Pettis showed that a pure striker possesses the skills to dominate Henderson on the feet, and not much appears to have changed since losing the title to "Showtime" at UFC 164.
Henderson eeked past Josh Thomson, destroyed an overmatched Rustam Khabilov, and then himelf got wrecked by RDA last August. Unless Henderson's striking has improved since then, I'm giving Cerrone the 60-40 nod, as the "Cowboy" has come on leaps and bounds.
Submissions
Here is the bread and butter of both guys, each in their own respect. The former UFC lightweight champion is without doubt the more decorated grappler, having a BJJ black belt under John Crouch, and winning multiple Gi/No-Gi Jiu Jitsu world titles. Cerrone may have started his fighting career as a kickboxer, but he submitted his first eight opponents in a row and has gone on to finish 15 from 26 by tap or nap/snap.
"Smooth" has nine from 21 by submission but again has only one finish in his entire UFC career, against fringe-ranked Rustam Khabilov (RNC). Cerrone has been tapped once in his career, Henderson twice, but you have to give "Cowboy" credit for his sub finishes at the elite level. Experience outside the cage is for "Smooth", inside the octagon "Cowboy", so it's a 50-50 in my books
Takedowns
Cerrone is certainly not the most active wrestler, especially not when compared to his opponent in Boston. 24 from 51 attempted takedowns are successful for Cerrone, in comparison to Henderson's 46 from 96. So around the same ration of completion, but just a lot more attempted from the former champion. What "Smooth" also mixes in with his ground control is hard g'n'p, which he has used very effectively in the past.
62% avoided for "Smooth", and surprisingly 70% stuffed attempts from "Cowboy". In terms of physique in this fight, Henderson's stocky build and powerful legs give him excellent leverage to drive opponents across the octagon. Realistically for both men, the other man's guard might not be where they want to hang out. Physicality and volume gives "Smooth" the edge at 60-40
So Donald Cerrone vs Ben Henderson at UFC Fight Night 59 could easily nab fight of the night honors. If the first two fights are anything to go by, that is probably a safe bet to make. Who are you picking to win, will "Smooth" make it 3-0, or will "Cowboy" restore some pride with a victory in Boston?