UFC lightweight Donald Cerrone is expected to face Patrick Côté at UFC Fight Night 89 on June 18, as the promotion heads to Ottawa, Canada for the first time. 'Cowboy' got back to winning ways with a win over Alex Oliveira in February, making him 9-1 in his last 10, the only loss being a brutal beat down at the hands of Rafael dos Anjos last December. The bout against 'The Predator' will go down at welterweight, as it appears dos Anjos took the last of the goods Cerrone had to offer at 155 pounds.
[flowplayer id="343281″]
Another fighter making an extended foray to the UFC welterweight division is the featherweight champion Conor McGregor. "The Notorious' recently put his newly captured 145-pound belt on hold to face 'RDA' for the lightweight strap at UFC 196, but ended up facing Nate Diaz in an impromptu yet thrilling 170-pound burner. Everything about the fight, and pre fight was gold. It seems the UFC had found a perfect combination, and it had fallen upon them by accident.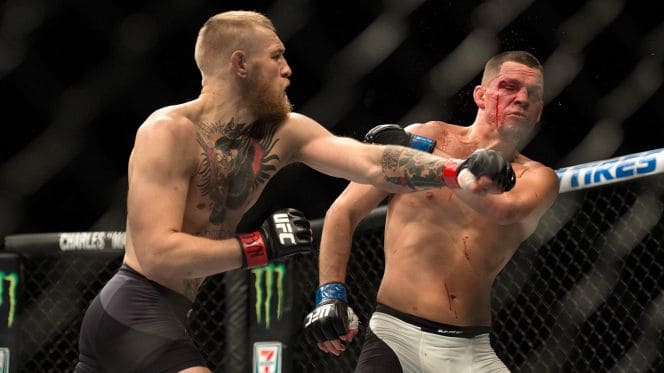 Cerrone reveals that he was asked if he would accept the fight with McGregor before the UFC had decided on Diaz, but that he eventually never got the call:
"Apparently I wasn't close enough – I didn't get the call. They called me and asked if I would say yeah. I even said I would take it at 155 (pounds). I was willing to make 155 no problem and fight him. But it just didn't work out."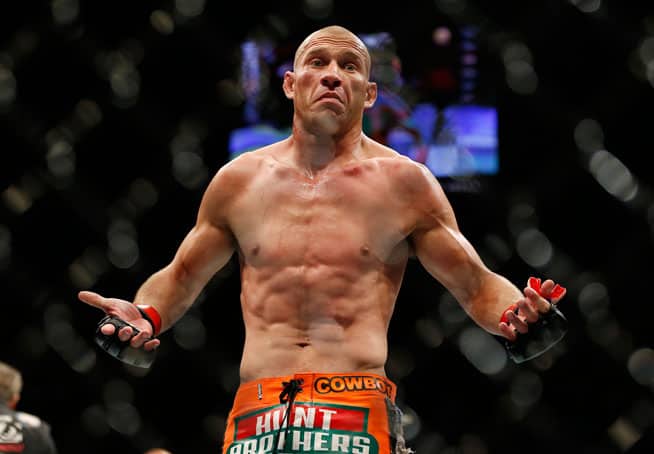 Diaz would put an end to the fairy tale streak of McGregor, submitting him and pointing out the glaring gaps in the Irishman's ground game. Cerrone was watching, and was not impressed by what he saw. As he tells MMAJunkie.com, he was also not surprised (motherf*ckers) to see Nate Diaz get the victory:
"I wasn't surprised at all," Cerrone said. "That's how I would have fought. I would have went in there and took his ass down and submitted him right away. I'm not even going to start on the (expletive) (expletive)."
continue

"I got nothing to say about that (expletive) (expletive) to be honest with you," Cerrone said. "It is what it is. He did run his mouth, but when he sees me face-to-face he's going to have to – I don't play that game. When I see him I'm going to check him and see what's up. I don't give a (expletive) where it's at. I'd love to fight the dude, but it's a fight that's not going to happen for a long time."
"He's got a long list of people wanting to whip his ass now," Cerrone said. "I'm sure old 'Cowboy' don't hold up much on the list. Who knows? We'll see what happens. Him going back up to 170 to fight Diaz again, he's going to put on a lot of weight and it's going to be a lot harder to go back to 145 and fight Frankie (Edgar) and get his ass whipped by him.
"It is what it is. Diaz was the guy and it looks like they're going to have a (expletive) rematch again. Good for him. Make that money, brother."
Money will most certainly be made by both men as they will likely headline the monster UFC 200 card this summer, but who will get the win? A loss would truly dent the marketability of Conor McGregor, especially seeing as he's not defended the featherweight title yet. Has there been a time in MMA history that a champion has gone back to there belt on two straight losses in a different division?
On the other hand, what's to say that McGregor and Diaz wouldn't be poised for a third fight if 'The Notorious' gets the win back?