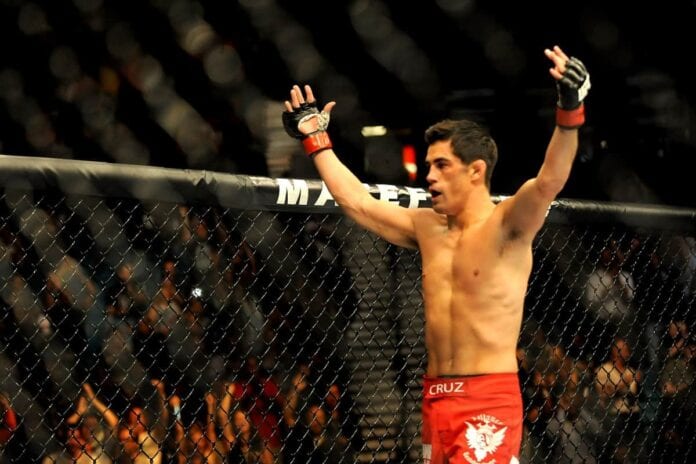 Former UFC bantamweight champion Dominick Cruz successfully returned from a litany of nasty injuries this year, although he did so after relinquishing his long-held title. He absolutely battered an overwhelmed Takeya Mizugaki at UFC 178, winning with a lopsided and ugly TKO in just over 60 seconds. In doing so, Cruz set himself up for a fast track to a title shot against TJ Dillashaw.
His three year hiatus from the octagon was obviously still spent training hard, and "The Dominator" has clearly been doing his home work on the art of fighting. Along with his job as analyst on FOX, Cruz has been working hard on improving his knowledge of the game and it shows. Speaking during a recent media showing, the former 135-pound kingpin gives his opinion on all things MMA and UFC, as well as the somewhat controversial acquisition of former WWE superstar CM Punk.
"I don't mind, I really don't. I can understand that point of view that it's insulting for the guys who worked hard and put in their time, but it's a business. He has a huge fan base. People want to see if he wins or loses, and who knows, if he wins it could be one of the greatest things. Chances are he is gonna get waxed, that's what I think is gonna happen. I think he is gonna come to the UFC, because we are the elite, and I think he is getting eaten alive by whoever he debuts against. Then again if he comes in and does his job I might be eating my words."
It's obvious that Punk was signed for his star power, especially when you consider that he has no actual fighting experience. The question is does he have skill, or the ability to win a fight? It's one thing making your UFC debut as a prosfessional fighter, with all the jitters and nerves, but to make your MMA debut in the world's largest organization takes large cojones, to say the least.
Nate Diaz gave his take on the situation, and Michael Landsberg pretty much told CM Punk straight, but are we missing the big picture here? It's doubtful that the UFC will want to throw the former wrestling star to the sharks, it would be counter productive considering the fact they signed him for his money making abilities and draw. So we might see a well chosen opponent, and what if he is a good fighter to boot?
Chances are even a lower tier fighter would demolish CM Punk because, as Dominick Cruz states, this is the elite of MMA. That being said, we have to remain open minded to the possibility that this kid can fight, and by that token, anything can happen.