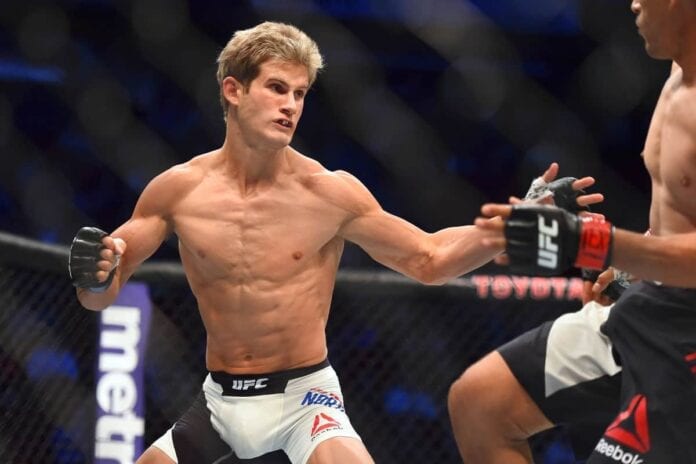 Undefeated lightweight prospect Sage Northcutt entered UFC 192 on a boat load of hype, and delivered with a first round knockout against Francisco Treveno. Already drawing comparisons to some of the greatest in MMA history, it's clear that Northcutt is destined for something big if he can build up a streak in the UFC.
Before he'd even set foot in the octagon, a lot of people were talking about Northcutt, and now with his impressive finish and flashy celebration sweeping the web, the 19-year old hopeful has become a sort of overnight sensation.
Former UFC title challenger and analyst Kenny Florian discussed Northcutt during a recent podcast, as captured by MMAFighting.com:
"Talk about potential," Florian said Monday on his podcast. "Talk about dollar signs. This kid could be [former UFC welterweight champion] Georges St-Pierre times 10. When you look at his look and the way that he fights. The explosiveness. This kid, I think he got to the state championships after only a year of wrestling in high school. He was wrestling at Texas A&M after only a couple years of wrestling. He started wrestling very late. This kid is an athlete through and through. Just look at that flip."
"Let's say fighting doesn't work out, he could be a movie star," said Florian. "He could be a Jean-Claude Van Damme. Maybe do it at the same time. I creeped on his Instagram after seeing that flip, just kind of going back in his history and he's like 17 years old running up a grass hill with three tires tied to him."
Georges St-Pierre is about the highest comparison you could draw in this sport, but what are we really seeing here? It's not like Treveno would have been a challenge for Northcutt at any stage in his career. Tough, yes, but a fair match for a clearly already elite young fighter? No.

Too many hype trains have been rolling through this town lately, that's not to say that Northcutt won't be one headed for greatness, but GSP times 10? Come on Kenny.