Dillon Danis accuses AEW star MJF of trying to 'Lick Logan Paul's arsehole' in latest social media attack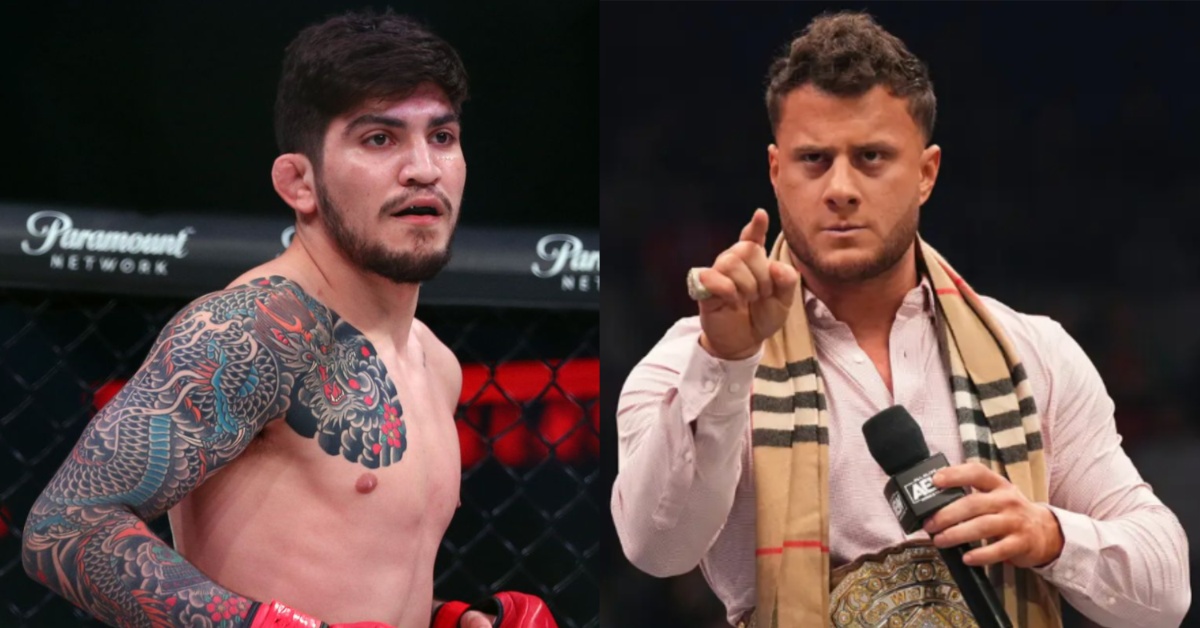 The party doesn't stop when Dillon Danis is at the Twitter wheel. Or X. Whatever they're calling it these days.
Dillon Danis is currently preparing to step inside the squared circle for a boxing match with social media and WWE Superstar Logan Paul. The bout is expected to go down on October 14, in Manchester, England, but Danis had absolutely no intentions of waiting until the fall to let the warfare begin.
From the moment the bout was announced, Danis has been on the attack, trolling Paul incessantly on social media. So much so that Paul reportedly sent Danis a cease and desist notice, advising that if the over-the-line gamesmanship didn't stop, he would pull out of the fight, costing Danis a payday. Of course, none of that really deterred Danis from continuing to torment Paul and his fiancee, Nina Agdal, but for now, it appears that Danis has found himself a new target in AEW world champion MJF, Maxwell Jacob Friedman.
It all began when MJF tagged Paul in a post, pandering to the social media star and discussing his placement on ESPN's coveted Top 30 Under 30 list.
"Yo @LoganPaul I'm a big fan and I heard you were very upset with your ranking in the @espn top 30 under 30. I couldn't agree with you more, the list was flawed," MJF wrote on X.
From there, MJF suggested that the two could hook up on the PRIME Energy guru's IMPAULSIVE podcast.
It didn't take long for Dillon Danis to sniff out the a**-kissing that was going on, and immediately directed his attention toward MJF in a scathing response.
"Logan is dealing with something right now little man I'll gladly come to AEW and show you how easy it is to wrestle try a real fight sometime pussy," Danis posted.
Known as one of the best promos in the business, MJF quickly snapped back, saying: "No thanks. I don't wrestle Jobbers."
Dillon Danis Makes Things Personal with MJF
Dillon Danis once again came quick with his own comeback, poking fun at MJF's attempt to get on Logan Paul's podcast. "You're trying to lick Logan Paul's arsehole to get on his podcast, and I'm the jobber? But you better stick to the fake stuff because in a real ring, I'd strangle you dead and then do the hora dance on your head," Danis said in response.
Danis wasn't quite done there, taking a personal jab at MJF, just as he has continued to do with Logan Paul. "Maybe if you were a real fighter your fiancé wouldn't have left you @The_MJF."
Dillon Danis has largely been the butt of the joke in combat sports over the last couple of years, but Danis' beyond unprofessional trash talk has seemingly captured the attention of fight fans online and could ultimately lead his bout with Logan Paul to some pretty stellar viewership. Of course, it won't help him once they step inside the ring, but Danis stands to make a pretty big payday for the beating he's likely to take.