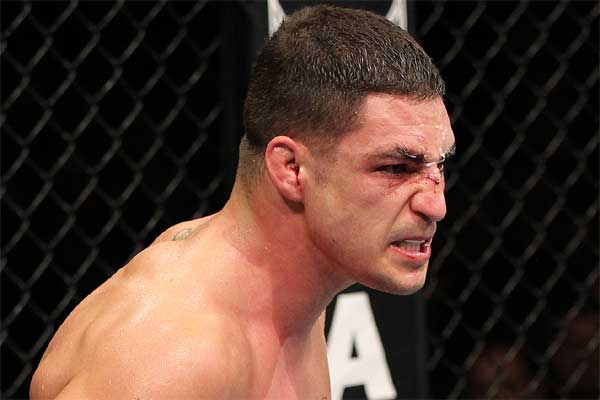 Longtime UFC veteran Diego Sanchez may have a fight this weekend at UFC 228, but that's not the only thing dominating his mind at the moment.
Recently, some in-house beef has ensued at Sanchez's longtime gym, Jackson-Wink MMA. Fellow Jackson-Wink veteran Donald "Cowboy" Cerrone took to Joe Rogan's podcast to voice his grievances with the team.
Most of the issues came after the gym welcomed in "Platinum" Mike Perry, who will be fighting "Cowboy" in November. Cerrone unloaded on gym co-owner Mike Winkeljohn for apparently being more money-driven above all else.
Sanchez was irked by Cerrone's remarks, but the most unsettling thing to Sanchez was "Cowboy's" accusations towards wrestling coach Chad Smith. Cerrone suggested Smith sold steroids to teenagers before joining the team.
After hearing these comments, Sanchez would love to get into the cage with "Cowboy" to defend his gym's honor, and believes it can happen before the end of the year (quotes via MMA Junkie):
"It hurt to see 'Cowboy' trashing these guys that work so hard, and they put in the time in the sport," Sanchez said.

"Gyms go through ups, gyms go through downs. It is a business. It's about money. Winkeljohn has $40,000 a month he pays on overhead on our facility.

"So, there are decisions that have to be made. I was just more emotional because 'Cowboy' trash talked a really good man, my wrestling coach Chad Smith. He's a really good dude.

"He never sold no steroids to no kids. And he's lucky – 'Cowboy' is lucky that Chad is such a good dude, or else he would be suing him for defamation of character right now."
Sanchez will take on Craig White at UFC 228 in Dallas, Texas this weekend (Sat. September 8, 2018). The fight will headline the UFC Fight Pass exclusive preliminary card, which will run five fights-long.