Coming off of one of the most exciting back-and-forth fights in UFC history, UFC featherweight champion Conor McGregor and Stockton Native Nate Diaz are basking in the fruits of their labor following their mega UFC 202 payday in August.
The bout was a rematch of the two brash rivals' original meeting from UFC 196, in which Diaz stepped in on short-notice for the injured then-lightweight champion Rafael dos Anjos, where Diaz would go on to submit the Irish champ in the second round via rear-naked choke.
Just five months later, however, McGregor would get his vengeance after seeing his hand raised following their 25-minute war at UFC 202, as 'The Notorious One' would take home a majority decision win over his counterpart.
During the bout McGregor was able to knock Diaz down three times in the early rounds of the contest, and although Diaz had the Irishman in deep trouble on multiple occasions throughout the fight, mixed martial arts (MMA) fans got a glimpse of McGregor's heart and determination as he fought for the will to stay in the contest.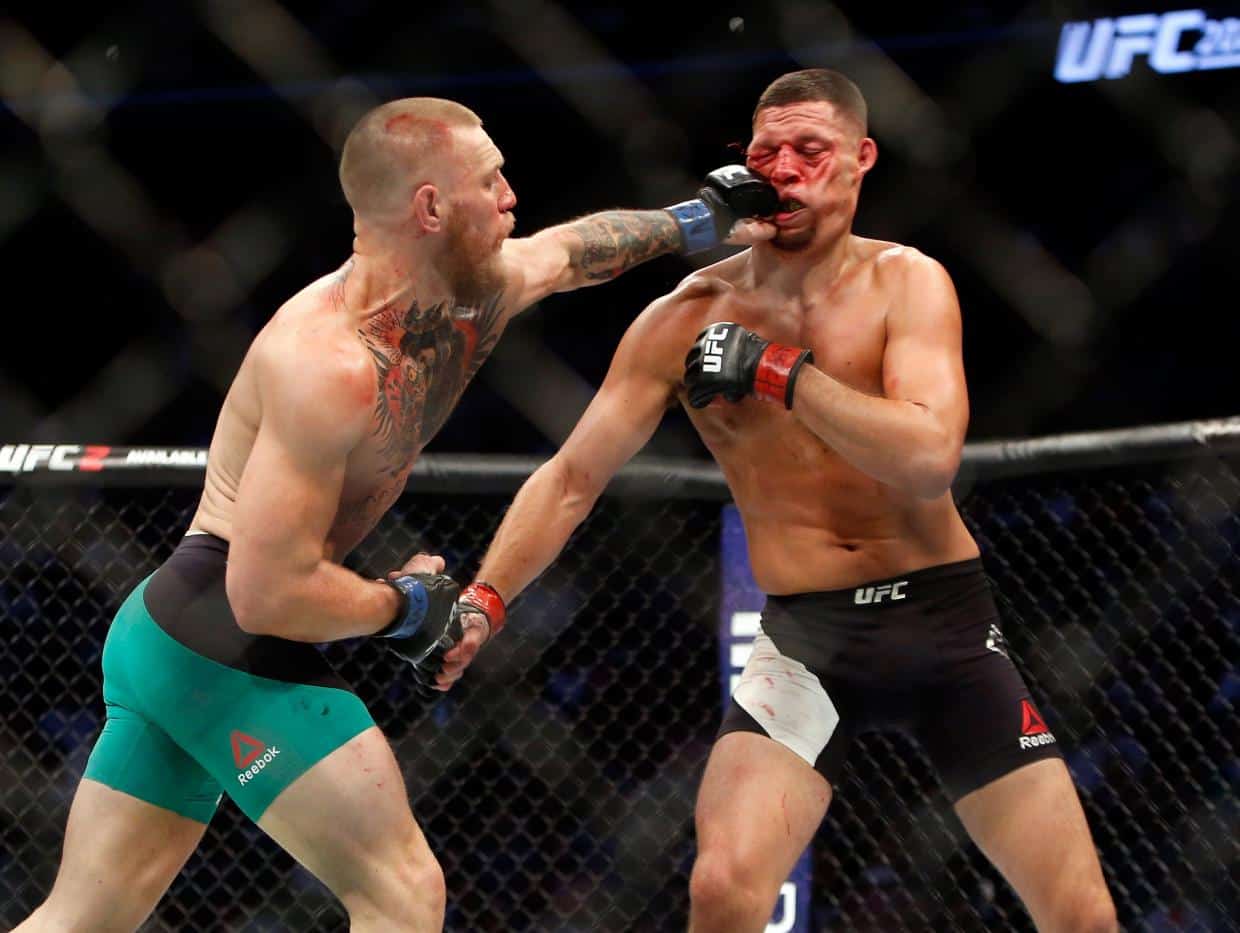 Diaz's coach Richard Perez recently joined Submission Radio, courtesy of MMA Fighting, to discuss the upset loss to McGregor this past month and revealed that had it not been for some nagging injuries leading up to the fight, he believes his pupil would have made quick work of 'Mystic Mac' once again:
"They were bad. The knee was bad and the ribs were bad because when he hurt his knee, he couldn't run. So then when it got a little better, he wanted to start sparring.
And he's not in shape because he wasn't really doing much. You know, you work on a little bit of mitts and you work a little bit of sparring and he got better and better. And then when he got (Alan) Sanchez in there, he went a good four hard rounds and he was doing real good, but he was getting a little tired, and that's when Sanchez caught him in the rib and that then put him out there for a while.
"So he can't back out of the fight. And so I know that if he wouldn't have been injured, McGregor would have gotten stopped again and Nathan wouldn't have got hit as much as he did in that first round this last time.
Because he was really sharp. He was sparring with guys McGregor's size, really good boxers and he was whooping on them.
So that's why I knew it wouldn't happen that way. But it did, and it came out as the best fight of the night. But he got cut, you know, and if there would have been another 30 seconds, he would have tapped him out, cause McGregor was ready to go anyway."
Both men were rewarded with rather lucrative paydays for their spectacular contest, but money aside Perez believes that there is unfinished business between the two men and believes there is a dire need for a third and deciding scrap:
"[There's] unfinished business. [There needs to be] No. 3. If I was the UFC, I would say, let's let this happen. We're going to make some money off of it, and then have [McGregor] go back to 145."
You can check out Perez's full interview with Submission Radio here: