Devon Larratt is one of the best arm wrestlers on the planet. He's a fan favorite that has been one of the top competitors in the sport for decades.
Here's what you need to know about Devon Larratt. Detailing everything from his start in the sport, becoming a champion, and his training methods.
Devon Larratt's Early Life
Devon Larratt was born in Victoria, British Columbia in 1975. From his early years, Larratt would gain an interest in arm wrestling.
One of the first people that began showing Devon the sport of arm wrestling was his grandmother. A farm worker, who claimed to be the best female arm wrestler in Alberta, Canada.
On top of having an interest in arm wrestling, Larratt would also compete in Judo as a child.
Devon Larratt's Start In Arm Wrestling
Devon would start getting into arm wrestling competitions as a teen. Competing at small competitions around Alberta.
Taking on some of the strongest oil field workers in western Canada. Although, Devon would just dabble in arm wrestling and not fully commit to the sport until years later.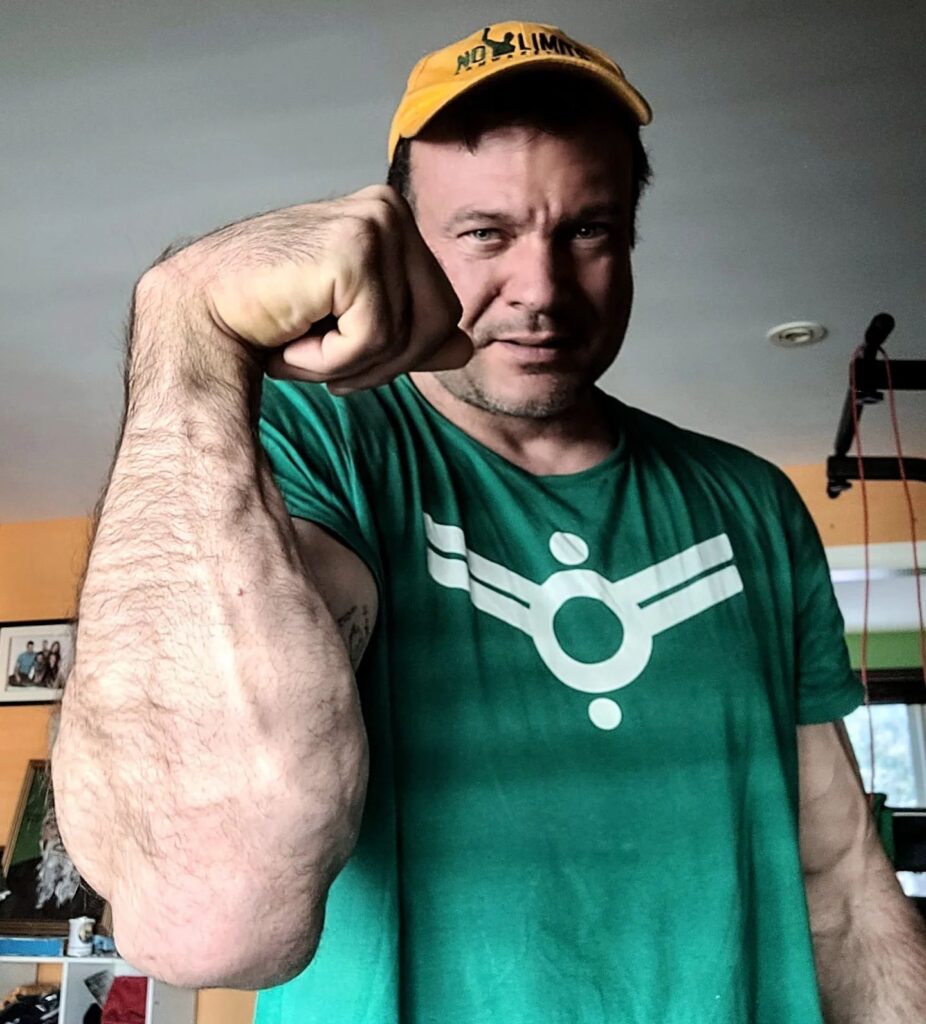 Larratt Wounded In Action
When Devon was 21, he would enlist in the Canadian military. He would pass the test to become part of the Canadian Special Operations Forces Command.
Larratt would serve with the Joint Task Force 2 for the next sixteen years and reach the rank of master corporal. During his time in the service, he would be deployed to Afghanistan.
He was wounded during one of his last deployments, but made a quick recovery.
Devon Larratt's Early Career
Despite being part of the Canadian military, Devon would continue to train and compete in arm wrestling during his off time. He credits his time in the military for helping in his success in becoming a top arm wrestler.
In his twenties, Larratt would compete all around Canada. Quickly becoming one of the top arm wrestlers in the country.
Devon Larratt's First International Competition
After having success in regional competitions, Devon would get invited to his first international competition in 1999. He would earn a spot to compete at the world's event that year, which was held in Japan.
Larratt would compete in the 100 kg division that was filled with some of the all-time great arm wrestlers. During the competition, Devon would earn one of the biggest wins of his career.
Beating Swedish champion Krister Jonsson to face the all-time great arm wrestler in John Brzenk. Devon would lose his first meeting with Brzenk, but would earn third in the left-handed division of his weight class.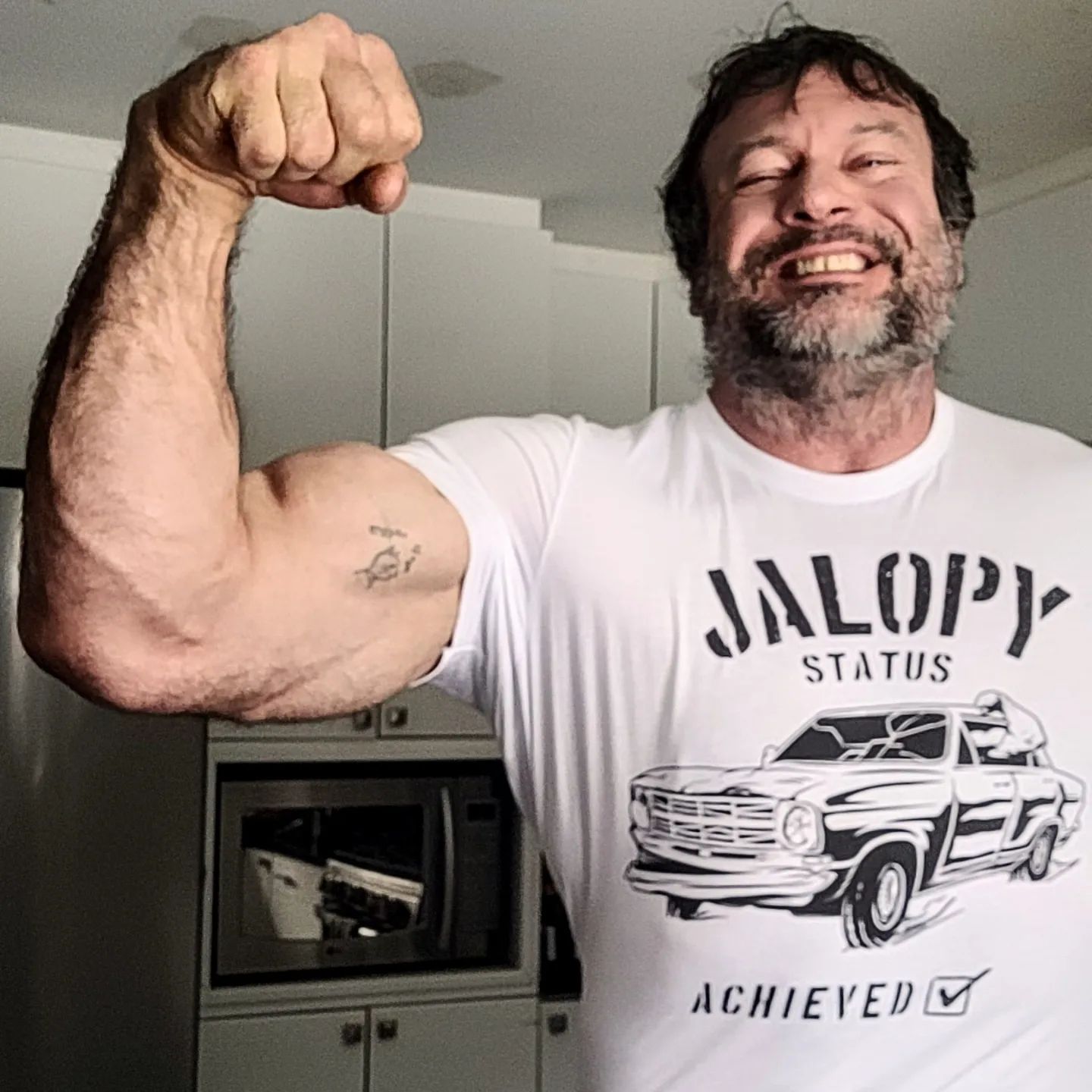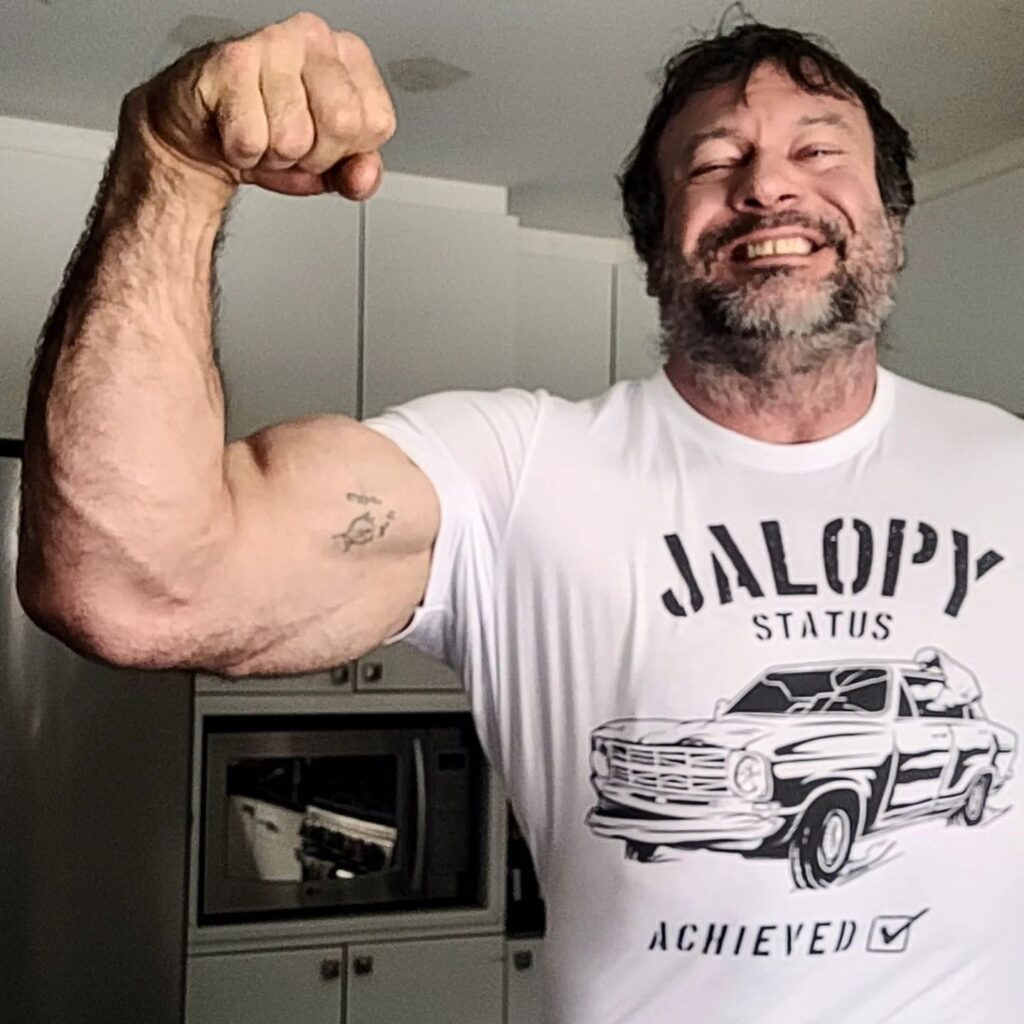 Notable Matches Early In Larratt's Career
For years, Devon would dominate competitions throughout Canada. Winning the Ontario Championships numerous times.
One of his most notable wins at the Ontario Championship was in 2003 where he defeated Robert Graham and Mike Gould.
A year later, Devon would take part in a super match in the state of Washington. A rematch against John Brzenk, where Larratt would be defeated once again.
Devon Larratt's Comeback
After sustaining a shrapnel injury during his deployment in 2005, Devon would rehab and return to competition in 2006. Competing in a series of matches against Ron Bath at a Mike Classic event in Ontario, Canada.
At the time, Bath was the third ranked arm wrestler in North America behind John Brzenk and Travis Bagent. Larratt would defeat Bath 3-1 in their series of matches.
Devon has stated that these were some of his favorite matches of his arm wrestling career. Mainly because he was able to overcome the adversity of his injury and the uncertainty if he'd ever compete again.
A Passing of the Guard?
At King of the Table 4 in 2022, Larratt would face the Georgian Mutant, Levan Saginashvili. This would be the first time in years since Devon would be swept.
Saginashvili pinned Larrratt in six straight matches. This would lead to Devon presenting Levan with the right-handed legacy hammer trophy. Symbolizing that all arm wrestling federations recognize Levan as the world's #1 right-handed arm wrestler.
Devon Larratt Becomes a Star
During the late 2000s is when Devon really came into his own as a professional arm wrestler. In 2007, he competed at ArmWars and once again defeated Ron Bath in a series of matches.
But possibly the biggest of Devon's career occurred in 2008 at ArmWars. Competing in another supermatch against John Brzenk.
He would do what was thought impossible and beat the legend, who hadn't lost in 25 years. Sweeping Brzenk and becoming the new #1 ranked right-handed arm wrestler.
Two years later, Larratt would become the #1 rank arm wrestler in both the left and right-handed divisions. Winning at a round robin against three of the world's top arm wrestlers. Including Travis Bagent, Tim Bresnan, and Don Underwood.
Devon would go on to have a bit of a rivalry with Travis Bagent in 2011. Bagent would win a rematch against Larratt to win back the left-handed world title.
But Larratt would bounce back and beat Larratt to get his title back at the end of the year.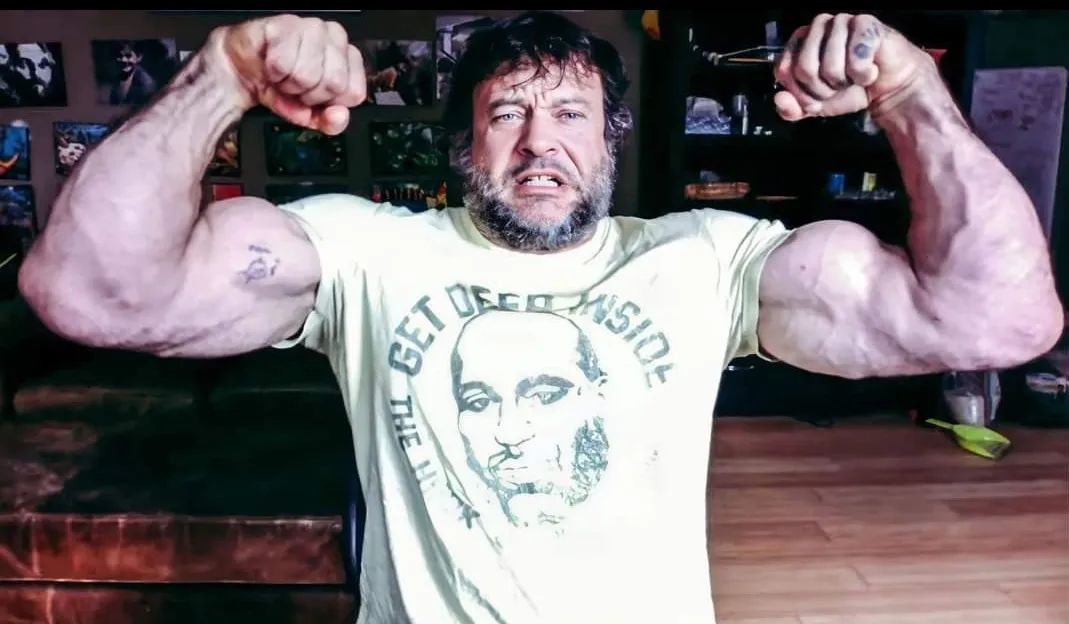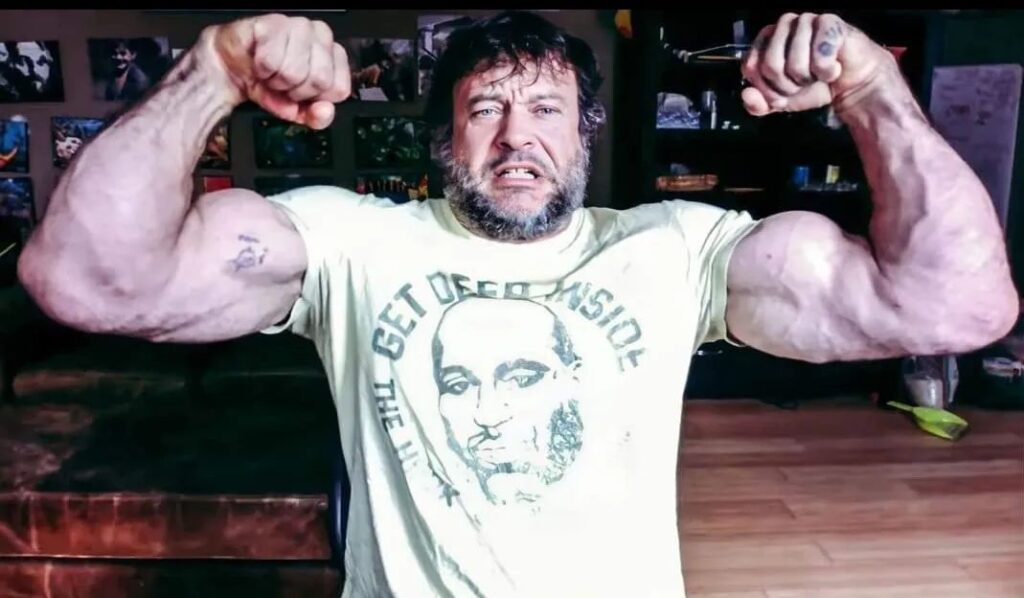 Devon Larratt's Injury
From 2011 to 2013, Devon would go on one of the best runs of his career. He would join the MLA after ArmWars went into abeyance.
In the MLA, Larratt would win the league's super heavyweight title by beating Tim Bresnan. Devon would also win the league's left-handed title by defeating Andriy Pushkar.
Then in 2013, he beat Oleg Zhokh, Wilton Brock, and Eric Woelfel to retain his left-handed title. But Larratt would later be sidelined after undergoing elbow surgery on both arms. These surgeries would make Devon lose his number one pound-for-pound ranking.
Devon Larratt in the World Armwrestling League
However, Devon would make his return later in 2014 joining the World Armwrestling League (WAL).
In his return, Larratt beat Marcio Barboza to win the left-handed title, but also lost the right-handed title to Barboza.
Later in 2015, Larratt would lose his left-handed title after his match with Barboza was canceled due to injury. He would also lose in the semi-finals of the right-handed tourney to his rival John Brzenk.
But Devon would bounce back by winning the Vendetta in Vegas event. He would win a super match with Russian powerhouse Denis Cyplenkov. A giant of a man, known for his incredibly large hands.
Devon Larratt's Training and Style
What has made Devon Larratt one of the best arm wrestlers in the world is his intense focus and training. He is a top student of his sport that studies everything from techniques and his opponents.
Larratt has been very open about his training methods and has posted numerous videos on Youtube. Going over all of the exercises and technical work that he does to continue being a champion.
One exercise in particular that he describes in the video above is his forearm workout. Looping heavy weights in a cloth belt and curling them in a fashion like he's hooking an opponent. This type of training is how he got his giant arms that he's known for.
Devon Larratt's Ventures Outside of Arm Wrestling
Larratt's stardom has reached beyond just the sport of arm wrestling. He has made many guest appearances on top podcasts like the Lex Fridman podcast.
Another highly viewed appearance by Larratt was on NBA on TNT in 2018 to promote the AWL. Devon would have a friendly match with Shaquille O'Neal.
But Devon's most recent venture outside of arm wrestling was a celebrity boxing event. He would take a boxing match on short notice against World Strongman Champion and actor Hafþór Júlíus Björnsson.
The event took place in Dubai in front of thousands of people. Björnsson won by TKO, but Larratt still enjoyed the experience and tried something out of his comfort zone.
The Legacy of Devon Larratt
Devon Larratt has done numerous things in his life from being a combat veteran to a champion arm wrestler. His arm wrestling career has spanned nearly thirty years with numerous world titles against the best in the world.
Although Larratt is in his mid-forties, he is still one of the top ranked arm wrestlers in the world. He shows no sign of slowing down and will likely win more big matches in the years to come.