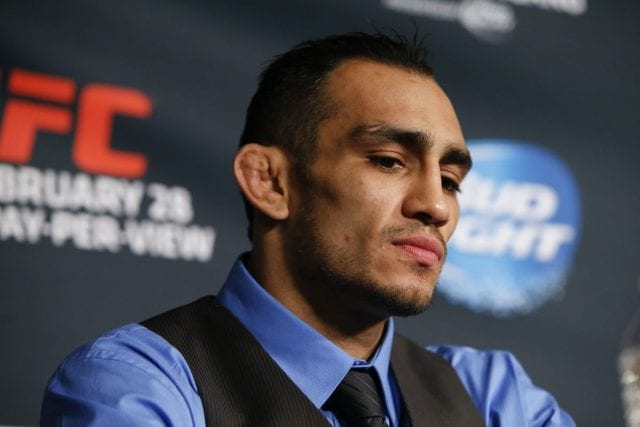 Tony Ferguson's wife filed a request for a temporary restraining order after he allegedly took their son for six days, according to court records.
Tony's wife, Cristina Ferguson, filed the temporary request Wednesday (March 13, 2019) in Orange County, California Superior Court. In the document obtained by MMA Fighting, Cristina said that Tony pushed past her and her mother en route to forcefully taking their son from her parents home on March 7.
Cristina Ferguson wrote that Tony Ferguson "grabbed and pushed me and my mother and we have been in constant fear as a result of [Tony Ferguson's] threatening and violent behavior."
Among the restraining order requests, Tony must stay away from his 2-year-old son, as well as Cristina Ferguson's parents and her brother. Cristina also wants Tony Ferguson to undergo a 52-week batterer intervention program. He should also "undergo a psychiatric evaluation and follow any and all prescribed course of treatment and medication." Cristina Ferguson wrote that there is a fear that her husband will flee with their son and she is asking for full custody of the child.
More Details
The court has scheduled a domestic violence prevention services investigation into Tony Ferguson for March 22. He will have his hearing on April 5. MMA Junkie was the first to report the news of the restraining order request. It should be pointed out that Tony Ferguson has not been arrested or charged with any criminal acts.
According to Cristina Ferguson's declaration to the court, Tony Ferguson, 35, arrived at her parents' home, where Cristina had been residing, on March 7. Tony allegedly asked their son, "Wanna go for a ride?" Cristina said she told Tony it was too late and he could not take their son. She wrote that she and her mother stood in front of Tony to prevent him from leaving, but he pushed them both out of the way, ran back into the house, out the back door and over a fence — all with his son in his arms.
In a statement sent to media Cristina Ferguson, via her attorney Jeffrey L. Heath, she wrote:
"Tony Ferguson is a good husband and good father to our son. The current legal proceedings are a part of a process to ensure that Tony will receive the help necessary to continue being the best possible, as well as to pursue his passion and career as a UFC champion fighter. All positive well wishes are sincerely appreciated and I hope our privacy will be respected."
List Of Incidents
Here are key claims made in Cristina's declaration, by date (h/t MMA Fighting):
Feb. 5: Cristina wrote that Tony did not sleep and he believed there would be a great flood as a result of the lunar eclipse. Tony allegedly purchased a life raft and took Cristina and their son on a drive inland, all the way to Palm Desert, Calif., about 111 miles from their home in Santa Ana. Cristina wrote that Tony woke her and her son up in the middle of the night there and said they had to leave, because they were not safe. Tony promised to seek help with mental issues if there was no flood, but later refused, she wrote.
Feb. 12: Tony had what Cristina described as a "psychotic break or a panic attack." He screamed in her face, sweared at her and believed she was someone else, she wrote.
"I woke up late that night to [Tony] standing over me accusing me of being a witch," Cristina wrote.
Feb. 16: Cristina wrote that Tony unplugged the refrigerator and turned off half the power in their home, because he believed there were cameras in the refrigerator and ceiling fan and that he was being watched. He also cut the wires to the heat and air conditioning units, she wrote, because he believed there was a tracking device in it. Tony allegedly tore the vanity mirror off the bathroom wall, because he believed there was something behind it and took his son's food away because he believed it was poisoned.
Feb. 19: Tony allegedly agreed to be taken for psychological help at Keck Medical Center at USC. Cristina and her father went to pick him up, she wrote. When they arrived, they saw furniture and walls in the home had been destroyed. The mantel was ripped off the wall, because Cristina wrote that Tony believed there was a hidden doorway under the fireplace. Santa Ana police were called that day, which is also around when she moved into her parents' home, she wrote.
March 5: Cristina wrote that she picked Tony up to take him again to Keck Medical Center again. While they were driving there, they hit traffic on the 405 freeway in Los Angeles. While the car was moving, Cristina wrote that Tony jumped out, onto the freeway, ran away, jumped over a fence and disappeared. He did make it back to their family residence later.
If you enjoyed this story, please share it on social media!