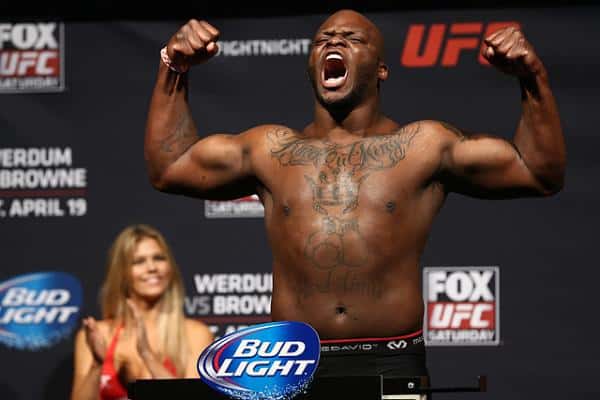 The main event of UFC Fight Night 102 featured a heavyweight clash. Derrick Lewis (17-4) looked to extend his winning streak to five when he went toe-to-toe with Shamil Abdurakhimov (17-4).
For the most part, this one was a snoozer but Lewis delivered an exciting finish once he got his opponent to the ground.
Lewis went for a high kick, but "Abrek" ducked under the kick and took him down. Abdurakhimov went for the arm, but Lewis avoided it and stood up. "The Black Beast" was pressed against the fence. He landed a knee to the body. They separated and Lewis thwarted a takedown attempt. They engaged in a clinch battle with "Abrek" gaining control before they broke free. Abdurakhimov caught a leg kick and earned a second takedown. He remained in control until the round ended.
The two bulls tied up at the start of the second stanza and Lewis landed a knee to the body. "Abrek" received a second warning for having his fingers in the fence. Lewis believed he had been poked in the eye, but time wasn't called. Replays later showed it was a punch, but the edge of the glove looked to have grazed the eye. A right hand found the mark for Lewis, but he was pressed against the fence again.
They returned to the center of the Octagon. "Abrek" countered a kick with a straight right and a takedown. Lewis went for a leg lock and transitioned to a knee bar. He used it to sweep and threw some heavy punches. Abdurakhimov grabbed a hold of his opponent's leg and scored another takedown as the round came to a close.
Lewis again threw a kick early in round three, but he avoided a takedown and threw an uppercut. Lewis threw some more heavy shots. Lewis went for his own takedown, but it was defended. "The Black Beast's" aggressive cost him as he was taken down. The fight was stood back up as Abdurakhimov was stalling. Time was called and Dan Miragliotta warned "Abrek" that he'll take a point away for his inactivity. The round ended shortly after.
"Abrek" blocked a head kick and Abdurakhimov grabbed a hold of his opponent. They separated quickly. Lewis swung wild and landed an uppercut. "Abrek" landed an elbow on a clinch break. A knee to the body found the target for Lewis. "The Black Beast" landed another knee to the body. He completed a takedown and dropped some hard punches. Lewis moved to full mount and hammered away for the stoppage victory.
Lewis wasn't happy with his performance and called it "bullshit," and even implied he doesn't deserve to fight higher ranked fighters at this time.

Final Result: Derrick Lewis def. Shamil Abdurakhimov via TKO (Strikes) – R4, 3:42