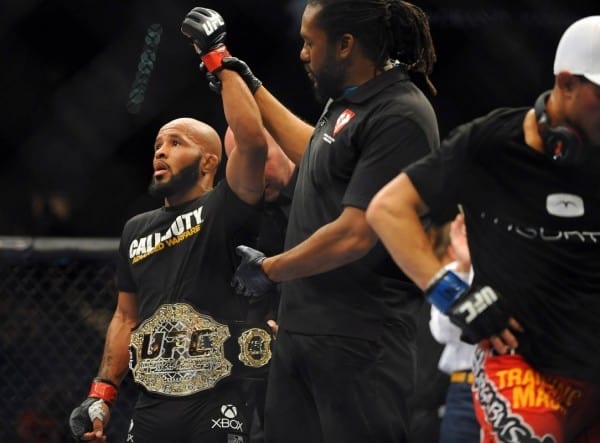 Dominant UFC flyweight champion Demetrious "Mighty Mouse" Johnson will take on Ray Borg in the main event of this weekend's (Sept. 9, 2017) UFC 215 from Edmonton, Alberta, Canada. If he comes out on top, Johnson will hold the all-time record for the most consecutive title defenses made by a UFC champion.
While breaking the record is a big deal, many had hoped that Johnson would be taking on former bantamweight champion TJ Dillashaw, although "Mighty Mouse" expressed little interest in the idea when it was presented earlier this summer.
In regards to accepting super fights, Johnson recently said that he'd simply need to be paid more:
"Pay me," Johnson told MMAJunkie. "Pay me more. Simple as that. You want something? I go to the (expletive) bakery, and I want the baker behind the counter to bake me an amazing apple fritter, fresh off the batch. You know what she's going to say? You can pay for it. Simple as that."
As far as his division goes, many have urged Johnson to move up given the fact that he's already beaten a majority of the top contenders. "Mighty Mouse", however, plans to keep defending his 125-pound title after UFC 215:
"Those guys are just smart," Johnson said. "And they might feel like they're not ready mentally or physically or whatever it is. But at the end of the day, it's about prolonging you career. And if you feel like you need another fight, then do whatever you want. It's not my place to say.

"But there are a lot of guys in the flyweight division I haven't fought. There's lots of guys I don't know of that I haven't fought yet. So, for me, it's about staying healthy, getting through this fight and then hopefully come out healthy and relax."
What do you make of Johnson's comments?