Nothing is off limits when it comes to trash-talking for Daniel Cormier – nothing.
The light heavyweight champion and Jon Jones are once again booked for their rematch inside the Octagon, but we've seen this same story once or twice before. Jones and Cormier were initially set to rematch at UFC 197 back in April of last year, however, Cormier was forced out of the contest due to injury and was replaced with Ovince Saint Preux.
After Jones won the interim 205-pound title from "OSP" he was set to collide with "DC" in a unification bout as the main event of UFC 200 last summer. Unfortunately Jones ran into some trouble with the United States Anti-Doping Agency (USADA) after testing positive for a banned substance.
Jones was suspended for one-year for the debacle, and is set to return to Octagon action at UFC 214 on pay-per-view (PPV) from Anaheim, California against Cormier for the title.
A UFC Summer Kickoff press conference was held to promote the biggest upcoming bouts of the summer this past weekend in Dallas for UFC 211, with Jones and Cormier sitting front and center. As you can imagine, the pair let off a slew of trash-talk towards one another which included Cormier poking fun at Jones' history of drug abuse.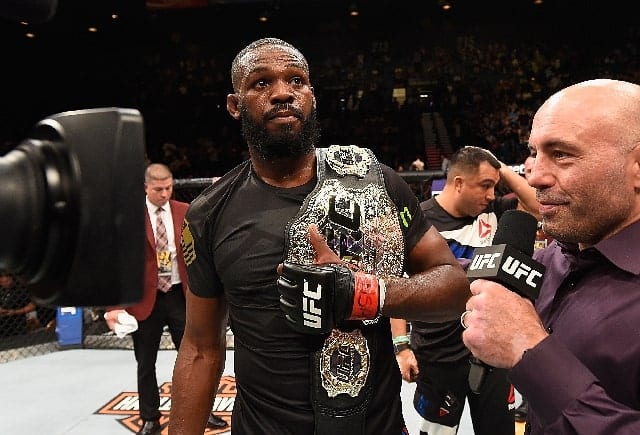 Cormier recently joined The Luke Thomas Show on SiriusXM to discuss if making light of Jones' past struggles is going to far, to which the light heavyweight champion responded that he doesn't believe it is (quotes via MMA Junkie):
"These things are so public. These instances are so public," Cormier said. "If he was doing all this stuff to himself and by himself and not affecting people, I probably wouldn't say anything. But his indiscretions and mess-ups have greatly influenced my career, too, in the way I'm perceived. A lot of people may say, 'Well, you would never be the champion if he didn't do those things.' Maybe he would've beat me again, but we would've fought already to decide that.

"But even though I am champion, because of the things that he's done to get in that situation, people never really, truly respect me as they should. Not only are they not respecting me as they should, they're discrediting everything I have done. So, it's not off limits. And my whole thing is this. …

"Some guy said this to me: 'Daniel, if you knew the struggle, you would never say the things you say.' And I said, 'Well, I don't know the struggle, because I know how dangerous it is. So I don't mess with it.' … You're not born with addiction issues. You make the choice to start to mess with that."
Cormier took his tirade against Jones one step further by insinuating that "Bones" has been cheating his entire career, stating that if he's willing to do cocaine right before a fight then he's probably willing to take a performance enhancing drug (PED):
"If you're willing to do that right before a fight, and that's something that can be detrimental to you going forward, why wouldn't you do something that could help you?" Cormier said. "That's my philosophy. I could be wrong. I do believe that this dude has been cheating his entire life, though. Why not?"