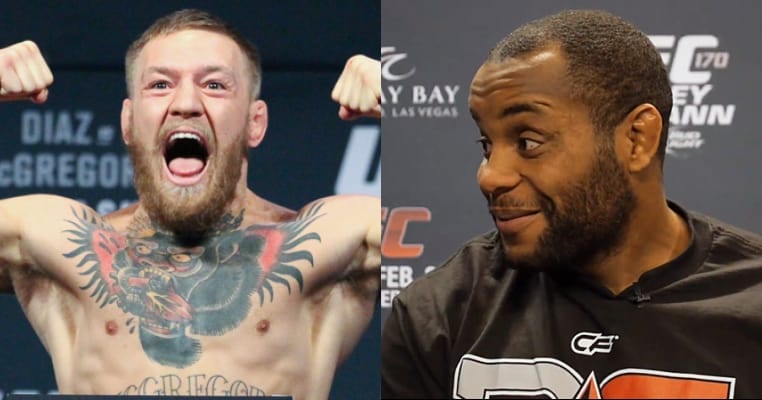 After last night's revelation that Dana White had worked out Conor McGregor's side of the deal and the follow-up news that McGregor had applied for a boxing license in Nevada, the mixed martial arts (MMA) universe is awash in the distinct possibility that the the infamous "Notorious" could actually be boxing Floyd Mayweather Jr.
If it actually does – and it's far from being anything closely resembling a done deal – the majority of those familiar with combat sports still believe that Mayweather, a boxer whom many consider one of if not the best to ever compete, is going to wipe the floor with the UFC's biggest star, who has no professional boxing experience.
One high-profile subscriber of the theory is UFC light heavyweight champion Daniel Cormier, who pulled no "Bones" about McGregor's chances against the legendary pugilist in addition to any of the other rumored UFC vs. boxing bouts during today's episode of UFC Tonight:
"He can actually go and fight Mayweather. He will lose. But the rest of these guys, they will get no money, and they will get slept.

""Look, James Toney fought in the UFC, and we had no problem showing the footage over and over again of James Toney getting beat by Randy Couture. These boxing promoters will constantly show video of the heavyweight champion of the world Stipe Miocic getting slept by Anthony Joshua, or Jimi Manuwa – c'mon Jimi – getting slept by David Haye.

"These dudes will get slept, and it's going to be embarrassing, so no, it is not good for the UFC. Conor, hat's off to you, make your money, but don't get slept! Which might happen to 'em."
https://www.youtube.com/watch?v=3gyePkhbSe8
Cormier is currently set for his oft-scheduled (and oft-canceled) grudge match with former champion Jon Jones at July 29's UFC 214, and as we've seen in the past, that fight is anything but a certainty to happen despite its high-profile nature. The current champion seems to be the heel in the eye of the fans, and perhaps that's because he tells the facts how they are in a blunt manner, as he has with his recent back-and-forth with the embattled all-time legend.
And while he may be a public persona for the UFC as a co-host of UFC Tonight, Cormier told it like it is here with the cold truth that most if not all professional MMA fighters would stand little chance in the boxing ring against the sport's top athletes, just like the top boxers would have no chance in the cage.
McGregor most likely isn't concerned with that, however, as the possibility of an absolutely unparalleled payday is much more than enough to get past the probability that he may lose. That's the current mindset of MMA's biggest star, and he could be headed for a bout that does anything but make the UFC look good in any way.
But with big-money bouts few and far between in 2017, the promotion is looking for the biggest payday it can get. Is this one worth it?