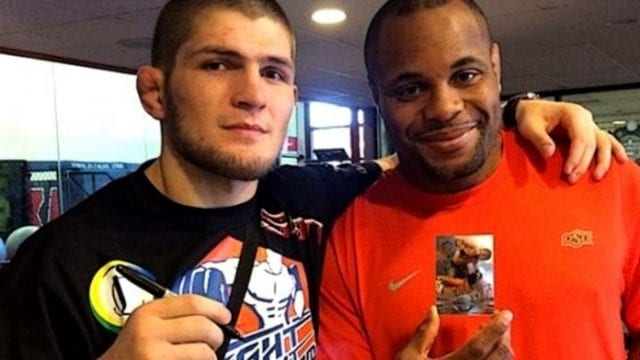 Daniel Cormier is focused on his short-notice main event against Derrick Lewis at November 3's UFC 230. But questions about Khabib's team and the UFC 229 brawl are still following the UFC heavyweight and light heavyweight champion.
The undefeated lightweight champion is a longtime American Kickboxing Academy (AKA) teammate of Cormier. "DC" was present when Khabib submitted Conor McGregor at October 6's UFC 229. Yet what followed has gotten much more press than his actual win over the Irish star in the Octagon.
A brawl erupted when Khabib jumped into the crowd to battle Dillon Danis. Khabib's team followed suit by jumping in the cage with the recently submitted McGregor. It was all-out chaos that "DC" had to diffuse despite his initial reaction being to defend his close friend. Cormier discussed his initial reaction during the UFC 230 media day this week (via MMA Fighting).
He called the brawl the "funniest s**t he's ever seen":
"You know what the crazy thing is, we're fighters, so the initial reaction is like, 'Oh my God, I'm gonna go help my teammate. I'm gonna go fight,'" the UFC heavyweight champion said. "But then I got out, I was like wait a minute, what am I thinking? So when I finally get to Khabib, he's going crazy. It was the funniest shit I've ever seen, honestly."
The Brawl For Everyone To See
But all jokes aside, Cormier did say that the brawl being in front of the UFC's biggest viewership ever wasn't necessarily a good thing. Fights happen all the time according to Cormier, so he had to realize the weight of the situation when it was transpiring:
"For me, it sucks that it was in front of all these people. But again, it was just a whole bunch of dudes just kind of fighting, acting crazy. Like, what are you guys doing? Every city in the country, every Saturday in some frickin' street bar or a club, this is going on.

"It just happened between a whole bunch of Russian guys and a whole bunch of Irish guys in front of millions of people. So for me, I had to kind of separate the idea that I was kind of laughing to try and to go like, guys we are probably in front of the biggest viewership we've ever had."
A Tense Scene
The double champion was then asked if he was surprised Khabib's team fought McGregor, who had verbally assaulted Khabib's family and manager in the lead-up to the fight. Cormier gave a surprising response when he told a story about Khabib's fiercely loyal friends almost jumping him in his own gym because he hurt "The Eagle" in training:
"No, because one time I did him something, hurt his neck in practice and they were about to kick my ass,. Like seriously, they all started standing up and they were kind of surrounding me.

"Those guys don't play around, man. They got up. They actually got up. I was like, 'Hey man, don't ever come in here and jump me. It's my gym.' But they don't mess around, man. Khabib does not play around and he is honestly the crown jewel of that circle. They love him and rightfully so. We all do, too."
Not A Black Eye?
Khabib is clearly the "crown jewel" of his inner circle, but he's approaching that status in the overall sport of MMA as well. He'll face some form of punishment from the Nevada State Athletic Commission (NSAC) on October 24, and he had some discord with the UFC over his team's employment status.
But things between him and the UFC are reportedly all good. And while the UFC 229 post-fight brawl was controversial, Cormier believes it wasn't really the black eye for the sport many made it out to be:
"It's no black eye for the sport, man," Cormier said. "We fight. That's what we do — we fight. You got a lot of very smart, educated men in this game, but sometimes emotion drives the ship. And on that night, emotions drove the ship. This fight was kind of built in a very bad place."