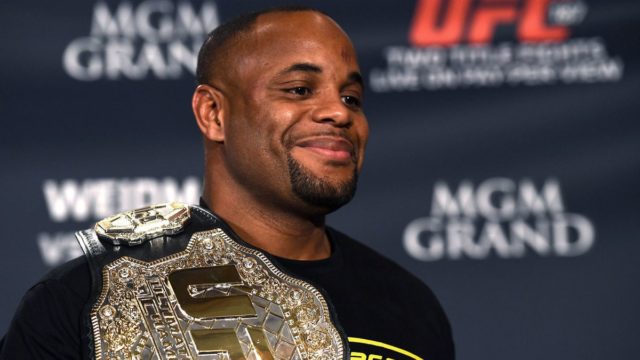 UFC light heavyweight champion and former Olympian Daniel "DC" Cormier may be 36 years old, but that doesn't mean he's going away just yet.
"DC" announced today (November 2, 2015) that he has signed a new eight-fight deal with the promotion, and he seemed to be quite happy with the way he was treated during negotiations:
"The appreciation for what I've done so far in my career in the UFC, it showed," he today told MMAjunkie Radio.
"I didn't really have to play the game," he said. "They were very fair to me. I just had to be myself and be honest.
"I was like, 'This is what I feel like we deserve as a guy that's done everything he's supposed to and carried himself like a professional athlete should carry himself,' and they said, 'You know what, you're right,' and they pretty much just gave it to me, which is awesome."
Although clearly pleased with the new contract, Cormier also didn't guarantee that he would complete all eight fights which would be understandable:
"I'm 36 years old," he said. "I don't even know if I can get through eight fights, but it's a new eight-fight contract."
As far as what's next, "DC" is expected to rematch former champion Jon "Bones" Jones sometime next year. The two met last January in a highly-anticipated affair that saw Jones score a fairly dominant unanimous decision victory.
"Bones", however, was then arrested on felony charges last April, forcing the UFC to strip him of his title and suspend him indefinitely. Cormier stepped in to face Anthony Johnson for the vacant title last May, and came away victorious.
Jones has now avoided jail time, and has been reinstated by the UFC. Both fighters have expressed extreme interest in the rematch, and of course it would be a huge fight for the UFC, but there may some issues as far as location goes.
The UFC brass is hoping that mixed martial arts (MMA) will be legalized in New York, Jones' home state, and they have already scheduled an event there for next April. "Bones" obviously would like to make his return at the famed Madison Square Garden, but "DC" has said that he won't fight Jones in New York, where the ex-champ would likely be warmly welcomed.
Cormier stated that the topic was discussed during his meeting with the UFC, and that his view was understood:
"We talked about it, and I told them where I stood," he said. "They were very good about it and they were open and they listened to everything I had to say. We talked about it a little bit. They said they were going to let me get through the holidays and see how I felt at the end of the year."
At the end of the day, "DC" reiterated the fact that he doesn't want to face Jones in New York:
"I don't want to do it," he said. "I don't think he should be rewarded after coming off of what he came off of. I do look at it and say New York fans are some of the most vocal fans in the world, so what if I have a whole bunch of people who are against what Jon did? Maybe it could work different, because there's no place in the country where, if you're considered a bad guy, they will boo you louder and let you know more than New York City. But the chances of that happening are slim, because he's from New York."
However, the champion also knows how huge it would be to main event a card in Madison Square Garden, admitting that he will see how he feels at the end of the year:
"In terms of athletic career, a chance to main event a fight in the Garden, that's amazing," he said. "That's an amazing opportunity, so we'll revisit it after the holidays and see where I stand."
No matter the location, the rematch will be monstrous as one of the biggest rivalries the sport has ever seen will continue on. That being said, Cormier harped on the importance of winning the second go around:
"It's good to have a rival, but you've got to win the next fight, because rivalries aren't rivalries until you start splitting wins. I need to win the next fight."
If you enjoyed this story, please share it on social media!