Dana White Seriously Just Denied Conor McGregor Hasn't Defended A Title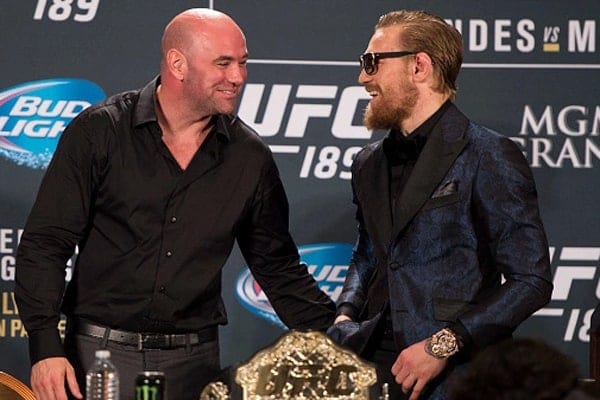 With no clear direction to go in concerning lightweight champion Conor McGregor's first title defense, many impatient UFC fans have cried for the controversial star to be stripped of his belt.
It may be hard to argue with those fans, yet with the UFC in need of bankable stars now more than ever, just don't expect it to happen anytime soon.
That's according to UFC president Dana White, who told ESPN.com that anyone who suggests McGregor should be stripped is just a "Conor hater" and the UFC has done their job by stripping him of the 145-pound title after he won lightweight gold in 2016:
"For people to suggest that, you're just a Conor hater. Because if you look at how everything played out, Conor has fought everybody. When he won the 155-pound belt, he dropped the 145-pound belt, which we made him do. He tried not to do it, but he contractually had to let go of the 145-pound belt."
White has recently stressed that he hopes McGregor will fight in the Octagon next summer because he 'needs to defend that title;' however, according to him, it's not fair to state that the Irish star hasn't defended a title even though he hasn't. In a baffling bit of redirection, White categorically denied that McGregor has failed to defend his title despite him having absolutely no title defenses in the UFC or his entire MMA career:
""He became the 155-pound champion, and his next fight was against Floyd Mayweather. He has to defend the title now. So, how has he never defended the title?

There's some f—ing exaggeration in saying the guy's never defended a title," White said. "He fought everybody on his way up 145 pounds. He fought [Chad] Mendes, [Dustin] Poirier. He beat Max Holloway, the only guy to beat Max Holloway in four years.

"It wasn't Conor's fault [dos Anjos] got hurt. It is Conor's fault he did Mayweather, but we decided to do the Mayweather fight and everybody gave a f—. And after the fight, every fighter in the UFC gave him props for representing the sport."
Well, it's not exactly an exaggeration considering that McGregor just hasn't completed a single title defense – that much is simply the plain fact of the matter.
True, he beat several top fighters on his way up the featherweight ladder, but that and losing to Mayweather in a boxing match do not equal a successful title defense in a different division. So 'props' or not, again, McGregor has yet to defend a title and has tied up one of the deepest and most talented divisions in the sport to the point where top-ranked contenders Khabib Nurmagomedov and Edson Barboza don't know what they're fighting for at tomorrow's UFC 219 from Las Vegas even though the winner would clearly be worthy of a title shot.
Welcome to today's UFC, fans, where what you see in facts can be denied by Dana White. Regardless of what he says, however, McGregor has never defended a title, and it will remain to be seen if he does.