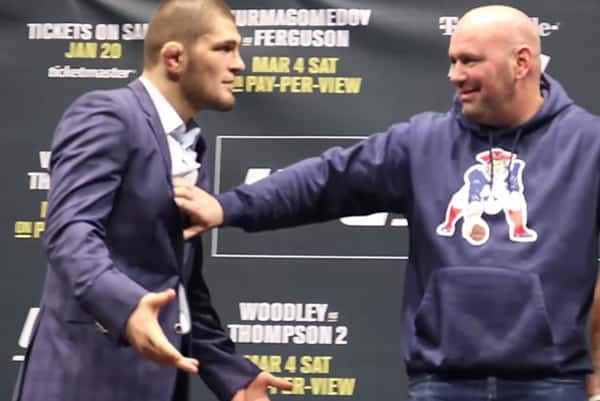 Ever since the post-fight brawl at October 6's UFC 229, the promotion's undefeated champion has been at odds with management. But Dana White said it's time to pump the brakes on all that talk because Khabib Nurmagomedov isn't leaving UFC.
"The Eagle" hinted that he would leave the UFC if they released his teammate Zubaira Tukhugov, who attacked Conor McGregor during the melee. He then entertained a ridiculous offer from rapper 50 Cent and called out Floyd Mayweather.
But the UFC's frontman wants everyone to know none of that is coming true. He told TMZ Sports today that while "The Eagle" was indeed upset, things will all work out
In his mind, they're already past all of the drama:
"We are good, we're good with Khabib. You guys are still posting that s**t, that was a week ago. A week ago. A lot happens in this business.

"We're good. We worked everything out. We are going to get everything worked out. Obviously he was a little upset, a little fired up. And, uh, yeah. We will get it all worked out. Listen, guys get very emotional, man, and that was a very emotional fight for him, obviously.

"At the end of the day, Khabib is a great guy and we have always had a great relationship with him, so, it's all good brother."
Khabib's Team Staying?
White initially revealed that Tukhugov and two of Khabib's other teammates had been arrested for their involvement in the brawl. However, they were released when McGregor did not press charges.
As for Tukhugov, things are far from as certain. He was recently removed from his UFC Moncton bout against McGregor's teammate Artem Lobov and hasn't fought since 2016. White obviously wants to keep Khabib happy, yet he just isn't sure how it will play out for Tukhugov:
"Well, he's [Khabib's] staying in the UFC. I know what he said, but that was a week ago. This'll all work out.

"I don't know what's going to happen, we'll see how it plays out. Khabib's happy."