Dana White just can't let go of his infamous social media blowups.
Although the polarizing UFC president has largely shied away from going off on fans on Twitter during the current Endeavor-owned era of the UFC, he's apparently not above going off on a prominent former fighter.
Such was the case when former UFC heavyweight Brendan Schaub dared to criticize hyped rising middleweight Israel Adesanya, who picked up his biggest win with a dominant showing at last Friday's The Ultimate Fighter (TUF) 27 Finale from Las Vegas.
Schaub wasn't sold, however, urging listeners to pump the brakes on touted kickboxer Adensanya on his "Below the Belt" podcast this week:
"I think everybody is all high and mighty on these guys who come from kickboxing, boxing backgrounds. When they come over to the UFC, they expect them to be elite strikers. The distance, the combos, the head movement, the number of variables, it's a completely different game. So to me that never translates."
Adesanya took offense to the comments, however, posting a video on his Instagram account blasting Schaub's offering the criticism before closing his laptop screen:
An understandable response from Adesanya, the undefeated prospect who absolutely looks like the real deal after debuting at No. 9 on the official UFC rankings following his win over veteran Tavares.
But Schaub's hesitancy to crown "The Last Stylebender" the next big thing in MMA is justified as well, with high-profile kickboxers like Gokhan Saki, who was knocked out by Khalil Rountree Jr. in his second UFC fight at UFC 226, and Mirko "Cro Cop" Filipovic, whom Schaub knocked out and largely had an underwhelming career in the UFC after endless hype in Pride, coming up short in the world's leading MMA outfit.
White didn't agree with "Big Brown," however, so much so that he actually got on to Adesanya's Instagram to blast Schaub in the comments:
"Such a (expletive) tool!!!! What the (expletive) does this idiot know about the sport or the business??? @stylebender for u to be listening to one word from this MORON is a waste of ur time. Guy went 6-5 in the UFC!!! The only thing he could teach u is how to get KO'd. Tune idiots like this OUT."
Schaub then replied with his own retort, blasting White in a big way by saying he had taken a break from 'folding Ronda's laundry' before clarifying he was talking about Saki and his UFC loss rather than Adesanya, who already had a ton of success in mixed martial arts: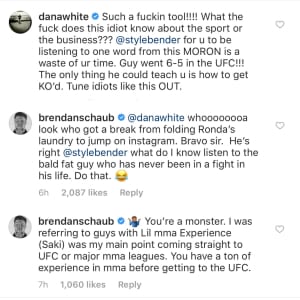 "@danawhite whoooooooa look who got a break from folding Ronda's laundry to jump on instagram. Bravo sir. He's right @stylebender what do I know listen to the bald fat guy who has never been in a fight in his life. Do that."

"You're a monster. I was referring to guy with Lil mma Experience (Saki) was my main point coming straight to UFC or major mma leagues. You have a ton of experience in mma before getting to the UFC."
So perhaps it was a misunderstanding, but White wasn't willing to let it go, blasting Schaub in response to a commenter who insisted he was successful by saying he was only riding Joe Rogan's coattails:

The gloves are off between White and Schaub, and it appears the whole thing could have been avoided if only Schaub was allowed to explain his position on the matter, as he was talking more about Saki than Adesanya, who took major offense to a statement that supposedly wasn't about him (and probably wasn't).
White came to the defense of his current rising star, yet you have to wonder if the president of a company that sold for $4.2 billion two years ago really needs to be doing that – or why he has time to do so.
Welcome to the "entertainment era" in the UFC, fans, where trash talk is king. The jury's still out if it's actually entertaining, however.