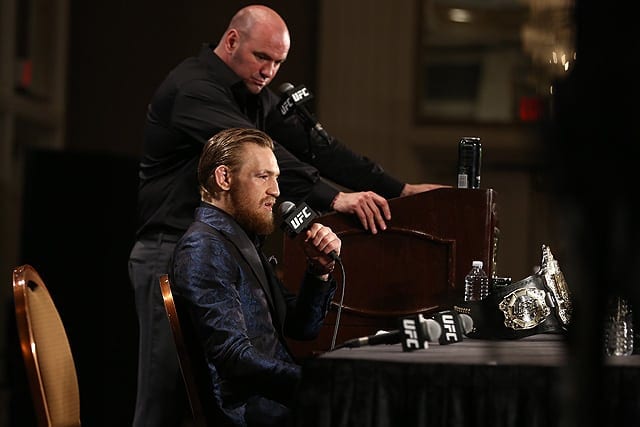 No fighter has ever held two belts at one time in the UFC. Unsurprisingly, Irish phenom the "Notorious" Conor McGregor plans to be the first.
McGregor has taken the UFC by storm over the past few years, recently completing his climb to the top of the 145 pound division with an emphatic 13-second knockout over former long-time champion Jose Aldo at December 12's UFC 194.
Soon after securing the title, the "Notorious" one expressed his interest in moving up to lightweight and attempting to become a two weight world champion.
The UFC confirmed that McGregor would receive an immediate title shot at 155 pounds, but originally stated that he would have to relinquish his featherweight title, something the Irishman wasn't going for.
Now, however, it appears as if UFC president Dana White has changed his tune, speaking on tonight's (January 6, 2016) edition of UFC Tonight:
"Conor has said that he would like to win the 155-pound belt and fight four times a year and defend both belts," White said. "If anybody can do it, Conor McGregor can. This guy has pretty much done everything he said he would do, so I'm interested."
While show co-host Kenny Florian suggested that a fighter would usually have to vacate his title before moving up or down in weight, White insisted the company's biggest star seems to be the exception because McGregor is quite the active fighter.
White acknowledged that while Florian would usually be right, the unique McGregor has done everything he said so far, and he has no reason to doubt him right now:
"He's right. The all-knowing Kenny Florian is right again. That is true, that normally I would say if you're going to move up in weight, you have to give up the belt. But Conor has done everything he said he would do. He loves to fight. He really likes money, you know, so if anybody could do it, it's probably him."
With this change in thought coming from White, a super fight between McGregor and reigning lightweight kingpin Rafael dos Anjos could be on the horizon.

Would the "Notorious" one be able to continue to his reign of terror at 155 pounds?