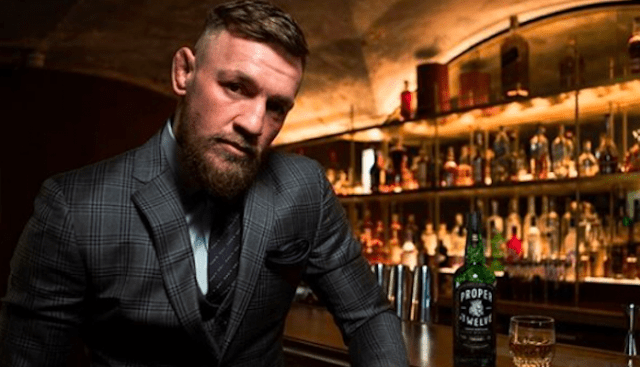 Conor McGregor's new whiskey Proper Twelve has set sales & buy records despite the many terrible reviews.
It's fair to say McGregor has a few fans – he has over 30 million Instagram followers alone. So when he announced his new Irish Whiskey brand Proper Twelve, you can imagine a couple of his fans ran out to purchase the spirits.
The man himself posted a thank-you to all his fans that bought it,  claiming the liquor had set the 'sales' and 'buy' record on IG:
Personally, I never acquired a taste for whiskey, so I couldn't tell you a "good" one from a "bad" one.
Vicious Reviews
However, there are plenty of individuals who have acquired such a taste, and fortunately for us, many of them have indulged in McGregor's new whiskey.
Brin-Jonathan Butler at Bloomberg was incredibly blunt:
"Further tasting notes from my informal panel included "watered-down," "obviously artificially colored," and "notes of turpentine interlaced with the musk from a crowded, poorly-maintained Turkish bathhouse sauna."
Alan Dawson at Business Insider was brutally honest:
"It smelled like ethanol and tasted only marginally better," our fintech guru Oscar Williams-Grut said. "A small initial sip was deceptively okay, but subsequent snifters were like vanilla flavoring trying to cover up rubbing alcohol."
Matt Healy at Potstilled thinks the glass bottle is cheap:
"My immediate concern with this product is the glass … has an incredibly strange and slippy texture and ended up with a strange gloss finish to it, making the whole bottle look weird from afar. Rubbing your fingers across the front label reveals crackling and popping of air bubbles below the label that do not go away. The packaging feels cheap and sub-premium as a whole. Very strange for something trading on reputation rather than price."
It will be interesting to see if Proper No. 12 can stand the test of time. If McGregor wants to reach that billion-dollar mark, he will need more than his fight checks.
Despite the terrible reviews, Proper Twelve is well on its way to getting him there.
If you enjoyed this story, please share it on social media!