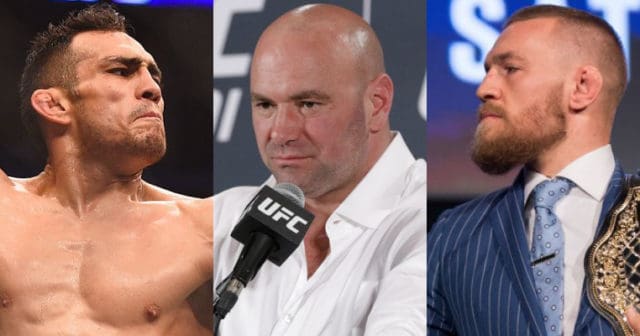 Since winning the UFC lightweight title with a one-sided stoppage victory over Eddie Alvarez in the main event of UFC 205 last November in New York City, Conor McGregor hasn't defended his title and he may not do so in the foreseeable future either, as he continues to campaign for a mega fight with boxing legend Floyd Mayweather.
It's for this very reason that UFC President Dana White scheduled an interim 155-pound title fight between top contenders Khabib Nurmagomedov and Tony Ferguson for UFC 209, which took place this past March. Unfortunately, "The Eagle" suffered issues during his weight cut, forcing the highly anticipated bout to be scrapped just a day prior.
After it was made clear that Nurmagomedov was unable to compete, No. 6-ranked Michael Johnson offered to step in and replace the Dagestani competitor, but Ferguson turned down the bout, something McGregor voiced his displeasure about in a text message he sent to the UFC boss:
"After this shit went down with Tony and Khabib, Conor texts me and says, 'I can't believe you're going to fucking pay that bum Tony Ferguson one dollar. You shouldn't pay him a fucking dime. He was there, made weight and you lined up a fight for him with Michael Johnson after Khabib fell out and didn't make weight, and he turned it down. Fucking bum.' That's Conor's mentality in that he should've taken that fight against Michael Johnson," White said in a recent interview with Snoop Dogg on GGN News. "That's what Conor said to me and that's one of the many things that I love about Conor McGregor. And he isn't just talking, because I've stood in his living room, looking at him telling him that his opponent fell out and he doesn't give a shit."
Ferguson hasn't competed since his bout with Nurmagomedov fell through, but he's repeatedly called out Nate Diaz in recent memory. "The Eagle", however, has expressed his interest in re-booking an interim title bout with Ferguson for this fall.
Do you agree with McGregor's view on the situation?
If you enjoyed this story, please share it on social media!