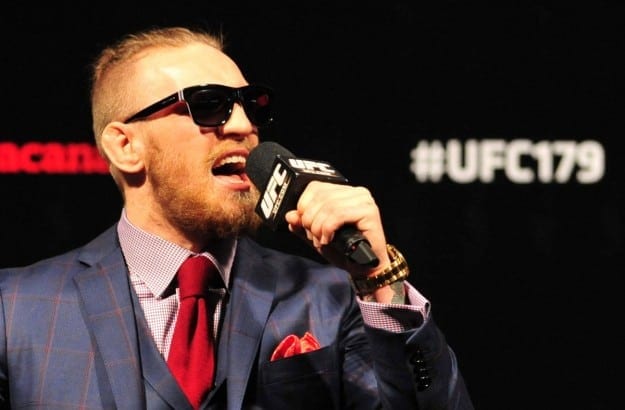 We can all thank Halli Nelson for e-mailing UFC matchmakers Joe Silva and Sean Shelby about some Irish kid named Conor McGregor back in 2012. Three years later, McGregor (17-2) is scheduled to fight Chad Mendes (17-2) for the interim UFC featherweight championship bout at UFC 189.
During that time, Nelson's son Gunnar was signed to a UFC contract and Halli Nelson was planning to get McGregor signed as well. Nelson sent a video of McGregor knocking out Ivan Buchinger at Cage Warriors 51 in December 2012 to the UFC and the next thing you know, McGregor was signed.
"I was always sure that Conor would be a star when he got into the UFC," Nelson told MMAFighting.com. "That's what I told Joe Silva and Sean Shelby when I was writing them. Everybody was predicting this. But if course it's been very fast. He has embraced the opportunity and put in the work."
Even three years later, Gunnar Nelson and Conor McGregor train together. McGregor event flew his entire team into Las Vegas several weeks ago and they live together in a house as McGregor prepares for the biggest fight of his life. Also, Nelson faces Brandon Thatch at UFC 189.
Halli Nelson made it clear that while others are surprised that McGregor has found fame so fast in his career, Nelson isn't and knew that he was going to be a star.
"In a way, it's surprisingly fast, but it still doesn't surprise me that he's a star," Nelson said. "He was always going to be a star.
"He's a great fighter. He has the talents. Second of all, it's the way he is. You know, loud and everything. If you followed his fights before the UFC, even the weigh-ins he was going at people. I was always sure this was something that would get a lot of fans. And also a lot of people that would hate him, but that sells tickets, too."
UFC 189 takes place on July 11, 2015, at the MGM Grand Garden Arena in Las Vegas, Nevada. This event will be shown on pay-per-view, Fox Sports 1 and UFC Fight Pass.
If you enjoyed this story, please share it on social media!