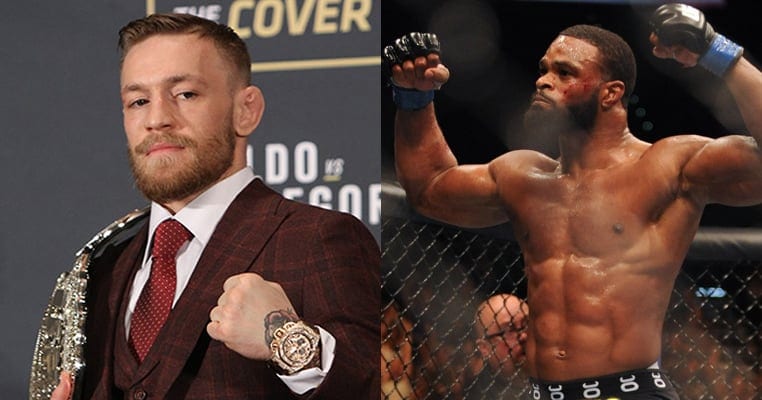 After winning his second UFC title in as many weight classes this past November at UFC 205 in New York City, lightweight champion Conor McGregor expressed some interest in capturing the 170-pound title, which is currently held by Tyron Woodley.
As of now, McGregor's future is currently unclear, as a potential boxing match between him and Floyd Mayweather still looms. If he were to return to the Octagon for a showdown for the welterweight title, however, McGregor's longtime head coach John Kavanagh 'wouldn't see a massive challenge' in Woodley:
"I'd fancy him in there with Woodley," Kavanagh said during a Q&A session in Australia. "He's just another wrestler with an overhand right, and that's the type Conor grew up knocking out.

"So I wouldn't see a massive challenge in that."
Woodley's future is also unclear at the moment. "The Chosen One" is coming off of a decision victory over Stephen Thompson in their rematch at UFC 209 last month and has since expressed interest in bouts with Georges St. Pierre and Nick Diaz.
While a bout between McGregor and Woodley is certainly a possibility for the future, Kavanagh would rather see rising 170-pound contender and McGregor teammate Gunnar Nelson get that title:
"I would like to see Gunni get that belt," he added. "Gunnar Nelson will be the next SBG world champion."
What do you make of Kavanagh's comments?