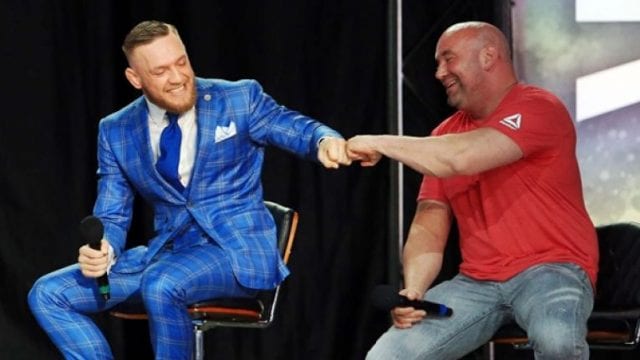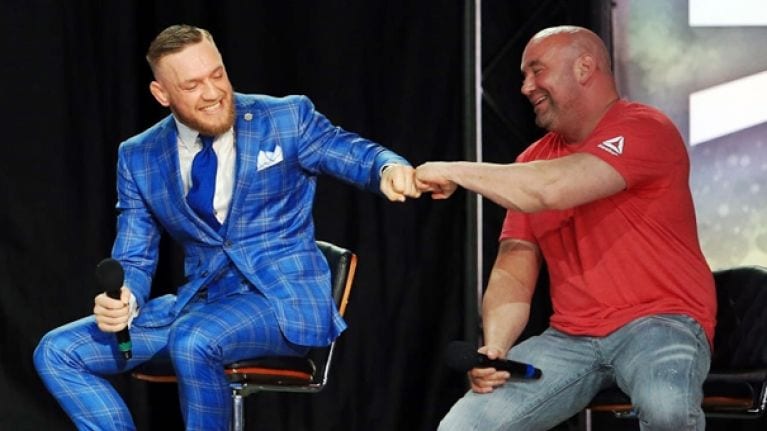 UFC President Dana White says Conor McGregor 'worth every bit of trouble' heading into UFC 229.
McGregor and White have quite the chummy relationship. Whatever the Irishman does somehow turns out in his favor. Even the now infamous bus attack where McGregor hurled a dolly breaking a bus is being used a PR heading into UFC 229.
When you are the biggest star the sport has ever seen and arguably the most recognizable celebrity on the planet you get away with those things. At least, that's how White sees it.
"Conor works very well with us. We've worked very well with him. There are obviously certain things you have to deal with, with a Conor McGregor," White told ESPN's "Get Up".
Many fans and media members alike were surprised when McGregor received a slap on the hand for storming Barclays Center earlier this year. As a direct result of his actions, fighters lost paydays, mental stress, hospital bills, and former lightweight-turned-welterweight Michael Chiesa is taking McGregor to court.
White never punished McGregor despite some harsh words immediately following the bus attack. However, Conor did receive community service and mandated anger management classes as part of a plea deal his lawyer struck.
Regardless, White isn't understating the severity of that infamous day.
"For example, the New York thing. The fact that he thought he could come here and have this beef with Khabib in the middle of New York City and the way that it was done, that's obviously the craziest thing," White said.
It's fair to say that White really doesn't have any issue working with McGregor going forward. So long as 'typical' McGregor shows up. White seems content to keep cashing those PPV checks.
UFC 229 takes place Saturday, October 6, 2018, in Las Vegas, Nevada.
If you enjoyed this story, please share it on social media!