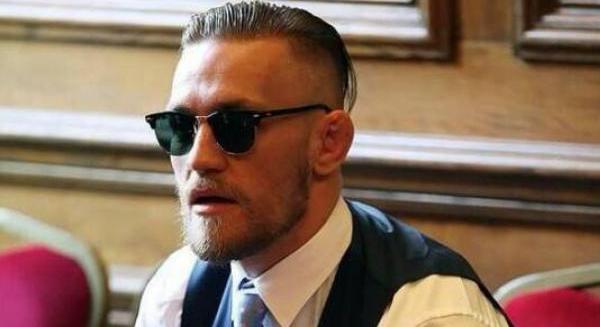 Conor McGregor voices his opinion on the 'weird' CM Punk UFC signing…..
Touted UFC featherweight star Conor McGregor rode a fast hype train in to the promotion, with a glittering past behind him as he arrived. The train still rolls as he is now 4-0 under the Zuffa banner, and eyeing his January 18th Boston pairing with Dennis Siver. The UFC continues to be the big league of MMA worldwide, and is notoriously hard to gain entry to.
Unless your name in CM Punk of course. The former WWE superstar will be debuting for the UFC in 2015, after announcing his signing last week. The similarities between McGregor and Punk are few, apart from the fan following they both have. "The Notorious" chatted to MMA Severe recently, as transcribed by MMAFighting.com, and mused on the UFC signing CM Punk.
"As far as the CM Punk thing, he has a different fanbase, the WWE fans. To be honest, it's weird to me to let an amateur come in and do it in the pro game. I mean, who knows what his skill level is like? I would like to see it the way they done it with [former UFC heavyweight champion] Brock [Lesnar]. Brock had one or two fights in the smaller league. Brock was a different animal all together. He had Division 1 All-American wrestling status. He was a freestyle wrestling champion. Plus he was a f***ing monster of a man."
Undoubtedly Lesnar was a man-mountain, and he certainly put in more work than James Toney to get his UFC debut. The common opinion is that the promotion needs more fans during a bit of a bump in the road with all the injuries, profit losses and now high profile court cases to boot. 
"CM Punk? I don't know," said McGregor. "Listening to him speak, when I heard the broadcast announcement I saw a man afraid. Like he signed up for something he didn't want to be. When the shin bone cracks the body or the elbow cracks or the heel cracks… It doesn't get much more real than that. Personally, I don't think he should be in this league just yet, but again, you bring asses to the seats, you bring eyeballs to the screen and we will give you a shot."
Who knows what might happen in the next year of MMA, and who expected 2014 to transpire as it did after the crazy ending to an epic 2013? The CM Punk UFC signing is an interesting, or some might say desperate move by the promotion. Which side of the fence do you sit on?