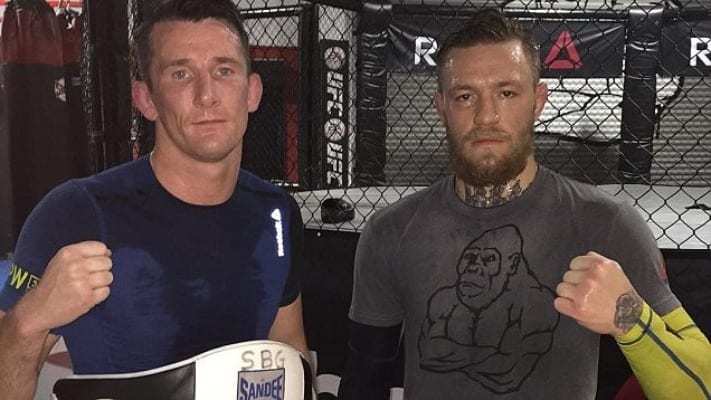 Conor McGregor is rumored to be nearing his Octagon return in early 2020.
Despite rumors about McGregor having issues with his coaching staff, the Irishman's striking coach, Owen Roddy, confirmed to MMA Junkie that he and SBG Ireland head coach John Kavanagh will be in McGregor's corner.
"Yup, yup, yup – yeah definitely, yeah," Roddy said.
Initial reports suggest that McGregor could fight Donald "Cowboy" Cerrone in January. During a recent press tour in Russia, McGregor announced his return date is set for January 18, however, the UFC has not officially confirmed this.
McGregor would not confirm who his opponent was, but UFC president Dana White has since admitted that the promotion is working on a fight between McGregor and Cerrone. In regards to a fight between McGregor and "Cowboy," Roddy offered his take.
"If it is 'Cowboy,' it would be an exciting fight, yeah," Roddy said. "I said this a couple of months ago: 'Cowboy' and Conor is a great fight for the fans.
"Two guys that are exciting strikers – although 'Cowboy' is phenomenal on the ground, as well, but I think if it was a fight between them, it would be a striking battle, and I think it would be one for the fans, so if it is that, it'll be an exciting one."
How do you think a potential fight between McGregor and "Cowboy" plays out?