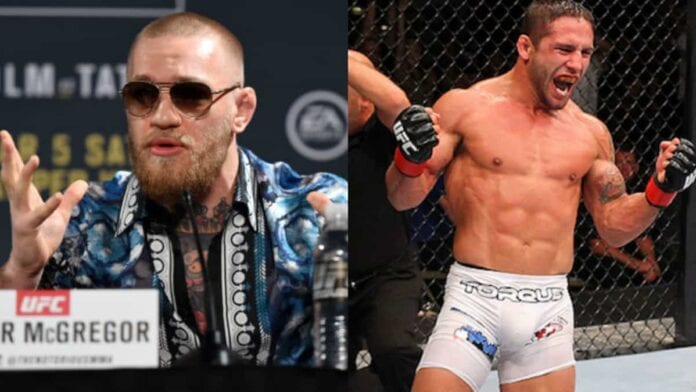 Two-time featherweight title challenger Chad Mendes was handed a two-year ban by the United States Anti-Doping Agency (USADA), after testing positive for a prohibited substance known as GHRP-6 (Growth Hormone-Releasing Hexapeptide) stemming from an out-of-competition drug test.
'Money' had been riding a two-fight losing streak before his suspension, most recently being knocked out by Frankie Edgar at The Ultimate Fighter 22 Season Finale (TUF 22 Finale) in the first round of their 145-pound contest.
Prior to his loss to Edgar, Mendes shared the Octagon with current UFC featherweight king Conor McGregor, in the featured bout of UFC 189 for the interim featherweight title.
Mendes dominated the Irishman for the majority of the first and second rounds with his world-class wrestling ability, but ultimately fell victim to 'Notorious" crushing power in the closing seconds of the second round.
'Money's' defeat most likely came due to a mixture of fatigue after accepting the bout on two weeks notice, along with McGregor's vicious attack of the Team Alpha Male product's body.
Now amongst Mendes' current USADA troubles McGregor, who is never one to shy away from words, pondered the possibility that Mendes was abusing a prohibited substance during their featherweight showdown.
"I wonder was he on that stuff when we fought. One thing I know for sure tho, you can't put steroids on your chin," McGregor said, courtesy of The MacLife.
While Mendes can't see Octagon action until May 17th of 2018, McGregor currently has a date with Nate Diaz in the main event of UFC 202 live on pay-per-view (PPV), from the T-Mobile Arena in Las Vegas, Nevada on August 20, 2016.

USADA claims another high profile victim, as well as three-time title challenger Chad Mendes, Brock Lesnar, Jon Jones and many others have fallen victim to the new drug testing regime. Who will be next to do the drug testing walk of shame?