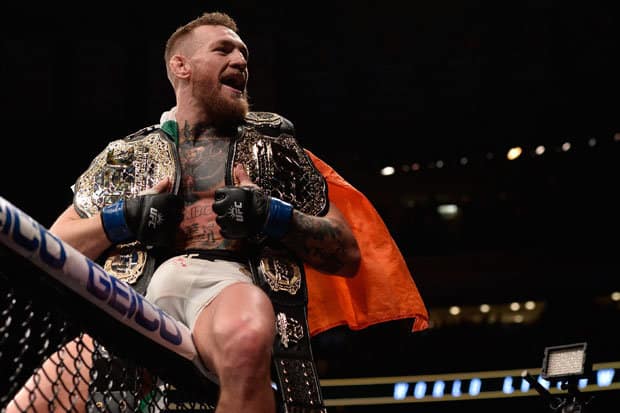 Conor McGregor has a new UFC record, but it's not necessarily one that will earn him a plaque in the UFC Hall of Fame.
One year, three months, and one week – or 464 total days as of today – after he became the first UFC fighter to hold titles in two weight classes simultaneously by defeating Eddie Alvarez at 2016's UFC 205, McGregor now holds the record for the longest title reign without attempting to make his first title defense of the lightweight belt according to numbers chronicled by Bloody Elbow, a record McGregor officially broke last Sunday (February 18, 2018).
McGregor also held the UFC featherweight belt but did not defend it for 350 days and was stripped of the title only weeks after winning the lightweight belt.
That absence without defending the belt was long enough for McGregor to also hold the sixth-longest reign without attempting to defend. As it stands as of yesterday, he broke Anthony Pettis for the longest as well, although "Showtime's" 463-day absence was due to injury, as were the other absences without defending in the top five from Frank Mir, Cain Velasquez's first reign, and Matt Serra.
McGregor is unique in a sense, however, as his absence has been completely self-imposed. He spent the majority of 2017 seeking and getting a farcical boxing match with Floyd Mayweather, a spectacle that was one of the most lucrative events in combat sports history and made McGregor a reported $100 million, the most likely culprit for his now record-setting absence.
As MMA fans reach a fever pitch in their demands for McGregor to defend the title against the winner of UFC 223's Tony Ferguson vs. Khabib Nurmagomedov fight, a contest that's supposed to be for the 'real' title, he's been lobbying for a rematch with Mayweather, this time in the UFC octagon.
Whispers have also swirled that the UFC will strip McGregor before UFC 223 once they know the oft-scheduled Ferguson vs. Khabib bout will finally happen without incident.
Regardless, McGregor's inactivity is now historic, and if he were to get a second fight with Mayweather, we could most likely count on him not returning or ever defending his title.

At least he etched his name into the record books – and now, in more ways than one.