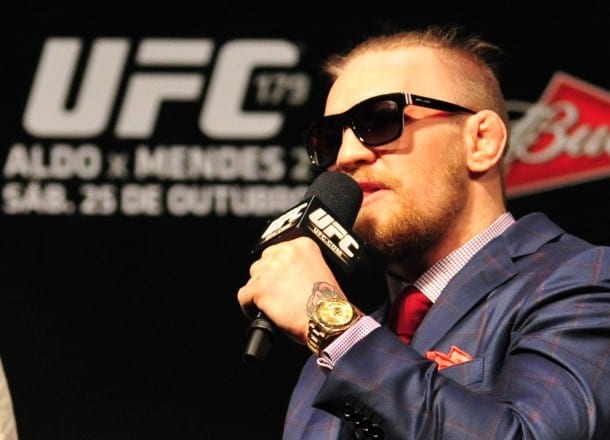 Many felt that rising Irish featherweight title contender Conor McGregor may have taken it a bit too far with his antics during the 10-city World Championship Tour to promote his massive upcoming title bout with longtime champion Jose Aldo in the main event of July 11's UFC 189 pay-per-view from the MGM Grand Garden Arena in Las Vegas, Nevada.
After all, 'Notorious' pushed the boundaries of sportsmanship and promotion when he stole Aldo's belt from him during one of their many press conferences on the tour, and he noticeably go under the champ's skin when he squeezed his shoulders during a talk show appearance. The champ was seen on UFC 189 World Tour Embedded saying that he was angered and ready to go back to Brazil to train for the fight.
But if you ask McGregor, that was all part of his master plan.
'Notorious' spoke up during an open workout the weekend of May 23's UFC 187 from Las Vegas (courtesy of MMA Fighting) to voice his opinion that Aldo and famed trainer Andre Pederneiras, who recently said he plans on stepping away from cornering fighters next year, are already on their way out of the game. His verbal assault during the tour was only a device used to force Aldo into heavy training that will wear him out come fight time:
"They are done with the game. I am only on my way in, so I knew his mind was beat throughout that world tour. I knew he would have flown straight back to Brazil and went heavy, heavy at it. Heavy rounds, heavy training. Having the whole of Brazil on his back. The pressure on him to beat this loudmouth Irish kid. Heavy, heavy rounds. The body breaks."
McGregor stated he was simply telling him what would happen at UFC 189, albeit on the grand stage of a multi-city tour where Aldo was at a disadvantage being that he doesn't speak English:
'The world tour was just a combination of me looking at him dead in the eye and telling him what was gonna happen to him," McGregor said. "I knew he does not speak English, so I spoke in his native tongue in Rio de Janeiro and told him he will die. And then that was it."
There's no doubt that McGregor certainly got under Aldo's skin during the whirlwind media tour, but what's unknown is whether that will force the decorated pound-for-pound great to fight less intelligently than he normally would, or if it will coax him back into his former self when he was running roughshod over opponents with one highlight reel finish after another.
McGregor obviously believes that his talk will result in the former, and he went as far as to say that his claiming of the title will play out exactly like the World Championship Tour did. In his eyes, Aldo is merely looking for a way out of having the belt wrapped around his waist:
"It's the same way in the fight I'll go in, I'll set him up, he'll react to what I'm doing," McGregor said. "I'll put him down, raise the belt and boom. I was just mimicking what will happen July 11 in Las Vegas.
"I knew his body was tired. I knew his mind was drained. He's on his way out of the game. All you gotta do is look. He's looking for his exit."
That's certainly one way of looking at it. Most seem to be picking McGregor to take the gold away from Aldo at UFC 189, yet those plans could easily be spoiled if 'Notorious' has indeed reawakened the unstoppable bulldozer that Aldo once was.
How will the Irish superstar's words serve him in just over one month's time at the summer spectacle of UFC 189?
Photo Credit: Jason Silva-USA TODAY Sports