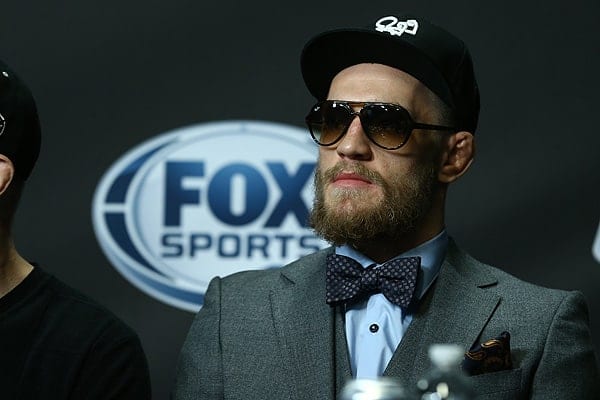 Conor McGregor (17-2) may be facing Chad Mendes (17-2) at UFC 189 this Saturday night (July 11, 2015), but he still has some harsh words for Jose Aldo. "Notorious" will be competing for the Ultimate Fighting Championship (UFC) interim featherweight title when he meets "Money."
It's well known by now that "Scarface" pulled out of his featherweight title match with McGregor due to a rib injury. McGregor has no sympathy for Aldo and says he probably has injuries that are just as bad as the champ's.
When asked by a fan at today's (July 9, 2015) press conference about fighting Aldo after his UFC 189 bout, "Notorious" unloaded a verbal assault:
"Aldo's a pussy, simple as that. The Brazilians pride themselves on manning up for a fight. Usually the Brazilians show up to fight. If I was on the X-ray machine, I'm sure a couple of bruises would show up on me too, but I'm still here."
While McGregor still wants to fight Aldo, he says the ball will be in his court when the champion returns:
"It's the fight everyone wants. It's the fight we worked towards. If he comes back from his jog we will consider, but it's going to be on my terms. He will do as I say."
As far as his opponent goes, "Notorious" doesn't appear too concerned with what "Money's" strategy is. In fact, McGregor is aiming for a performance bonus:
"I feel I will take knockout of the night most certainly. I don't really look for fight of the night because the contest must be close. I dominate, so I will take performance of the night."

UFC 189 will feature a co-main event welterweight title fight between reigning champion Robbie Lawler (25-10) and Rory MacDonald (18-2). Prelims for UFC 189 begin at 7 p.m. ET on Fight Pass and continue at 8 p.m. ET on FOX Sports 1. The main card will air live on pay-per-view (PPV) and begins at 10 p.m. ET.