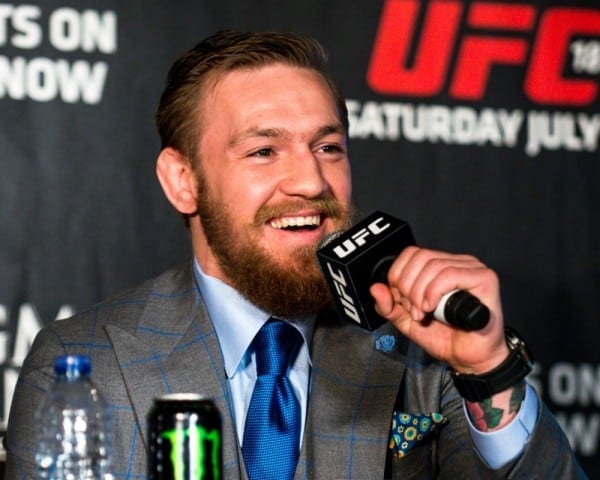 UFC interim featherweight champion Conor McGregor will take on the biggest challenge of his career at UFC 194, as he finally settles the score with his rival Jose Aldo. After the UFC 189 main event fell through due to 'Scarface' injuring his rib in sparring, we've waited now for the best part of a year for Aldo and McGregor to square off.
The trash talk has reached monumental levels with such a long timeline between the original booking and the eventual December showdown, with McGregor constantly on the offensive and trying to get in Aldo's head. In the Brazilian champion's defense, he's done well to try and keep up with the scale of beef with 'The Notorious'.
Appearing on today's MMA Hour, the Irishman throws more verbal jabs towards the champ:
"I'm going to destroy Jose Aldo and unify that belt. All these bums hate on me but it's fine, I'm going to take Jose out, that's that. I told them I'd fight fair and I wouldn't target the body, I told them about my injury, but (Aldo) still ran. He pulled out. I'm not joking when I say I'm trying to baby him and cuddle him in to this fight, you put it on a man too much and he won't show up."
"Klitschko pulled out with a sore calf, and this is what I'm talking about, these guys don't realise what it's like until they're under fire. I wish Jose the best and I hope he's training smart. They don't train smart over there, they get banged up, their body breaks. That's why Renan had that second fight against TJ and he couldn't adjust. It's repetition and that's how you close your frame off. I still don't think Aldo will show, like always I will be there."
"I'll take the foot off the pedal, I'll try to school him on how to train for a championship fight. He brought people in (to Nova Uniao) that were trying to hurt him, they mimicked my style, and hurt his rib through a lazy spinning back kick. I saw the footage and everything. I just hope he's learned his lesson, because you do learn from injury. That pound-for-pound number one spot is mine."
McGregor and Aldo shared yet another staredown at the eventful GO BIG presser in Las Vegas, where 'The Notorious' made enemies out of all of the 2015 main event fighters present. When asked what he saw in Aldo's eyes, and how he felt about everyone else at the presser, McGregor popped off once again:
"I saw a man who was late for a flight. He had a flight to catch, I see nothing, I see glass. You look in to someone's soul when you look in their eyes, and he is looking to get the f*ck out of there as quick as possible. By myself I would've whooped everyone's ass up there. I essentially set the game on fire up there on the GO BIG presser. I go home with my gold belt and millions of dollars in cash, and I await my nine figure contract (from the UFC). When they lose to me it's like a draw, my name brings numbers. If you have an association with my name you'll be a main event slot after that, it doesn't matter if you lose."
"I'm the money fight here. I said it backstage (at GO BIG) as well, the numbers rule, the belts mean nothing and I'm the ruler of the number. Luke (Rockhold) was there and he was touching the belt, trying to talk to me about his reality TV show and I said 'Don't be talking to me about that sh*t, you're a bum!' Be grateful and recognize my greatness. If you hate and get bitter about it, you're gonna fall. Where's Luke Barnatt now? Don't be bitter because you won't get better. If they don't listen then f*ck them. Let's compare contracts, because nine figures is what I'm talking now, that's 100 million plus. No one in the game has done that, it will be in the nine figure mark. I told (the UFC) that no ones got the draw I have, and I fully expect that nine figure contract."
100 million dollars? Now that's impressive, but should we take that statement with a pinch of salt? It's likely he'll be getting a very generous contract following a spectacular year of promotion of both his own image and the company, but that would truly be a massive deal.

With the UFC scoring quite low in terms of fighter payment, many will argue that this is a form of favouritism. That said, the Zuffa clan clearly noticed a money maker and was more than happy to help push the product to a willing market, but is this focused form of sensationalising single fighters way more than others fair?