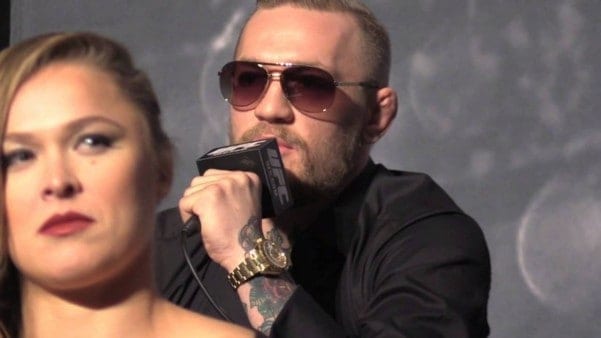 The "Notorious" Conor McGregor has officially become the biggest star in the UFC as well as the company's biggest draw after his spectacular knockout of Chad Mendes at last night's (July 11, 2015) UFC 189 to secure the interim featherweight championship.
With thousands of Irish fans in attendance, as well as thousands of others buying in to the hype, last night's event set the all-time gate record, and the pay-per-view numbers were probably astonishing as well. McGregor spoke on his rise to success at last night's post-fight press conference, mentioning that although he is in the lighter weight classes, he is still is at the top of the game at only 26-years of age, and his records speak for themselves:
"I don't think weight has got to do with anything, you know? It just happened to be that the heavyweights were, there was a buzz in the heavyweight division, but the heavyweight division in the UFC right now is building steam. But, right now I am running the game. I have every record in the book. The gate, the pay-per-view (PPV), all the viewing figures on FOX, UFC Fight Pass, highest attended weigh-ins. I have every record right now, and at the end of the day I am only 26 years of age. I am still very, very young in this game."
Prior to UFC 189, women's bantamweight queen "Rowdy" Ronda Rousey was perceived to be the UFC's biggest star and biggest draw, but that could probably be argued now. I'm sure McGregor would disagree, but he has nothing but respect for Rousey, saying that he is inspired by her, and that they both are at the top:
"So I feel myself and Ronda Rousey, Ronda is an absolute machine. She is an animal. I relate to Ronda a lot because I know the work she puts in media wise and training wise. I look at her and I take a great inspiration from Ronda and her work ethic. I feel it's me and Ronda at the top of the game. And I am honored."
In closing, the "Notorious" one discussed the amazing night of fights which was UFC 189, giving credit to the co-main event, a welterweight war between champion Robbie Lawler and Rory MacDonald, a bout that may have been one of the best of all time. McGregor then expressed how happy he was with the night, and how happy he is to be in this sport:
"I mean Robbie Lawler was phenomenal. That Robbie and Rory fight was absolutely phenomenal. I must pay my respect to that. Two absolute warriors took every shot and still came forward. This is what the sport is about. What a night of fights, this is what it's all about. I'm just happy to close the show in the sport that I love. I'm glad to have maybe introduced someone who may have never watched it. This is our sport, this is UFC and this is as real as it gets."
At the end of the day, UFC 187 without a doubt lived up to the hype. What was your favorite moment from the night?