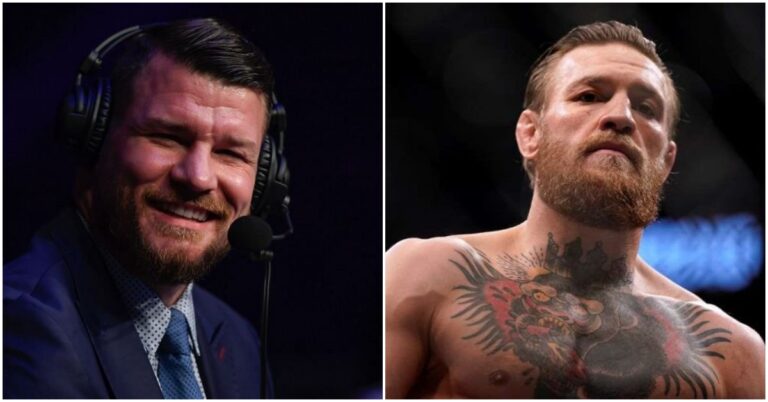 Conor McGregor is arguably the biggest star in combat sports and given this it's no surprise we have seen McGregor gain preferential treatment. McGregor will be hoping to use his stardom to his favour by lining up a UFC lightweight title shot on his return.
Many people believe McGregor shouldn't be able to jump the queue past everyone in the division and one those of people who share this is opinion is former UFC middleweight champion Michael Bisping.
Bisping spoke on his 'Believe You Me' podcast about exactly why McGregor isn't deserving to be in that position.
""Yeah, McGregor, title fight next. I don't know, maybe he could. It wouldn't be the craziest thing to ever happen, let's be honest, the man is a f***ing mega-star so maybe… I doubt it, I doubt it very much but obviously I assume it was just a tweet. But you can't look at that like it's gospel. Obviously, that's what Conor McGregor wants… it's not gonna happen, but if it does happen, it wouldn't blow my mind either. The guy has lost three of the last four I believe, so there's no way the guy is coming back for a title shot." (Transcribed by Sportskeeda)
There is no questioning the appeal Conor McGregor brings with him however given his recent outings to the octagon for the most part not going his way and given how active the rest of the lightweight division is currently it is very unlikely we see McGregor straight back into a title matchup.
However, convincing McGregor of that himself is going to be a lot harder.
The former two-division champion posted to social media earlier this month declaring he will be fighting whoever is holding the lightweight strap on his return. Here's what McGregor had to say.
"Hi lads, here goes… clicks and the like. Your boss and what not. The Mac. Santy Claus. I'm facing whoever the f*ck has that LW title next. Deal with it. Take off your goggles and mark the trilogy "unfinished". Deal with that too. The rest mentioned, after this. Deal. With. It."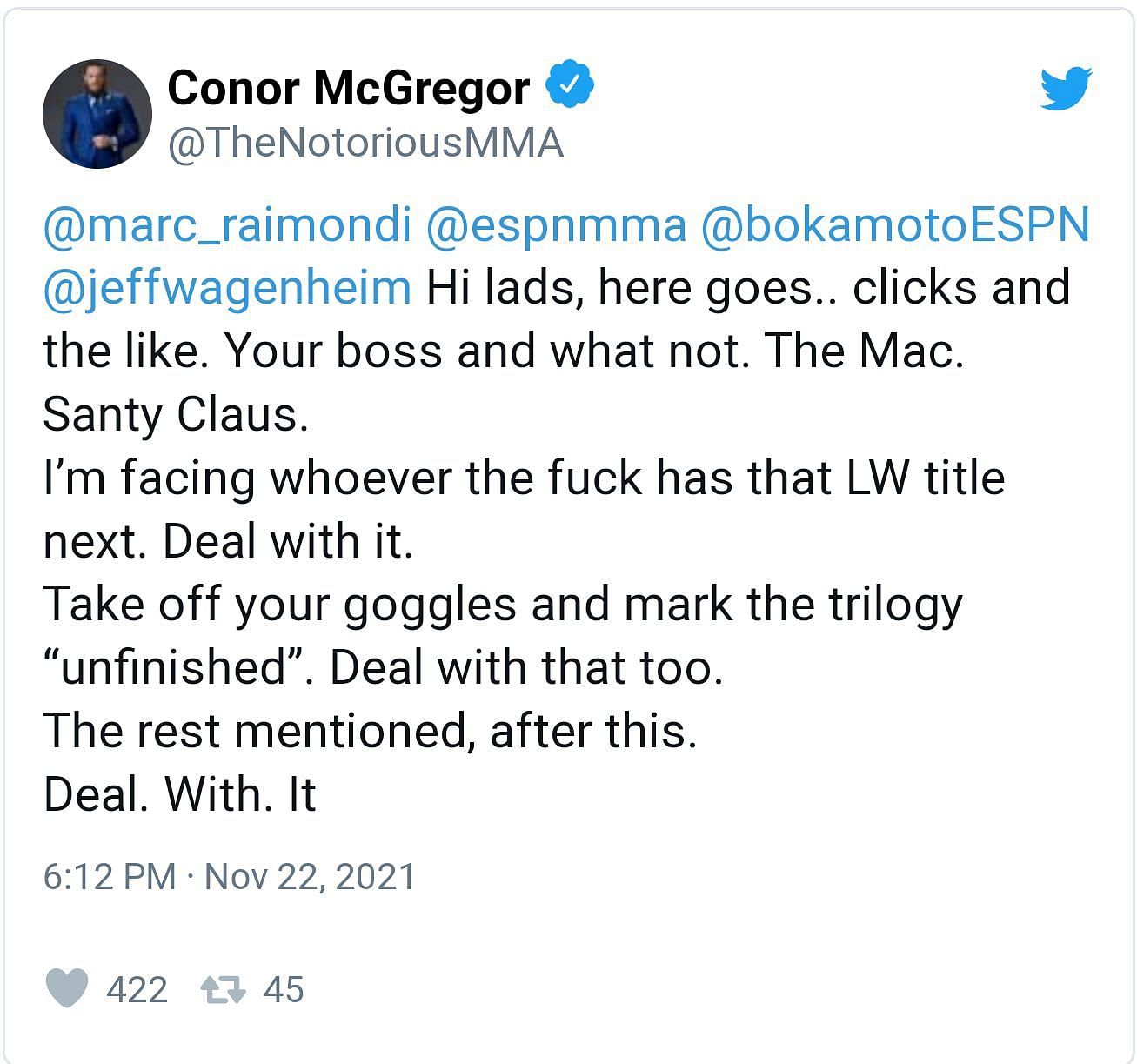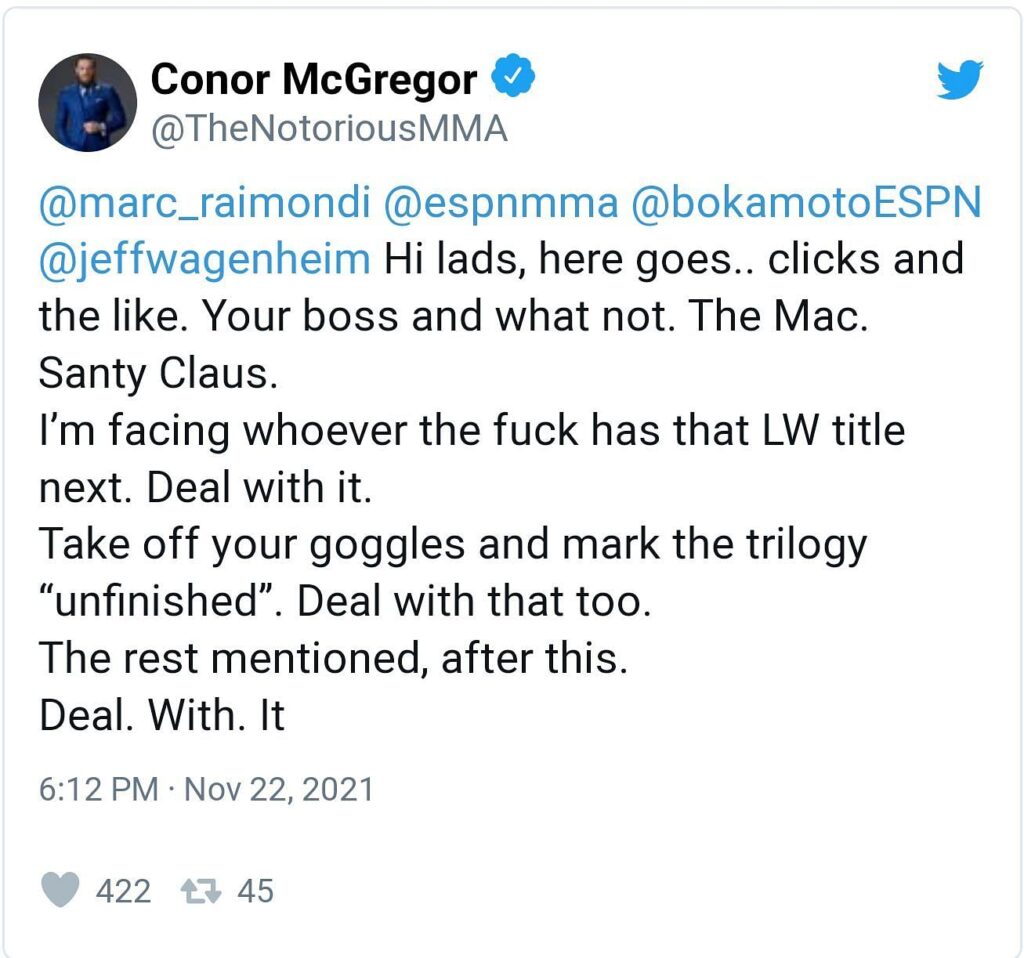 What is next for Conor McGregor?
McGregor has lost three of his last four outings to the octagon and would certainly need to secure at least one win back in the division to be pushing on for a title shot. One option is the fourth matchup with Dustin Poirier. If Poirier can get past Charles Oliveira at UFC 269, and McGregor can get a win on his return, many fans will be calling to see those two fighters step inside the octagon again.
Another option for McGregor is the Nate Diaz trilogy, Diaz gave McGregor his first loss inside the UFC, which McGregor was quick to rectify after he was able to beat Diaz in the rematch. It only seems right that these two men finish off what they started with a final bout in the trilogy.
Who do you want to see Conor McGregor fight on his return?