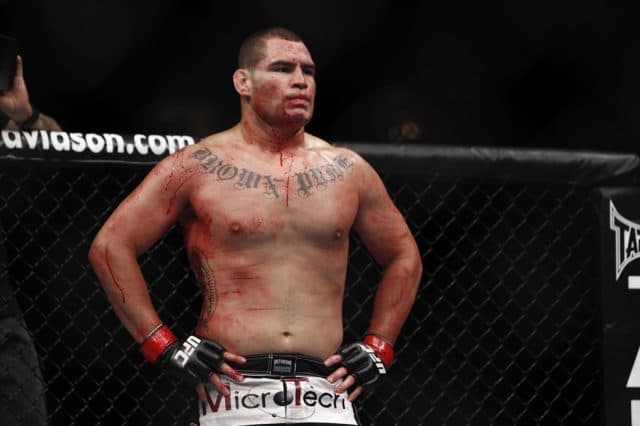 Cain Velasquez' longtime coach Javier Mendez thinks it was an 'illegal punch' that prematurely ended his fighter's night at UFC on ESPN 1 last Sunday (Feb. 17, 2019) in Phoenix, Arizona.
There is no denying that Velasquez' knee blew out mere seconds into his main event fight with Francis N'Gannou at UFC on ESPN 1 this past weekend. But was it the swarm of punches thrown by "The Predator" that caused the unfortunate chain of events, or was it the seemingly 'illegal punch' thrown by N'Gannou?
Mendez seems to have it all figured out.
"If you guys watch the video, the very first punch Ngannou threw at Cain, (Cain) came into shoot, he got hit in the back of the head, an illegal shot that dazed him a little bit when he went in for the takedown, and that's what kind of jacked up his knee to start," Mendez told Submission Radio. "So, I didn't see that, I did not see that. And today I looked at it and said, 'oh my god.' And guess who told me about it? Cain. Cain was the one who told me."
Mendez made it clear, he doesn't think N'Gannou did anything wrong or intentional. However, he is quick to point out that an illegal punch caused the entire thing.
"His knee went and it wasn't caused by any punch during, it was caused from an illegal punch that caused the whole thing," Mendez continued. "And it wasn't intentional, it was unintentional. It wasn't Ngannou's intent to do that. No, he didn't do anything wrong. It's just that Cain went in, the punch went. I didn't look at it as intentional, it was unintentional. So, what do you do in the circumstances like that? I don't know."
If you enjoyed this story, please share it on social media!