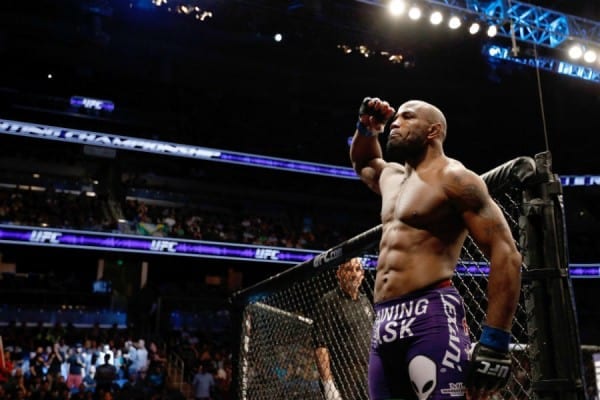 The Yoel Romero vs Tim Kennedy UFC 178 controversy was apparently just a breakdown in communication…
Yoel Romero returned to action this past Saturday (Sept. 27th, 2014) as he faced hard nosed Strikeforce veteran Tim Kennedy on the UFC 178 main card. The third round TKO victory was vintage Romero, but it came with a certain amount of controversy too.
The moments before the third round started were seemingly filled with a period of confusion, 27 seconds to be exact, and came after a round two where "Soldier Of God" was nearly finished and escorted to his corner on wobbly legs. Kennedy was met with a refreshed Romero and finished moments later, something the U.S armed forces veteran was none too happy with.
Indeed Kennedy wanted to appeal the loss with the NSAC, although he was met with a pretty much closed door there. So it looks like the saga is pretty much done and dusted, although the corner of "Soldier Of God" and referee John McCarthy are still caught up in the matter. Speaking to MMAFighting.com, Romero's American Top Team leader and UFC 178 cornerman Ricardo Liborio tries to clear up what has been dubbed "stool-gate":
"When they said seconds out, I went back to the corner and didn't see what happened. But when I was talking to Yoel, he was already back. He wasn't out. He was talking to me. I told him 'you have to go straight forward and win the round, you have to win the third round,' and he said 'I got it, coach.'"
"I talked to Big John after the fight," he said. "Big John said he went there and saw that there was too much vaseline on the cut. Big John asked Paulino to go there and clean it up, but Paulino doesn't speak English, he didn't understand what was going on, so he started to wipe his body. Yoel was sitting there, waiting for someone to clean him."
I don't think the question is whether or not Romero had too much grease on him, as he clearly did, but more if his corner's intention was to actually cause the delay in some way. Well it would seem impossible for the corner to apply too much grease, as that is the official UFC cut man's job, so maybe this was all literally a big misunderstanding. Liborio continued:
"I didn't see anything going on there. I first heard about it when Joe Rogan asked him about it, and my Spanish isn't that good either [laughs]. I don't know how long did it take for the fight to restart, but Yoel wasn't out and he never asked to stop the fight. The whole situation was a mess. Paulino never intended to win some time, and that's not my style. I would never do something like that."
"Yoel's goal is to win the title," he said. "If the UFC thinks the rematch is interesting, Yoel would take it. But if you saw the fight, you know Yoel was winning it. I'm not taking anything away from Tim Kennedy, he's a tough fighter, but Yoel won the fight. And it's not a coincidence that he knocked him out in the third round. And I'm sure it would be exactly the same if they do another fight."
Fair play to Romero's camp for saying they would accept a rematch, as I'm pretty sure that will ramp up Kennedy's appeal for one, but it looks like we'll never actually know for sure if there is a guilty party for stool-gate. I'm on the fence on the matter, do you feel like there was foul play afoot at UFC 178? Either way, would you like to see Yoel Romero vs Tim Kennedy 2?